Charles Nuckols Jr. Dead
by Lenny Shulman
Date Posted: 9/2/2005 1:51:42 PM
Last Updated: 9/4/2005 3:38:43 PM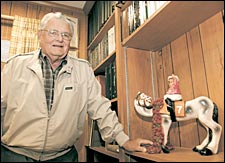 Thoroughbred breeder Charles Nuckols, bred Kentucky Derby winner War Emblem.
Photo: Anne M. Eberhardt

Charles Nuckols Jr., an icon of the Thoroughbred industry, died Sept. 2 at his home near Midway, Ky. Nuckols, 83, had been fighting a variety of ailments the past several years, and died of complications from congestive heart failure. Quick with a pedigree and even quicker with a story, Nuckols was a second generation horseman whose Charles Nuckols & Sons Farm has been in his family more than 100 years. Nuckols, in concert with his father, brothers, sons, and clients, bred more than 300 stakes winners and 13 champions."Charlie was from the days when a handshake was all you needed," his nephew, Alfred Nuckols Jr., said. "I feel a great sense of pride; it's a big name in the industry, probably bigger than either Nucks (his cousin, Charles III) or myself can ever live up to."If you go back to when it was the three Nuckols brothers (Alfred Sr., Charlie Jr., and Hiram), they started with one original tract of land, which was my grandfather's. They added tracts over the years until they had more than 1,000 acres in grazing and horse property. But horses were just part of it. We raised our own hay and bedding, raised crops and tobacco. They were wonderful horsemen and also wonderful farmers. Together, they made a wonderful team."Nuckols waited until he was 80 to realize a great dream, when War Emblem, whom Nuckols bred for his longtime client and friend, Russell Reineman, won the Kentucky Derby (gr. I) in 2002, and followed that up with a Preakness (gr. I) victory as well. Funny Cide, who won the 2003 Derby, was sired by Distorted Humor, another horse bred by Nuckols for Reineman.The first mating Nuckols planned for Reineman produced Smart Deb, co-champion 2-year-old filly in 1962. Others bred by Nuckols include Decathlon, champion sprinter in 1956 and 1957; Typecast, champion handicap mare in 1972; White Skies, spring champion in 1954; European champions Broadway Dancer and Habitat; stakes winner and sire Mr. Leader; 1975 Futurity Stakes (gr. I) winner Soy Numero Uno; 1986 Travers, Haskell, and Super Derby (all gr. I) victor Wise Times; and No Le Hace, who finished second to Riva Ridge in the 1972 Kentucky Derby."The whole business has lost a great friend and horseman," Henry White, who for years ran Plum Lane Farm, said. "He was a wonderful person. The two greatest things you can say about a man is that he's honest and that he's a good horseman, and Charlie was both. He was as honest as the day is long, and he raised some very nice horses.""He was a true pillar of the industry," Crestfield Farm owner Bob Courtney said. "His was a family operation, he carried on his father's business and now his sons are involved. You just have to admire people like that. As a horseman, he raised some very good horses and was an important cog in Keeneland's wheel. I'm very, very sorry to lose him. He was a true high point in the industry.""He was a great friend to me, and he was one of the founding Midway (Ky.) breeders," Three Chimneys Farm owner Robert Clay said. "He was one of the cornerstone breeders in Midway. He came from the old school and did things the old fashioned way. You could take his word to the bank. He was a guy, if he told you something, he would do it. He was one of the stalwart pillars of our industry, and it's a sad day for racing to lose him. He had a great love for Keeneland, and he was a pioneer in his day in regard to the class with which Keeneland has been managed. I'm grateful for his contributions and am glad to have known him as a friend. Charlie Nuckols and Nuckols Farm raised Hidden Lake, which we raced as a champion.""Charlie Nuckols was one of the true leaders and visionaries in our sport," said William S. Farish, owner of Lane's End Farm. "As a trustee of Keeneland, a member of The Jockey Club, and owner of Hurstland Farm, he participated in so many decisions that transformed the Thoroughbred industry. His understanding and knowledge of the Thoroughbred was unparalleled. He was a good friend, whose advice and counsel I will miss."Charles Nuckols Sr. established Hurstland Farm as a Thoroughbred operation. Following his death in 1951, his sons Charles Jr., Hiram, and Alfred took over. Hurstland was split up in 1985, with Alfred Nuckols Jr. keeping the Hurstland name and Charles and his sons establishing their farm. Nuckols was a big believer in keeping his land replenished with elements and minerals. He was more interested in raising runners than in raising horses who might be popular at sales because of fashionable pedigrees. Nuckols was active in numerous horsemen's associations. He is survived by his four children: Judy, Charles III, Hetty, and Jim.Funeral arrangements will be handled by W.R. Milward Funeral Directors on North Broadway in Lexington (859) 252-3411.Visitation will take place at the Keeneland Library, Tuesday, Sept. 6, from 4-7 p.m. Funeral services will be held at the Midway Presbyterian Church Wednesday, Sept. 7 at 11 a.m.



Copyright © 2015 The Blood-Horse, Inc. All Rights Reserved.