Golden Ballet May Face Colts After Santa Anita Oaks
by Steve Haskin
Date Posted: 2/26/2001 12:15:13 PM
Last Updated: 2/27/2001 8:34:37 AM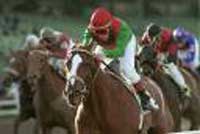 Golden Ballet, winning the Las Virgenes Stakes.
Photo: Associated Press/Benoit Photo

If Golden Ballet is as brilliant in the Mar. 10 Santa Anita Oaks as she's been in her two starts this year, then beware, boys. Barry Irwin, president of Team Valor, who co-owns the daughter of Moscow Ballet, told The Blood-Horse that if Golden Ballet comes out of the Oaks in good shape, there is a good chance she will then take on the colts. Although she is based in California, and the Santa Anita Derby would seem like the logical spot, Irwin said they have no particular race in mind."We want to see what she does in her next start before we make any plans," he said. "We are completely open-minded and married to nothing. (Co-owner) Bill Heiligbrodt and I have discussed the future, and we are on the same page. But we will not reveal anything until after the Santa Anita Oaks."Despite the brilliance of her victories in her last four starts, from 4 1/2 furlongs to a mile, Golden Ballet has the pedigree of a classic horse, with a dosage index of 1.29. Trained by Jenine Sahadi, she has now won the Nursery and Cinderella stakes at Hollywood Park at 2, and the Santa Ynez and Las Virgenes at Santa Anita at 3.



Copyright © 2015 The Blood-Horse, Inc. All Rights Reserved.