Haskin's Travers Roundup: Memories in Bloom
by Steve Haskin
Date Posted: 8/31/2005 1:53:13 PM
Last Updated: 9/2/2005 6:28:34 PM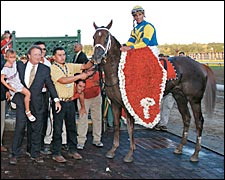 Owner Eugene Melnyk's visit to the Saratoga winner's circle rekindled many memories.
Photo: NYRA/Adam Coglianese

Published in the Sept. 3, 2005 issue of The Blood-Horse
Sure, you can look at the 136th running of the Travers Stakes (gr. I) as just another day at the office for the high-powered firm of Pletcher and Velazquez, Inc. But to many of the people close to the victorious Flower Alley, this one was personal.When Flower Alley charged past a gutsy Bellamy Road in the stretch and then drew clear to win by 2½ lengths, several stories began to unfold.For the colt's owner, Eugene Melnyk, it brought feelings of nostalgia of a special time in his youth. But in the end, it was the events surrounding his purchase and naming of Flower Alley that made the whole story seem unreal. Melnyk couldn't help but think back to those carefree days some 20 years ago when he and three of his buddies would make the nine-hour drive from Toronto to Saratoga. They'd find a motel room for $45 a night near Albany and immerse themselves in the Daily Racing Form, studying the past performances. The next step was drawing straws to see who was going to be the one to go to the track at seven in the morning to stake out a picnic spot. Then, later in the morning, they'd grab their cooler and their Forms and head to the Spa. "We absolutely loved it," Melnyk said. "Now, to come back some 20 years later and not only run in the Travers, but win it, is an unbelievable thrill. I remember screaming during the race, but the rest of it was like a blank. You always dream, but when the dream becomes reality, it's just mind-boggling."As special as those memories are, it was the realization of how he came to purchase Flower Alley and then name the colt that made this moment so unforgettable for Melnyk.For years, Melnyk, who resides in Barbados, has spent millions on young horses at the sales. With experts like trainer Todd Pletcher and farm manager Phil Hronec picking out the highest-quality horseflesh, and all the vet tests and heart measurements that make the buying of horses such a precise science, Melnyk, on one occasion, decided to disregard all that and buy a horse from the heart.That horse was a son of Distorted Humor out of the Lycius mare Princess Olivia, whom Melnyk purchased for $165,000 at the 2003 Keeneland September yearling sale. Forget the experts; forget the heart measurements. Melnyk's reason for buying the colt was simple: one year earlier, his daughter, Olivia, had been born, and when he saw the name of the dam, he felt compelled to buy the horse.He told Hronec, "If the horse vets, buy him." When the hammer came down and the colt was his, Melnyk turned to Hronec and said, "Can you imagine if something came out of this?"He let his then 5-year-old daughter, Anna, name the horse, and she chose the name Flower Alley after a street in Barbados."I have to apologize for the name Flower Alley," Melnyk said. "I wish it was Hercules or Gibraltar or something like that. But we gave our daughter a list of names and she chose the most feminine name you can imagine. At least the horse doesn't know his name."One person well aware of the name is Hall of Fame rider Angel Cordero Jr., agent for jockey John Velazquez. Cordero has been exercising Flower Alley daily and admits he's fallen in love with the horse. This was the colt Pletcher chose to be galloping companion for the stable's main Kentucky Derby (gr. I) hope, Bandini, the temperamental tiger who could not resist taking chunks of hide out of his handlers and companions. Then, along came Flower Alley, the mellow colt with the effeminate name, who earned his way into the Derby picture by winning the Lane's End Stakes (gr. II) off only two career starts. Flower Alley had a calming influence on Bandini and cured him of his nasty habit. But when Bandini was injured in the Derby, Flower Alley replaced him as the stable's star 3-year-old. Equipped with blinkers for the Derby, Flower Alley got caught up in the suicidal pace, but finished a respectable ninth, beaten only 7½ lengths. It was decided to back off and aim for the Travers. A game second to Roman Ruler in the Dwyer Stakes (gr. II) and an impressive score in the Jim Dandy (gr. II) set him up perfectly for Saratoga's "Midsummer Derby."Flower Alley did have some bad habits himself, and that was kicking the walls of his stall, and striking with his front leg and kicking back with his hind legs when he was saddled outdoors. So Pletcher scheduled a number of schooling sessions in the paddock, which seemed to help.Cordero, who was bursting with confidence before the race, had one last trick up his sleeve. Often known for his animated conversations with his horses, Cordero issued a threat to Flower Alley. "When he's good, I call him 'Al-ley,' like Muhammad Ali," Cordero said. "But when he's not good I call him 'Flower.' I told him, if he wins the Travers, I'm going to have a whole group of my friends come in the winner's circle and shout, 'Al-ley! Al-ley!' But I said to him, 'If you don't win, your name is going to be Flower for the rest of your life.' I also call him 'Pretty Boy.' He likes that name. Whenever I see a filly, I tell him, 'Listen, I'll be your agent and I'll get you that filly. You can make love to her all you want some day. All you got to do is win the Travers. You do that and I'll fill up your book, buddy.'"I love this horse, and I really love him in the Travers. He's fit and sound and eager. He's like a fighter right now; he's acting like Ali. He strikes with the front and kicks with the back and does the rope-a-dope and everything. He's really matured."The day before the Travers, a small party took place in Virginia that seemed to have little significance on the race. But to small-time breeder Bruce Smart, it was one of the biggest moments of his life. Smart's goal is to breed and sell five yearlings each year. When two of his mares failed to produce a foal in 2002, Smart went to the Keeneland November mixed sale to purchase a pair of weanlings to sell the following year, along with the three he bred. One of those he bought was Flower Alley, out of the Paramount Sales consignment, as agent for breeders George Brunacini and Bona Terra Farms. He paid $50,000 for the weanling."Each year, we have a little going away party for our yearlings going off to the sale," Smart said several days before the Travers. "We parade the yearlings around the courtyard for the local horse people and friends, sip a glass of wine, then have a cookout. This year, our party is the day before the Travers, so it will also be wishing Flower Alley well the next day. We always knew he was a good horse, and we have a nice picture of him from his graduation party in 2003 that we're going to have on display for this year's party."If there was one thing clear about the Travers, it was that Pletcher and Velazquez appeared to have complete control of the pace scenario. They had the horse with the most early speed, but one who could lay off the pace if needed. Then, the entire scenario changed abruptly when Nick Zito announced Kinsman Stable's Bellamy Road, who had not run since popping a splint as the favorite in the Kentucky Derby, would make his comeback in the Travers, and not in the seven-furlong King's Bishop (gr. I) as originally planned.Now, Flower Alley no longer was in control of the race. Instead, Velazquez would have to tread a fine line between letting Bellamy Road, the spectacular winner of the Wood Memorial (gr. I), have an easy lead and possibly steal the race, and trying to prevent it at the risk of killing both horses and setting it up for someone like Roman Ruler, who had won the Haskell Invitational (gr. I) following his Dwyer victory."I have to worry about Bellamy Road and I have to worry about the horses behind me," Velazquez said the morning before the race. "But I don't feel any pressure. If Bellamy Road goes in :46, he'll be five in front, but if he goes in :47 or slower I'll be right on top of him."A nearly-cloudless sky greeted Travers day Aug. 27, as seven 3-year-olds went to the post, with Flower Alley (3-1), Bellamy Road (2-1), and Roman Ruler (2-1 and slight favorite) looking to move up the rankings in the 3-year-old division and possibly put themselves in a position to challenge Afleet Alex. Also in the field were stakes horses Don't Get Mad, Andromeda's Hero, Reverberate, and Chekhov.Bellamy Road, under Javier Castellano, as expected, went to the front, with Velazquez taking up the chase, and Jerry Bailey, on Roman Ruler, clocking him in third. After an opening quarter in a solid :23.54, Castellano was able to slow the pace down to a comfortable :47.43 for the half, while maintaining a two-length lead. Velazquez decided to turn up the pressure and utilize his seasoning advantage. He moved Flower Alley up to Bellamy Road's flank, putting enough pressure on the big, powerful colt to make him pick up the pace. Bellamy Road again opened a two-length lead, but he had to put in a sharp quarter in :23.49, getting to the three-quarters in a testing 1:10.92."Going down the backside, when I didn't see Roman Ruler close to me, I felt it was time to get a little closer to Bellamy Road," Velazquez said. "I knew if he tried to get away I would be right next to him."Velazquez, feeling he had the measure of Bellamy Road, took a peek back at the quarter pole and saw that no one was coming. Roman Ruler apparently was not handling the deep track and was unable to threaten the top two. Flower Alley began inching away nearing the eighth pole, but a game Bellamy Road tried to come back at him. Flower Alley finally was able to assert himself and drew clear, covering the 1¼ miles in 2:02.76.Bellamy Road's trainer, Nick Zito, said he was proud of his colt's effort coming off an injury and a long layoff. "I salute the winner, and Johnny rode a tremendous race," Zito said. "My jock rode a great race, too. I want to take care of this horse as well as I possibly can, because he gave his guts for us. They had to run to beat this horse today. I've got a real treasure in Bellamy Road."Pletcher, who along with Velazquez was winning his first Travers, agreed. "You have to take your hat off to Bellamy Road," he said. "He's a very gifted horse. We had a seasoning edge today, and I thought the key part of the race was when Johnny decided to turn up the pressure a little and not let him get away."According to Pletcher and Zito, it looks as though both colts will meet again in the Jockey Club Gold Cup (gr. I) Oct. 1.For Melnyk, it's going to be hard to top this one. After the race, he looked out at all the picnickers and couldn't help but think back to the old days. "I should stop at our old spot and take a picture," he said. "You know, I think I will."



Copyright © 2015 The Blood-Horse, Inc. All Rights Reserved.