Funny Cide Breezes; Next Start Undetermined
Date Posted: 8/29/2005 3:55:06 PM
Last Updated: 8/31/2005 5:23:02 PM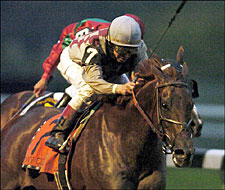 Funny Cide's last win was this Jockey Club Gold Cup victory last year.
Photo: Skip Dickstein

Edited NYRA report
Trainer Barclay Tagg worked 2003 Kentucky Derby (gr. I) and Preakness (gr. I) winner Funny Cide for the first time in 22 days Monday morning. With assistant trainer Robin Smullen aboard, the 5-year-old gelding posted an easy four-furlong breeze in :51 over the sloppy main track. Funny Cide, owned by Sackatoga Stable, had not been on the track since Aug. 8 when he breezed four furlongs in :47 4/5. That workout was preparing Funny Cide for last Friday's allowance race, which was won by Alumni Hall. Shortly after that work, Tagg noticed his horse was having back problems. Tagg didn't know if it was muscular or skeletal related. "It's just another setback," Tagg said. "I don't know what it was, but something was hurting the hell out of him. I never saw anything like it. It scared all of us. I don't know if it's behind him or not. I had the chiropractor go over him again this morning. He seems fine right now." Tagg is hoping to get a couple of works in Funny Cide before finding a race sometime next month. Then, he'll consider defending his title in the grade I, $1 million Jockey Club Gold Cup on Saturday, Oct. 1 and perhaps looking at the grade I, $4 million Breeders' Cup Classic - Powered by Dodge on Saturday, Oct. 29. If Funny Cide makes the Jockey Club Gold Cup he could meet Flower Alley and Bellamy Road, the 1-2 finishers in Saturday's Travers Stakes (gr. I). "He seems big and strong, and doing well right now," Tagg said. "If I can get the works in him and comes along without any more set backs, we'll try to get something in him in the middle of the month. If he runs well and I'm pleased with him, then I'll think about running him in the Jockey Club Gold Cup. If I can't do that, then the Jockey Club Gold Cup will be out. If I can't get him ready, then I'll run him in some of the New York-bred races." Funny Cide has not raced since finishing sixth in the grade I Suburban Handicap on July 2, and he hasn't won since the Jockey Club Gold Cup of 2004.



Copyright © 2015 The Blood-Horse, Inc. All Rights Reserved.