Feedback Louder Than Hooves at Polytrack Trials
Updated: Thursday, August 25, 2005 7:54 AM
Posted: Wednesday, August 24, 2005 2:10 PM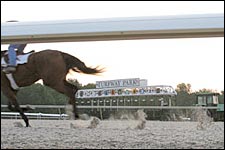 Photo: Pat Lang
A horse works over the Polytrack surface at Turfway Park.
The horses charged down the stretch at Turfway Park Wednesday morning--and you couldn't hear a sound.What you could hear was positive feedback from owners, trainers, and jockeys who gathered at the Northern Kentucky racetrack for several "trial" races on the new synthetic Polytrack surface that will make its pari-mutuel debut opening night, Sept. 7. The Turfway meet will be the first in the United States with Polytrack.Unlike conventional dirt surfaces, there is no pounding of hooves and very little kickback. Polytrack is being hailed as way to keep horses healthier and happier, and thus far, trainers haven't argued with that assessment."To me, this is a very proud moment to see Polytrack go another step forward," Martin Collins, an Englishman who created Polytrack, said during a brief presentation before the exhibition races. "We'll be looking to make more improvements as we'll be learning from this track."The new surface opened for training in early August, and thus far has been well received. The real test will come when entries are drawn for actual races, but officials expect curiosity and the reputation of Polytrack thus far to lure full fields."As an owner, it seems great for my horses to train on," said Rolf Obrecht, who stables his horses in Kentucky and Ohio. "So far, I'm very impressed with it. I think the racing surface is a lot more even, so you won't have inside or outside biases."Indeed, the crown toward the center of the old dirt surface is gone. Because Polytrack--a combination of polypropylene fibers, recycled rubber, and silica sand coated with wax--drains vertically, the surface is flat. Dirt tracks drain horizontally, and water usually accumulates near the rail.Turfway, because of winter weather conditions that created a freeze-thaw process that wreaked havoc with the old racing surface, was ripe for biases, usually in the form of a "golden rail." Onlookers who know all too well the nuances of winter racing at Turfway couldn't help but laugh when each of the three trial races was won by inside speed.Earlier, James Willoughby, a recognized speed handicapper in Great Britain, spoke via conference call and said results from Polytrack surfaces in England indicated come-from-behind types dominated when the surfaces were first used."I was surprised to see three horses go wire-to-wire in light of what was said by Jim Willoughby, but I really don't know what to make of it," said Mike Battaglia, Turfway's longtime announcer and track handicapper. "My advice to bettors is don't go into it with preconceived notions. I really don't think it will take that long for people to figure it out."Rhonda Collins, who rode in a couple of the trial races, said the way the races played out had nothing to do with bias and everything to do with the way the races were a hodgepodge of 2-year-old first-time starters or older horses from widely different class levels."You need even fields to really see how the track is going to play," Collins said. "The riders are going to have to figure the track out anyway. I think their race-riding will come to the forefront very quickly (on the new surface)."Collins, who dubbed the surface "durf"--it had the feel of dirt and turf, she said--had mounts on two horses that raced from behind. "There was nothing on the surface of my goggles," she said.Mathieu Adam, who won the second trial race with the 2-year-old True Course (
Distorted Humor
--Cry Chick, by Summer Squall) for trainer Joe Davis, said the colt got over the surface well."It doesn't feel like turf, but it feels better than dirt," said Adam, who rode in France before he came to the U.S. several years ago. "We may have to change our riding style a little bit, but we'll have to see how the track goes. I'm sure we'll all adapt to it."Bill Fair and Dan Martin, owners of first-race winner Tommy Panache (Mercer Mill--Solo Panache, by Lively One) were on hand to watch their 2-year-old Ohio-bred colt train. He's being pointed to a state-bred stakes at Thistledown."As (trainer Wayne Mogge) said today, we're just checking his motor," Fair said. "He had been training at River Downs, but we moved him here with Wayne's input because we're all excited about this surface. I hope people don't just look at speed numbers. I think as owners we'll be happy to have horses that will hold up longer."All three races on the "fast" track were at five furlongs. Tommy Panache, ridden by Jeff Johnston, won in 1:03 1/5 (the fractions were :13, :24, :36 1/5, and :49 3/5). True Course went 1:03 1/5 (:12 4/5, :23 4/5, :35 4/5, and :49 3/5). The 7-year-old Speed Gun (Demaloot Demashoot--Twist a Lime, by Copelan) won the final race in 1:04 for trainer Reid Gross and rider Nathan Solomon. The fractions for the third event were reported as :12 3/5, :23 4/5, :35 3/5, and :48 3/5.The times were similar, and the horses seemed to slow considerably in the final furlong. A typical five-furlong race on a fast track on the old Turfway surface would go in about :58 and change.Owners and trainers said they're not concerned about the final times. "I absolutely love it," said trainer Art Zeis, who regularly stables at Turfway. "It's super good on a horse with sore feet. The track we came from is awfully hard and caused some bruising of feet. I think this surface may take the soreness out of a horse."Willoughby, the English handicapper, said Polytracks in Great Britain have been rather loose when first put down, and then they've tightened up. Times, he said, are consistent whether the surface is dry or wet."Track speed remains largely consistent," Willoughby said. "With hotter temperatures it tends to speed up, and in cold temperatures it seems to slow down. Horses bounce off the surface in hot weather, and the surface seems duller in extreme cold."Equibase will use only "fast" and "wet fast" for the surface condition at Turfway. Track president Bob Elliston said Polytrack track records would be identified after the Sept. 18 Kentucky Cup program. The old dirt-track records, some of which were set on freaky-fast surfaces brought about by weather-influenced track conditions, will be archived for reference purposes.On another note, Elliston said Turfway wouldn't be hiring the usual number of seasonal track crew personnel because Polytrack requires very little maintenance. "All of our full-time crew is still here," he said, "but some have been reallocated."
FREE! E-Newsletters from The Blood-Horse!...
Follow the top stories of major racing events, racing previews and results with FREE e-newsletters from bloodhorse.com. As news develops, we'll deliver updates to your inbox. Follow important events moment by moment, step by step!