Equine Drug Testing in Line for Major Upgrade
by Tom LaMarra
Date Posted: 8/21/2005 2:44:18 PM
Last Updated: 8/24/2005 5:56:10 PM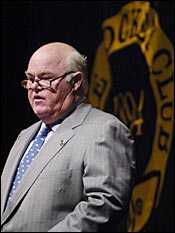 Jockey Club chairman Ogden Mills Phipps.
Photo: Skip Dickstein

The horse racing industry is in the midst of creating a major research and development laboratory that will be responsible for improving testing capabilities and developing tests for designer and other hard-to-detect drugs used in racehorses, officials announced during The Jockey Club Round Table Conference Aug. 21 in Saratoga Springs, N.Y.The effort, to be spearheaded by Dr. Don Catlin, founder of the UCLA Olympic Analytical Laboratory, has been in the works for some time but not publicly announced. Catlin visited Keeneland last fall to begin an earnest dialogue that has led to formation of a committee to raise funds for what is being called the non-profit Equine Drug Research Institute.With the plan still being developed, details are few. But Catlin, who was invited to speak during the Round Table, said the effort stems from a link between the human and equine athletic worlds. "We share a deep and abiding interest in sport, and we don't like cheaters," Catlin said.The lab was established in Southern California in 1984 for the Olympic Games in Los Angeles. There are now 33 around the world but only one per country because of the expensive nature of the work and equipment."The issues you face are very similar or identical to the issues I've faced in sport," Catlin told the Round Table gathering. "Your sport offers some unique opportunities."Catlin said equine drug testing faces some limitations, including a thriving counter-industry, limited funding for research and development, fragmentation, and limited communication between labs. But after his presentation, Catlin said he believes it can be done."It's not an overnight fix," said Catlin, who plans to oversee the proposed lab adjacent to the Olympic lab. "No problem with this magnitude and complexity begins overnight."Keeneland president Nick Nicholson said discussions with Catlin were borne from frustration over the time it has taken to develop tests for various substances believed to be used in racehorses. He also said feuding between labs has stymied progress."We were tired of feeling like we were being held hostage by the competition (among labs and chemists)," Nicholson said. "We started asking Dr. Catlin for advice. He's very careful about who he picks and chooses (to work with). We've had a few meetings with the idea to have a group of scientists develop better equine tests. The information would then be available to all labs."Nicholson said the "philosophy" of the research and development effort would be open, but the specifics wouldn't be released given the nature of the work.Will Farish, vice chairman of The Jockey Club, is heading up the fund-raising effort. Jockey Club executive director Dan Fick, who also chairs the national Racing Medication and Testing Consortium, has been involved in the meetings with Catlin."It will be separate from the RMTC, but they'll be working closely together," Fick said. "This satisfies a need the RMTC saw early in the process--to develop tests for drugs. Keeneland and the Grayson-Jockey Club Research Foundation ultimately picked up the ball, and this has a very good chance of becoming a reality very quickly."Fick noted the lab would develop tests for drugs, not run the actual tests.In a presentation on the progress of the RMTC, Alan Foreman, its vice chairman and the chief executive officer of the Thoroughbred Horsemen's Association, said 26 states have either fully adopted or are in the process of adopting the model uniform medication policy. He called the developments "simply astonishing and unprecedented" given the fact uniformity has been sought for 50 years.Foreman said the THA, which advocated a per-start fee to pay for the RMTC when it released its own medication proposal in 2001, would contribute $250,000 in per-start fees collected from members. Others, including Jockey Club chairman Ogden Mills "Dinny" Phipps, urged widespread industry participation and said the question isn't whether the industry can afford it, but rather can it afford not to do something."We are determined to run the cheaters out of this sport and maintain a level playing field," Phipps said.Foreman called for constant industry vigilance but said there is "another side to integrity." He cited research performed in the Mid-Atlantic region from 1997-2004 that showed only 1,872 positives from 229,000 test samples from Thoroughbred and Standardbred races, or "an 8,000th of a percent."He said the numbers were particularly revealing because the largest concentration of racing takes place from New York to Virginia. "Without question, the vast majority of horsemen are honest and hardworking, and they deserve to be respected for it," Foreman said.



Copyright © 2015 The Blood-Horse, Inc. All Rights Reserved.