California Trainers on Notice Over Use of Anabolic Steroids
by Jack Shinar
Date Posted: 8/17/2005 2:47:12 PM
Last Updated: 8/18/2005 7:35:34 PM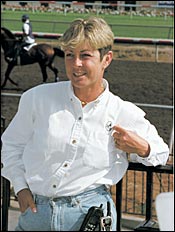 Trainer Laura De Seroux.
Photo: File

While steroid use by human athletes has caused a firestorm of controversy, trainers in California are being warned to avoid using anabolic steroids on their horses because of increased testing and uncertainty about withdrawal times. But the director of the state's drug-testing laboratory said the concern is misplaced.Trainer Laura de Seroux was fined $500 by Del Mar stewards Aug. 7 because two of her horses -- graded stakes-placed Royal Copenhagen and Johnny Red Kerr -- tested positive for the anabolic steroid trenbolone in post-race urine samples taken after races at Hollywood Park in early July. Because they are considered minor infractions, no redistribution of purses resulted from the positives.Dr. Scott Stanley, director of the Ken Maddy Equine Testing Laboratory at the University of California-Davis, said the trenbolone positives account for two of just four anabolic steroid infractions in the state this year. But their widespread use and heightened testing have the industry on alert.The stewards' decision followed a letter sent from the California Thoroughbred Trainers recently warning members about the use of anabolic steroids, including boldenone, a major component of the common appetite stimulator Equipoise.Because the use of steroids is not illegal, the memo charged that the California Horse Racing Board had issued several complaints without providing adequate warning to horsemen of a change in policy.It's a sensitive issue. Not only are anabolic steroids under much scrutiny because of their effect on sports such as baseball and track and field, but many trainers are still stinging over the negative publicity resulting from the CHRB crackdown on "milkshaking," the practice of giving horses a sodium bicarbonate solution to reduce fatigue. Under executive director Ingrid Fermin, the CHRB has encouraged racetracks to institute race-day holding barns and is making other improvements in security and drug detection, among them moving the testing of urine and blood samples to the state-of-the-art Maddy facility.Boldenone was responsible for the other two positives uncovered in testing this year, Stanley said. Last year, there were six anabolic steroid violations, all for the use of stanozolol, a compound found in a product called Windstrol-V, he said.Neither stanozolol nor trenbolone are approved for equine use in the United States, Stanley said. He noted anabolic steroids have the "potential to affect performance," and said trainers who use steroids should curtail the usage a couple of weeks before running a horse so they don't appear in race-day samples.Ed Halpern, the executive director of the CTT, said there is widespread use of products such as Equipoise because they keep horses' appetites strong and their willingness to train keen in a 365-day-a-year racing environment. "There seems to have been a whole number of steroid positives" being produced by the Maddy Lab, which became the state's primary drug testing facility July 1, he said."Steroids have never been illegal," Halpern said. "Veterinarians say they aren't doing anything they haven't done for 20 years. I think we need to develop some guidelines so veterinarians and trainers know what they can do and what the withdrawal times are. The CHRB shouldn't just be fining people."Fermin said she asked UC-Davis to study the withdrawal issue. But she also wondered whether the use of steroids has become too commonplace."We are the only country where it's legal (to use anabolic steroids on horses)," Fermin said. "We probably need to look at that. I think the people in this industry with the expertise need to examine steroid use. Maybe we've looked at some of these things as therapeutic, like clenbuterol and (Salix), and now everyone uses them whether they need to or not just because they know everyone else does ... I tend to think we are over-medicating."She suggested de Seroux and other trainers should question their veterinarians more closely. "I question the legality (of using anabolic steroids in racing), but I don't think I'm being hypocritical in using them when everyone else is, too," de Seroux said. "People think I'm being hypocritical because I've criticized the use of drugs. But I don't do anything illegal with my horses. My horses run clean. I'm all for oats, hay, and water.De Seroux contends there will be more positives for anabolic steroids if the CHRB maintains its current position."(Trainers and veterinarians) are all wondering what's going on," she said. "These things are legal and they've never been tested for before."In order to be effective, steroids are used over a long period of time, she said. "It isn't something you give a horse, say, five days before a race to get optimal effect on the day it races," de Seroux said.The trainer said steroids help keep some horses on their feed, add muscle, and help geldings replace testosterone they can no longer produce naturally.



Copyright © 2015 The Blood-Horse, Inc. All Rights Reserved.