Gulfstream Park Report: Inexplicable Wins Canadian Turf Handicap
by Scott Davis
Date Posted: 2/24/2001 6:04:06 PM
Last Updated: 2/27/2001 2:42:23 PM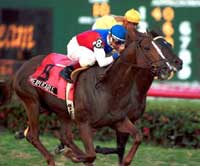 Inexplicable won the Canadian Turf Handicap in his first start of 2001.
Photo: AP Photo/Equi-Photo/Bill Denver

Published in March 3 issue of The Blood-Horse
In the moments after Inexplicable's very explicable win in the Canadian Turf Handicap (gr. IIIT) on Feb. 24, trainer Christophe Clement was once and for all going to explain his secret for getting optimum performances from horses returning from layoffs. "My secret with layoff runners," he began straight-faced, with a crowd of reporters moving in closer to hear his pearl of wisdom, "is to be stabled next to Bill Mott." Well, OK. Clement's secret -- if there is one -- may still be in the bag, but Inexplicable's was clearly out. The 6-year-old son of Miswaki, out of the Nureyev mare Mythomania, had been among the top middle-distance grass horses on the East Coast last summer, winning the New Hampshire Sweepstakes Handicap (gr. IIIT) and finishing second in the Bernard Baruch Handicap (gr. IIT). "Had I met this field last spring I would have been the favorite," Clement said. But Inexplicable went off form, finishing last in his final 2000 effort in the Cliffhanger Handicap (gr. IIIT) at Meadowlands before being sent to the bench. "Horses are like elastic," explained Clement. "I think I made a mistake last year by pulling him too much." So, the trainer reined in the fluid-looking chestnut, turning him out for 60 days before sending him, along with the majority of his runners, to Payson Park in Martin County, Fla. Following a series of slow but endurance-building half-mile breezes over Payson's deep dirt track, Clement knew he was ready. Jose Santos, his regular pilot, did too. "When I saw his name come up in the entries, I started getting excited," Santos said. "Clement really knows how to get a horse ready to run, especially off a layoff." Santos' focus in the 1 1/16-mile battle was on Band Is Passing, Stanley Ersoff's ultra-consistent 5-year-old, who had been no worse than second in 11 of his past 12 U.S. starts. And the two were stuck to each other like glue during most of the race, running in tandem through the first turn and down the backstretch, about a half-dozen lengths from the front. That was where Viva Pentelicus ruled, setting a gaudy pace of :46.26 and 1:09.54 while skipping out to a four-length lead. Longshots Schumaker and Johnny Dollar gave chase, allowing Santos and rival rider Eibar Coa, aboard Band Is Passing, to sit chilly. Once Schumaker began to fade, Coa made the first move, taking the even-money favorite three wide heading toward the turn, where he joined, then quickly dispatched of the leaders. Santos followed, though he hugged the hedge around the turn. By the time they straightened in the lane, it was a two-horse race. Band Is Passing tried to hold off the late charge of Inexplicable, who had swung off the hedge, but couldn't. "Someone has to run a track record to beat us," spat Coa. Almost -- assisted by the fleet fractions, Inexplicable's final time of 1:39.43 missed the Gulfstream mark by just a tick. Truth be known, Inexplicable's talents weren't that much of a secret before the Canadian Turf Handicap. Trainer Ben Perkins Jr. had been busy putting together a consortium, led by Herb Moelis' Candyland Stables, to purchase the horse from Lucy Young-Boutin. Though a handshake agreement was reached before the race, the details were finalized in the hours afterward, and Inexplicable now resides in Perkins' barn. "He ran so good, I'm just glad the price didn't go up," joked Perkins from his New York base. "We primarily bought him for races at Monmouth later in the summer, though he will probably have a start between now and then, possibly at Keeneland." Latour's Detour
It was an ordinary midweek allowance race, written for 3-year-old fillies who had never won two races other than maiden, claiming, or starter. But when it failed to fill, it set in motion a chain of events that changed the landscape of the division. It first caused trainer John Kimmel to make last minute plans to run Bill Heiligbrodt's Latour in the Feb. 25 Davona Dale Stakes (gr. II) and detour from his plan to go from the allowance ranks to the meet's crown jewel for sophomore distaffers, the Bonnie Miss Stakes (gr. II). Then, it forced Richard Migliore, the only rider Latour has known and Kimmel's go-to guy, to choose between that mount and the commitment he had made to ride last year's Breeders' Cup Juvenile Fillies (gr. I) runner-up Platinum Tiara. "We made the decision together and decided we had to honor our commitment," said Migliore's agent, Mike Sellito. Last, but not least, Latour's presence in the Davona Dale became a major headache for the reigning queen of Gulfstream's 3-year-old fillies, Gold Mover. Fresh off a win in the Forward Gal Stakes (gr. III), Gold Mover was the Davona Dale's 800-pound gorilla. She was no match, however, for a filly whom Kimmel said, "Probably weighs less than 1,000 pounds, but all of it is heart." Latour and Platinum Tiara shot to the lead right from the start. Though three-wide, Gold Mover sat in a perfect stalking position through moderate splits. Nearing the three-eighths pole, Platinum Tiara abruptly and dramatically gave way, beginning a fade that would take her to last of seven. Jerry Bailey alertly seized the opportunity to take Gold Mover alongside Latour, ranging up on the outside of the diminutive filly and within a half-length. The crowd of nearly 15,000 held its collective breath, and waited for her to waltz on by. They're still waiting. "Every time the other horse came to me, she gave a little bit more," said John Velazquez, who inherited the mount on Latour. "She likes to wait on horses when she gets to the lead, but she wasn't going to let anybody by." The margin of victory for the filly Kimmel compared to "the Energizer® Bunny" was a half-length, and it moves Latour to the head of the class. The trainer expressed doubts about her making the Bonnie Miss, though, intoning instead the Ashland Stakes (gr. I) at Keeneland is more likely. There she is liable to meet Gold Mover again, who, while second, still erased doubts about her ability to navigate two-turns. "I'm disappointed to lose but I could come away with a lot less pleasure from the result," said her trainer, Mark Hennig. "A change of paths might have made the difference." Hennig could have said an allowance race might have made a difference, too, but left Kimmel to do that. "Sometimes the racing secretary makes you look like a genius," he smiled. (Chart, Equibase)



Copyright © 2015 The Blood-Horse, Inc. All Rights Reserved.