Zito is Picture of Humility and Grace at Hall of Fame Induction
by Ray Paulick
Date Posted: 8/8/2005 1:29:01 PM
Last Updated: 8/11/2005 1:10:39 PM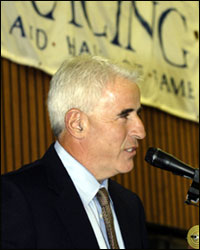 Hall of Fame trainer Nick Zito at Monday's induction ceremony.
Photo: Skip Dickstein

Saying racing is all about the fans and calling himself "the luckiest fan alive," Nick Zito entered the Hall of Fame Monday with the same humility and grace that has marked his life-long love affair with Thoroughbred racing. It is an affair that began as a young boy, climbing the fence to sneak into New York's Aqueduct racetrack, and slowly ascending to the sport's greatest heights: victories in classic races, and now inclusion into its most exclusive club.Racing's newest Hall of Fame member paid tribute to the great trainers who came before him, to those he competes against now, and to "every horse I ever trained and every horse I didn't train."The 57-year-old New York native had many people to thank, from his family, to the trainers who gave him his first jobs, to the veterinarians, blacksmiths, exercise riders, hot walker, owners, media members, and others who make it possible for him to live his dream today. "You can't get into the Hall of Fame by yourself," Zito said.Zito was presented his Hall of Fame plaque by John Hettinger, a respected owner, breeder, and industry leader who recalled meeting Zito 23 years ago. "I didn't just get a trainer. I got a friend," said Hettinger."He thinks about every horse as an individual, and I think this is a key to his success," Hettinger continued. "He is demanding but has a very, very big heart. "So much for Nick the trainer. A word or two about Nick the man: Success has not changed him. He's the same Nick I met 23 years ago. He doesn't look up to a king or down on a hot walker."The ceremonies, held at Fasig-Tipton's Humphrey S. Finney sale pavilion down the street from the National Museum of Racing in Saratoga Springs, N.Y., also featured the induction of trainer Sidney Watters Jr., jockey Thomas M. Walsh, and five-time champion Lonesome Glory, all elected by the Hall of Fame's Steeplechase Committee. Watters, now 88, also had a successful career training on the flat. Walsh is currently a New York-based Thoroughbred trainer.This was the first time in the Hall of Fame's 50 years that there was only one Thoroughbred racing inductee. New election rules were instituted for 2005 requiring a nominee to receive 75% of the votes from eligible voters for induction. None of the nominees among jockeys, contemporary females, or contemporary males reached that threshold.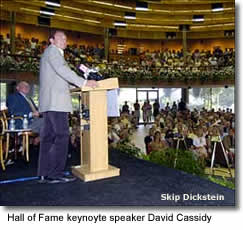 John T. von Stade, the museum president who introduced living Hall of Fame members on hand, asked the standing-room-only crowd to hold their applause until the end. But the audience erupted when von Stade introduced Pat Day, who announced his retirement five days before the induction ceremonies. Day, inducted in 1991, was joined on stage by Joe Aitcheson (1978 inductee), Braulio Baeza (1976), Jerry Bailey (1995), John Rotz (1983), Gary Stevens (1997), Ron Turcotte (1979), Robert Ussery (1980), Jorge Velasquez (1990), and Manuel Ycaza (1977).Hall of Fame trainers on hand were H. Allen Jerkens (inducted in 1975), LeRoy Jolley (1987), Tommy Kelly (1993, D. Wayne Lukas (1999), Shug McGaughey (2004), William Mott (1998), Scotty Schulhofer (1992), Jonathan Sheppard (1990), and Frank Whiteley Jr. (1978).Hall of Fame committee chairman Edward Bowen introduced keynote speaker David Cassidy--the one-time teen heartthrob turned Thoroughbred owner and breeder who now resides in Saratoga--as having a larger fan club than either Elvis Presley or the Beatles. He added, "We haven't figured out whether it's bigger than Nick Zito's."By the end of the induction ceremonies, after Zito brought the crowd to its feet with his heartfelt remarks, that issue was never in doubt.



Copyright © 2015 The Blood-Horse, Inc. All Rights Reserved.