Emotional Weekend Has Zito Pumped for Hall of Fame Induction
by Steve Haskin
Date Posted: 8/8/2005 8:16:18 AM
Last Updated: 8/11/2005 1:11:27 PM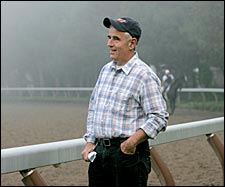 Hall of Fame trainer Nick Zito, watches horses train at Saratoga.
Photo: Barbara D. Livingston

Nick Zito's world doesn't spin on the same axis as everyone else's. It is a world of erupting volcanoes and avalanches of emotion. And that pretty much sums up his days leading up to his crowning achievement – induction into racing's Hall of Fame.Zito wanted to enter the Hall's hallowed gates the same way he does everything else – with a bang. So, he lined up some of his most talented horses and stormed in en masse rather than go in quietly.Like everything in Zito's world, it turned out to be a roller coaster of emotional highs and lows. But in the end, it was the high of winning the Whitney Handicap (gr. I), one of the few historic stakes that has eluded him, that stood above all else.At first, it looked as if a dark cloud would obscure the festivities. Noble Causeway, who had been scratched at the gate prior to the Jim Dandy (gr. II) when jockey Jerry Bailey felt the colt was not warming up properly, checked out fine afterward and turned in a solid five-furlong breeze several days later. A perplexed Zito came right back and entered the son of Giant's Causeway in a 1 1/8-mile allowance race a week after the Jim Dandy. Noble Causeway, ridden by Ramon Dominguez, ran a sixteenth of a mile before virtually coming to a halt.The colt seemed fine physically afterward, and Zito now has the task of trying to find out what is wrong with this talented colt, who had finished second in the Florida Derby (gr. I). This was not the way he wanted to enter the Hall of Fame. But like everything else in Zito's world, things change very quickly. And it took only a few hours for this low point to turn into one of the high points of his career.Prior to that, however, Zito sent out Hide and Chic and In the Gold (who broke poorly after hitting the side of the gate) to finish second and third in the grade I Test Stakes for Charlotte Weber. It was a tough break for Kentucky Oaks (gr. I) runner-up In the Gold, but Zito was proud of both filliies' efforts, and realized no one was going to beat the runaway winner, Leave Me Alone.Now came the big one, the Whitney Handicap, in which Zito had two runners for Tracy Farmer – the hard-knocking Sir Shackleton and the brilliant Commentator, who had never been even remotely threatened in six sprint races. Zito was taking a chance stretching the son of Distorted Humor out against the kingpin of the older horse division, Saint Liam.Commentator, with his blazing speed and imposing presence on the front end, is not the kind of horse you want to tangle with early, and Edgar Prado took a hard hold of Saint Liam, who seemed keen to take on Commentator right from the start. But with Commentator, it's damned if you do, damned if you don't. And when Gary Stevens was able to open a clear lead and dictate the pace, it put the pressure on Saint Liam, who was the only horse anywhere near Commentator.In what turned out to be a match race, Commentator threw in a blistering third quarter, while still holding a commanding lead, which took the sting out of Saint Liam. Although Commentator got a bit leg weary in the final sixteenth, he had enough to hold off Saint Liam by a neck. Sir Shackleton closed well enough in the final furlong to get third, nine lengths behind Saint Liam."What a way to go into the Hall of Fame!" an excited Zito said after the race.But his weekend was far from over. The following day, his emotional high took a slight tumble when Middle Earth never threatened in the six-furlong Amsterdam Stakes (gr. II).Following the last race, Zito went into the grandstand and watched on the TV monitor as Farmer's Sun King ran a game second in the grade I Haskell Invitational Handicap (gr. I).With Sun King setting the pace when expected pacesetter, Joey P., took back, Zito urged jockey Javier Castellano to come off the rail and force the heavy favorite, Roman Ruler, to go wide turning for home. But Castellano stayed on the rail, and Roman Ruler was able to wear down Sun King, who hung on tenaciously.But Zito was proud of Sun King's effort. "He's a wonderful horse," he said moments later "He showed he's back and right up there with the best of them. I think the Pennsylvania Derby (gr. II) would be a good spot for him next."So, with a one-three finish in the Whitney, a two-three finish in the Test, and a second in the Haskell, all grade I stakes, Zito was pumped for his big day. The butterflies were already starting to flutter as he put the final touches on his speech, which promises to be a classic.All that is left now is for Zito to make his way to the Fasig-Titpon Sales Pavilion Monday morning and into history.



Copyright © 2015 The Blood-Horse, Inc. All Rights Reserved.