Day is Done: Hall of Fame Jockey Announces Retirement
by Leslie Deckard
Date Posted: 8/4/2005 11:42:40 AM
Last Updated: 8/5/2005 5:04:21 PM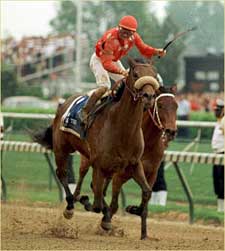 Jockey Pat Day said this Kentucky Derby victory aboad Lil E Tee "stands out above all of them."
Photo: Horsephotos/NTRA

As the Churchill Downs bugler played "My Old Kentucky Home," an emotional Pat Day officially hung up his saddle today during a press conference at the Louisville, Ky. track, where he is the all-time leading rider with 2,481 wins, including 155 stakes wins."This is a day that the Lord has made and we're going to rejoice and be glad in it," Day said while sitting beside wife, Sheila, and daughter, Irene. "This is an end to a storybook career that has just taken me above and beyond my wildest expectations. "This is a decision that I came to with great difficulty. I think I got the nod from God a year ago and I failed to pay heed to all of the instructions."Day said the defining moment in his decision to retire came after trainer Wally Dollase gave him a leg up on Two Trail Sioux to win the Fleur De Lis Handicap (gr. II) on the Stephen Foster (gr. I) undercard. "The thrill of the victory in that race was decidedly less than what I had anticipated," said the Hall of Fame rider. "That really sent me to do some real soul searching. The remainder of the meet was less than enjoyable. After the race meet I opted to take the summer off and spend some time with my family and see which way I wanted to go. I just got alone with God and came away from there feeling strongly that it was time to retire from riding and become a little more active in the ministry." Day retires with 8,803 career victories, which ranks him fourth behind all-time leader Laffit Pincay, Jr.'s career total of 9,530. Day is the all-time leader in career earnings by a jockey as his mounts earned $297,912,019.Day won the Kentucky Derby (gr. I) in 1992 with W.C. Partee's Lil E Tee. His Triple Crown resume includes a record five Preakness Stakes (gr. I) and three wins in the Belmont Stakes (gr. I). He rode in a record 21 consecutive Kentucky Derbys, a streak that ended when hip surgery forced him to miss this year's renewal.Looking back over his career, Day called himself blessed for having the opportunity to have riden many top horses. He called Easy Goer the best horse he has ever ridden, and said the Kentucky Derby win aboard Lil E Tee in 1992 holds a special place in his heart."Lil E Tee in the Derby stands out above all of them," Day said. "Of all the races that I've been blessed with the opportunity to win, the thrill of winning them pales in comparison to the joy and fill of winning the Kentucky Derby. That race certainly is the cornerstone."The Colorado native said he would immediately focus his energy on his work with the Racetrack Chaplaincy of America, a national organization of chaplains from U.S. racetracks that serves the spiritual, physical, emotional, and social/educational needs of the workforce at those tracks.In addition to speaking at chaplaincy fund-raising events, Day said, he wants to spend time walking through the backstretch with Racetrack Chaplaincy of America's 58 sanctioned chaplains and then giving a message of eternal hope to groups of backstretch workers. Day indicated he will speak at Canterbury Downs Aug. 21 at an event designed to raise funds for the track's proposed backstretch chapel/multi-purpose building named in honor of his late friend and fellow jockey Dean Kutz."I plan to work for the Racetrack Chaplaincy of America as an industry spokesperson," Day said. "At this juncture, I'm not being called to leave the industry -- I'm merely giving up my tack. I'm no longer participating as a jockey, but I will still be involved in the racing industry that's been so incredibly good to me and my family for 32 years. That I might not be as visible as I once was, I'm still hopefully going to be a positive, contributing part of the community."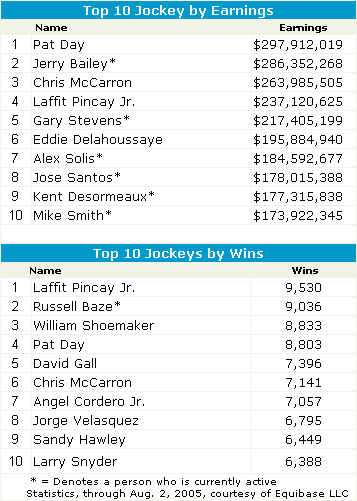 Copyright © 2015 The Blood-Horse, Inc. All Rights Reserved.