Meeker Addresses Problems Facing Industry
by Ron Mitchell
Date Posted: 8/4/2005 11:02:23 AM
Last Updated: 8/5/2005 5:03:46 PM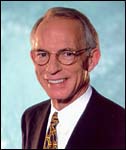 Churchill Downs president/CEO Tom Meeker.
Photo: Churchill Downs

Although competition from casinos and the desire to obtain alternative gaming at racetracks generate the most buzz about problems facing North American horse racing, Churchill Downs president and CEO Tom Meeker says there are other issues facing the industry that must be resolved."Clearly there are a number of endemic problems (facing racing)," Meeker said Wednesday during a teleconference with stock analysts to discuss CDI's latest earnings report.. "Solutions to these problems ... will not only provide the industry with new growth potential, but also Churchill Downs, given its position within the industry, can experience new growth channels when and if these problems are solved. There are fixes to each of these problems and I am confident the industry ... will find solutions to these problems."According to Meeker, major issues facing racing include the problem of short race fields, competition from off-shore bookmakers, lack of standardized medication and other rules, and problems with totalizator wagering systems,"I think there is a problem with short fields occasioned by a myriad of changing dynamics within the industry, but is clearly something the industry must address as we move down the road."The offshore competition issue continues to be out there and that is an issue involving an economic model that is not the right model to benefit racing and needs to be changed," Meeker continued. "There also exists an issue with uniform medication, as well as general racing rules throughout the industry."Meeker said the industry also needs to work together to improve the totalizator system that handles wagering transactions, noting that CDI recently encountered problems with integrating its CRM technology platforms with the tote systems at its different racetracks.Meeker said Churchill is working with totalizator companies to install hardware that will enable interaction between different systems.On the subject of alternative gaming, Meeker said it has "become an imperative for the industry for several reasons, including asset utilization, competitive reasons, and for the overall ability of a racetrack to promote quality field sizes in terms of their core operations in the area of simulcasting."Meeker also said there is reason to be more optimistic now than in the past about the chances of alternative gaming being legalized in Kentucky."There are several things happening that provide some degree of optimism – without any assurance of passage – but some degree of optimism that certainly that didn't exist at this time in prior years," Meeker said one reason for his optimism is the momentum gained by the Kentucky Equine Education Project, the organization established by former Gov. Brereton Jones. KEEP has not yet taken a position on whether to promote alternative gaming at racetracks during the 2006 legislature session."KEEP has done a particularly good job in providing the grassoots awareness of the importance of the equine industry in the state of Kentucky," Meeker said.The Churchill executive said prospects for alternative gaming, primarily in the form of slot machines, at its family of racetracks will be a factor in CDI's decisions on which racing operations to keep and which to sell.The lack of alternative gaming in California was apparently one reason Churchill has entered into an agreement to sell Hollywood park, although the sale includes a contingency that allows Churchill back in should slot machines at racetracks become legal."As reflected in our decision in California, where we have serious concerns about the long-term health of racing given the significant competitive challenges they face (from) native American gaming, we are going to continue looking at those markets where we do business," Meeker said. "In those markets where there is not a good potential for alternative gaming legislation being passed, we are going to consider whether or not we should remain in those markets."Churchill Downs Inc. reported net earnings for the second quarter were $24.2 million or $1.80 per share diluted, compared to $27.7 million or $2.06 per share diluted for the same period in 2004.The change year-over-year reflects higher depreciation costs; an additional $2.5 million in interest expense; a higher tax rate due to increased legislative expenses; and nearly $1 million in development costs associated with the pending sale of the Hollywood Park assets. Net revenues from continuing operations for the second quarter reached $163.2 million, an increase of 16.4% compared with $140.2 million for the same period last year. Net earnings from continuing operations for the quarter were $22.7 million, a decline of less than 1% from $22.9 million for the same period a year ago. Diluted earnings per share from continuing operations totaled $1.69, compared with $1.70 for the second quarter of 2004.Meeker said the success of this Kentucky Derby (gr. I), Kentucky Oaks (gr. I) and other marquee events helped offset some of the soft business levels affecting our facilities and racing in general. Factors such as rain, excessive heat and various equine-related illnesses contributed to smaller field sizes that, in turn, led to declines in wagering at some CDI tracks during the period.



Copyright © 2015 The Blood-Horse, Inc. All Rights Reserved.