With Polytrack in Place, the Real Race Begins
by Tom LaMarra
Date Posted: 8/4/2005 10:36:22 AM
Last Updated: 8/5/2005 5:02:29 PM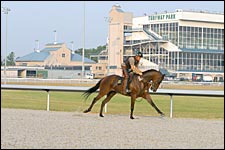 A horse works over the Polytrack surface at Turfway Park.
Photo: Turfway Park/Pat Lang

The Polytrack racing surface at Turfway Park was installed two weeks ahead of schedule, but the sighs of relief by track officials may be short-lived as the Sept. 7 meet opener approaches. This is new territory, and questions abound, not the least of which is how horsemen and the betting public will respond."Training is different than racing," Turfway president Bob Elliston said soon after the one-mile Polytrack surface opened for training Aug. 3. "Will horsemen and patrons sit back and watch? My guess is they won't. Fields should be full early in the meet, and patrons love full fields."After only one day of training, the reports were positive, though that wasn't unexpected given the fact Keeneland has had the Polytrack surface on its five-eighths-mile training track for about a year. Trainers thus far have raved about that surface."We've trained on it all spring and summer at Keeneland, and the Turfway surface is similar to that surface," said trainer Wayne Mogge, who has 12 horses tabled at Turfway and will ship another 15 over from River Downs in Ohio in September. "Horses have been running well off of it. Horses just bounce right over it."Mogge trains the filly Kaylan's Rose, who has won back-to-back turf stakes at Mountaineer Race Track and Gaming Resort and Ellis Park. He said the filly has trained exclusively on the Polytrack at Keeneland."Whether that's the reason (for her success) or not, I don't know, but she has been running awfully well," Mogge said. "I've heard people say turf horses train well on the Polytrack, and possibly might race well over it. I'll be excited to see if some turf horses (will continue racing when they normally would be laid up)."Turfway, located in Northern Kentucky, has become a shipper's track, particularly in the winter. But Elliston noted the track received 1,500 stall applications for 900 stalls for the late summer/early fall meet.Some of the trainers--Derek Galvin, John Good, Bob Holthus, Chuck Simon, and Mike Stidham--haven't stabled at Turfway in the past, or at least the recent past. Elliston said it wouldn't surprise him if Turfway regulars that ship in from training centers--Greg Foley, Dale Romans, Eric Reed, and Phil Sims--applied for stalls for the meet that begins in late November and lasts all winter."The intention is to maintain year-round stabling," Elliston said. "For many people, this could be their last move."Polytrack, an all-weather surface, has been used for racing in Great Britain. Turfway has enlisted an individual who wrote about how the surface plays in England to write about the implications for racing in the United States.Though the biases that once dominated the dirt surface at Turfway have evened out in the last several years, the freeze-thaw process and resulting work on the surface made occasional winter biases inevitable. The Polytrack is expected to play the same whether it's dry or wet."When it rains, it's just as consistent," Elliston said. "We'll do all we can to get the word out before the race meet as to what people in England have encountered."In Europe, the condition of the Polytrack is listed as "standard." Equibase, however, will use the designations "fast" or wet fast" at Turfway.Should it snow an inch or less during the winter, the snow will be worked into the surface, which doesn't freeze and features a state-of-the-art drainage system. If it should snow several inches, the top layer will be blown off and the remainder worked into the surface.Elliston said he expects fewer cancellations. Turfway, he said, has a chance to capitalize on the simulcast marketplace with the Polytrack by having a more consistent schedule and a television presentation that should help the signal "jump out" because of the lighting on the lighter track surface.On a related note, Elliston said Turfway plans to stick with its customary schedule of evening racing Wednesdays through Fridays, and afternoon racing on weekends. Rumors have circulated the track is looking to switch to Monday and Tuesday afternoons in the winter."The Turfway Park signal is a key signal in the evening," he said. "If we can provide a more consistent racing product when more people are at betting facilities, we might contemplate a change. But right now, I'm not sure we could grow our business (by switching to day racing)."The new safety rail is in place around the one-mile track, but the paddock and winner's circle as of Aug. 3 were under reconstruction. Both will have rubberized bricks throughout to remove the chance of any dirt being transferred to the Polytrack. In the paddock, the viewing area will be larger and the sight lines improved, Elliston said.In late August, Turfway will have a media day at which some training races for 2-year-olds may be held to give attendees an opportunity to see horses in competition on the surface."A lot of people are focused in on what's going here, and it creates a lot of pride for the staff," Elliston said. "A lot of news that has come out of Turfway has been negative. We're very hopeful the news that comes out of this will be positive."



Copyright © 2015 The Blood-Horse, Inc. All Rights Reserved.