<i>Reflections</i> Series Continues with Trainers Panel at Saratoga
Date Posted: 8/5/2005 1:30:01 PM
Last Updated: 8/8/2005 11:08:56 AM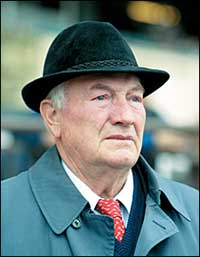 Legendary trainer Allen Jerkens among headliners for Refelections panel.
Photo: Barbara D. Livingston

Hall of Fame trainers Allen Jerkens and Scotty Schulhofer will participate in a panel discussion Aug. 9 in the Hall of Fame Gallery at the National Museum of Racing.The approximately 90-minute event, which begins at 11 a.m. Tuesday, is open to the public free of charge, is co-sponsored by The Blood-Horse magazine and the National Museum of Racing and Hall of Fame.Also taking part in the program, which is part of the magazine's "Reflections" series, are Kentucky Derby winning trainer John T. Ward Jr., and veteran New York-based trainers Frank Alexander and Jimmy Toner, both of whom have developed champions during their distinguished careers.Ray Paulick, editor-in-chief of the The Blood-Horse, will be the host and moderator of the discussion.Jerkens, 76, has been a licensed trainer for 55 years and is considered a legendary figure in the sport. At the time of his induction in 1975, Jerkens was the youngest trainer to enter the Hall of Fame. He still operates a powerful public stable. His long list of stakes winners includes Caress, Classy Mirage, Devil His Due, Dixie Flag, Kelly Kip, Missy's Mirage, November Snow, Passing Shot, Sensitive Prince, Shine Again, Society Selection and Virginia Rapids.In 1993, Jerkens' Sky Beauty swept the Triple Tiara series for 3-year-old fillies in New York. She was the older filly and mare champion of 1994.Jerkens earned the nickname "Giant Killer" for engineering upset victories of some of racing's most accomplished horses. Hobeau Farm's Beau Purple defeated five-time Horse of the Year Kelso three times, Onion and Prove Out each beat Secretariat and long shot Wagon Limit won the 1998 Jockey Club Gold Cup, a race that featured Skip Away and Gentlemen.Schulhofer, 79, was inducted into the Hall of Fame in 1992, exactly 30 years after he retired as a steeplechase rider and began training. Before retiring at the end of 2001, he had developed many top stakes horses, including six champions: Ta Wee, Mac Diarmida, Fly So Free, Smile, Rubiano and Lemon Drop Kid. He won the Belmont Stakes with Colonial Affair and Lemon Drop Kid.Ward, 60, is a third-generation horseman and operates a stable with his wife, Donna. In addition to training for John Oxley and producing champion Beautiful Pleasure and 2001 Derby winner Monarchos among his many stakes horses, Ward was a member of the Kentucky State Racing Commission, has served as president of the Kentucky Thoroughbred Association and was the chief operating officer of Calumet Farm before it was sold at auction in 1991.Toner, 65, saddled his first winner in April 1960 at the age of 19, becoming the youngest trainer to win a race in New York. Though well known for his success with grass fillies like champion Soaring Softly, Memories of Silver and Wonder Again, he has conditioned other notables who won stakes on dirt and turf: Buzz My Bell, I'm Splendid, Flying Chevron and Blazing Fury.Alexander, 67, began his training career in New York in 1963 as an assistant to Mike Freeman. He went out on his own later that year. He operated a public stable in Maryland and also spent four years managing Sagamore Farm for Alfred Vanderbilt. In 1987, Alexander returned to New York to open a public stable. He trained Cherokee Run, the champion sprinter of 1994 and his Lucky Roberto won the 1998 Hopeful. Among his other stakes winners are Wallenda, Nonsuch Bay and Babae.The National Museum of Racing and Hall of Fame is located across from the Saratoga Race Course on Union Avenue in Saratoga Springs. The summer hours for the Museum are 9:00 a.m. to 5:00 p.m. daily during the Saratoga Meet. For more information contact the Museum at 518-584-0400.



Copyright © 2015 The Blood-Horse, Inc. All Rights Reserved.