Nashua: The Great Match Race
Updated: Wednesday, August 31, 2005 9:59 PM
Posted: Wednesday, August 31, 2005 7:46 AM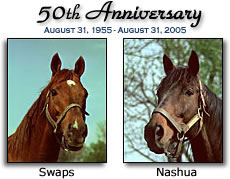 ---
Excerpt from
Nashua: Thoroughbred Legends #8
By Edward L. Bowen
---
Chapter 5:
The Great Match Race
The natural August target for an Eastern stable with a crack three-year-old is the Travers Stakes. Had Fitzsimmons run Nashua in that one and a quarter-mile event at old Saratoga, it would have meant four weeks between races. As matters happened, it was announced by late July that Nashua's next race would instead be in one for which a growing swell of sentiment had long been fermenting. He was to meet Swaps in a match race.After the Derby, Swaps had reeled off four more admirable stakes victories. He had been so prodigious as to defeat the previous year's Derby winner, Determine, as early as the June 11 Californian Stakes. On August 20, eleven days before the Match Race, Swaps tried a grass course for the first time, in the one and three-sixteenth-mile American Derby, and held off Traffic Judge by a length. Between the Arlington Classic and the American Derby, Traffic Judge had dropped a narrow decision to the gritty Saratoga in the Choice Stakes. As a horse who had recent form against both Nashua and Swaps, he was of special interest; while he had seemed almost able to menace Swaps, he had clearly threatened Nashua. This bit of form probably added to Swaps' role as the presumed favorite as the weeks before the match tediously unfolded ...
The Blood-Horse
sent Dan Bowmar III to Chicago to cover the race."The horse players began arriving at 9 a.m.," he recorded. Special excursions from California had been arranged, and airlines had added flights from New York, while a special train from Louisville was put on. Bowmar and various other writers observed a baffling sense of nonchalance about it all in Chicago itself. Perhaps, local sportswriters felt the raucous horse crowd was infringing on the Cubs and White Sox. The national media, however, was caught up. Our own memories are of sitting entranced before the national television coverage and of evening network news leading with "East vs. West in Chicago."Washington Park management exulted in its moment, but did not forget the basics of the racetrack business. As Bowmar reported, the first utterance from the public address system was: "Good afternoon, ladies and gentlemen. Welcome to Washington Park on this day of days in the history of American racing. Daily-double windows are located on the main floor..."A crowd of 35,262 turned out, and while they had money in their pockets, their real interest in the match race itself was more a matter of pure sport than betting opportunity. Indeed, the mutuel pool on the Match Race's win-betting-only was $174,737, smaller than the total pool of any other race on the card but the first. Overall, they bet $2.3 million on the day. On the most recent previous weekend, Saturday's crowd of 21,670 had bet $1.7 million.A disheartening rain had visited the track in the days before. Arcaro had studied the track and noted a path that seemed better than others. It was a bit to the right of the inside post position, at least at the break. Since he was drawn on the inside, and there was an empty gate between the two falcons to facilitate a clean start, Arcaro had a better than usual opportunity to get to the best path early. The track condition had been updated from "slow" to "good" late in the afternoon, but it apparently was unrelentingly deep and testing beneath the surface.Swaps was 3-10, Nashua 6-5.While the prevailing images of the two horses, instilled by the Derby, was of Swaps as the speed horse and Nashua the inexorable stalker, Nashua had always had a great knack for bursting out of the gate. On August 31, 1955, Arcaro asked for perfection in that skill. Crashing his whip and his vocal chords in unison, the Master reverted to being an apprentice on a half-mile gyp track. "You have to come out of there 'Whoop-de-doing,' " an ex-rider on such a bullring once said, and Arcaro the winner of classics morphed into a great half-miler, if just for the moment.Nashua swerved right at Arcaro's urging, and Swaps swerved right, too. Nashua established his place in the preferred spot, and from that moment on he had an advantage. "Keep Swaps busy," Fitzsimmons had told Arcaro. "You should be all right."For the occasion,
Daily Racing Form
recorded some interim furlongs as well as the more normal chart fractions. Nashua went the first eighth-mile in twelve seconds. The next he went in eleven. The old drills back at Saratoga had come to fruition. A quarter-mile in :23 had him in front by a length or so. Shoemaker tried several times to move Swaps to him, but Nashua each time had the answer. This was a powerful animal that day, and every good card just floated across the table into the hand of the chortling Arcaro.After a half-mile in :46, Nashua still had his length lead. Swaps moved to be lapped on him. Nashua darted the next furlong in twelve seconds, for a :58 for the first five-eighths. Still, only a half-length separated East and West after six furlongs in 1:10 2/5. If the nation had envisioned a throb to the wire, this seemed to set it off.
But Nashua rebuffed Swaps and slipped away to a one and a half-length lead after a mile. It was role reversal from Churchill Downs, the chestnut closing on the bay only to see the bay kick in again and draw out. The seventh furlong Nashua had clicked out in :13 1/5, for a fraction of 1:23 3/5. The next furlong took fourteen seconds, but the damage was done. Actually, as is true in many a front-running race, the damage was done to both, but it was the survivor in front by that one and a half-length margin after a mile in 1:37 3/5. By midstretch, Nashua had increased his lead only to two lengths. That he had gained only a half-length more on Swaps although upping his speed to thirteen seconds for that furlong was testimony to the grit of the other colt -- and perhaps a puzzle to work with later as reports of Swaps' lameness began to spread. After nine furlongs in 1:50 3/5, Nashua had it won. Swaps wavered over toward the rail, but that only put him in the deeper going as Nashua continued on the favored and savored path. A final furlong -- still punctuated by Eddie the wide-eyed apprentice-impersonator bringing down the occasional reminder -- took :13 3/5. Nashua pulled out to win by six and a half lengths in 2:04 1/5. Swaps fans later pointed out that it was awfully slow for their horse to have lost in, but it was also pretty slow for Nashua to have won in. The track condition, and the tactics, must have been exceedingly wearying. Shoemaker had done the proper thing and eased Swaps a bit before the wire when he recognized futility.Young Woodward was the sporting hero, Arcaro the heaving champ -- "I'm more tired than Nashua" -- Fitzsimmons the old man fending off too many well-meaning hugs and smearing cheek kisses, and the Nasrullah -- Segula colt was clearly the Horse of the Year. And at the Fitzsimmons barn back in New York? Well, why ask?In Lindheimer's penthouse, Bowmar recorded the stoic comments of Ellsworth. Always rather a gaunt figure, Ellsworth must have seemed downright spectral as he gamely faced the prospect of discussing his deep and recent hurt for public consumption: "It's hard to say what happened. It will take a while to decide what was wrong. We know the horse didn't run his race, and if you know the horse didn't run his race, you know something is wrong."Ellsworth stressed that Nashua's taking the lead was not a surprise, nor had it been immediately worrisome in itself, since Swaps had won coming from behind on earlier occasions.Bowmar also recorded a brief statement from owner Woodward, "who had been leaning against a desk in a corner of the room." Woodward sounded like a pretty adept racetracker, as well as a sportsman trying to be reserved: "Our riding instructions were to go the front if possible, except that we didn't add the 'if possible.' I don't know where people got the idea that Nashua doesn't have early speed. He always has been quick from the gate. Normally, we don't send him to the front because we have several horses in a race. Today, we had only one horse to beat."We would be happy to meet Swaps again, but not in a match race. It is too difficult to arrange the details for a match race. We were lucky this time."Read excerpt from
Swaps: Thoroughbred Legends #14
FREE! E-Newsletters from The Blood-Horse!...
Follow the top stories of major racing events, racing previews and results with FREE e-newsletters from bloodhorse.com. As news develops, we'll deliver updates to your inbox. Follow important events moment by moment, step by step!