Churchill Downs Sells Hollywood Park
by Jack Shinar
Date Posted: 7/6/2005 6:58:26 PM
Last Updated: 7/7/2005 12:15:31 PM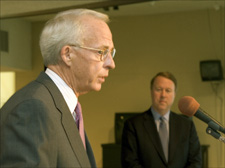 CDI's President and CEO Tom Meeker, foreground, announces the agreement to sell Hollywood Park to Bay Meadows Land Co., whose president, Terry Fancher, looks on.
Photo: Benoit

Saying that California "has forsaken racing and its needs," the president of Churchill Downs Inc. announced July 6 that the company has sold historic Hollywood Park to Bay Meadows Land Company for $260 million.Tom Meeker, CDI's chief executive officer as well, said the company selected Bay Meadows Land from a host of other real estate development interests that also bid on the property "because it was the most attractive offer we received." But during a press conference held at Hollywood Park, he also emphasized that as part of the deal, Bay Meadows Land has committed to continue racing at the 67-year-old Inglewood track for a minimum of three years."In Bay Meadows, we selected a buyer who not only recognized the value of Hollywood Park, but also is committed to continuing racing there and motivated to improve the California racing environment," Meeker said. Hollywood Park has hosted the Breeders' Cup World Thoroughbred Championships on three occasions, including the inaugural event in 1984. The sale of the 238-acre property, which includes a large cards-only casino, is expected to be completed Sept. 20. Although CDI will not be involved in the management of the racing facility once the sale is complete, Terry Fancher, president of Bay Meadows Land, said most of the employees would be retained. Rick Baedeker, the current track president, is to continue in that role, he said, while Jack Liebau, who runs Bay Meadows in Northern California, would be in charge of corporate operations.Hollywood Park will remain a part of CDI's simulcast network. A unique provision in the sale agreement would allow Churchill to re-purchase majority interest in Hollywood Park in the next three years, presuming there was a change in state policy that would allow alternative gaming at the track.  Fancher and his partners, now Stockbridge Capital Partners, LLC, have owned Bay Meadows since 1997, developing approximately half of the site while continuing the racing operation. A plan to turn the rest of the Bay Area track -- nearly 90 acres -- into a housing, retail, office, and transportation center is in the approval stage with the City of San Mateo.But Fancher made it clear he would prefer to keep Hollywood Park alive for racing. "We love the racing business," he said. "We love to have a place that people love to come to enjoy what the racetrack has to offer... (Hollywood Park  is) a great asset as a racing entity."We're committed to racing at Hollywood Park for a minimum of three years," Fancher added. "But it's our goal to continue for much longer than that. For the people who are leading the state in Sacramento, this is the time to step forward to do something to help racing."Fancher  said he would continue to work with legislators to craft some sort of agreement that would lessen the impact of Indian gaming on the state's racing industry.CDI has been disappointed with the track's financial performance since buying the facility in 1999 for $140 million from then-owner Hollywood Park Inc., which now does business as Pinnacle Entertainment Inc. Pinnacle will continue to operate the Hollywood Park Casino under a long-term lease. Meeker said that CDI's attempts in the past two or three years to improve the racing environment in the face of state-owned lotteries and Indian gaming  -- including a failed racetrack slots initiative last year  -- was a factor in the decision to sell."The business environment has been difficult," he said, also listing the state's energy crisis and workers' compensation issues as primary problems "that have given us pause."Fancher said Bay Meadows Land has agreed to spend $5 million in capital improvements, provided that the California Horse Racing Board approves its license to operate and allocates racing dates. Repairing the Hollywood Park turf course, a project that had been planned by CDI next year, is the first undertaking, he said. A Polytrack racing surface for the main track is also in the works, provided that long-term racing proves viable, he said.In the meantime, Bay Meadows Land will engage with the city of Inglewood in "cooperative discussions" about the future of the site in the event racing needs to be curtailed, Fancher said. The pending sale of Hollywood Park follows a February announcement in which CDI officials stated they were exploring options to maximize the value of the Inglewood racetrack.
 
Hollywood Park is located 11 miles southwest of downtown Los Angeles and three miles from Los Angeles International Airport.



Copyright © 2015 The Blood-Horse, Inc. All Rights Reserved.