Haskin's Report: Hero's Tribute, Dollar Bill Are Impressive
by Steve Haskin
Date Posted: 2/19/2001 10:57:15 AM
Last Updated: 2/26/2001 11:13:00 AM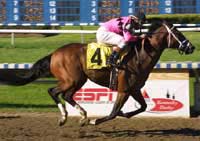 Dollar Bill, winning the Risen Star in a performance that impressed Steve Haskin.
Photo: Associated Press/Fair Grounds

Last year, the Fountain of Youth Stakes, despite being won convincingly by High Yield, was upstaged by an allowance race, won by a powerful, classy-looking colt named Fusaichi Pegasus. This year, the Fountain of Youth Stakes, despite being won convincingly by Songandaprayer, was upstaged by an allowance race, won by a powerful, classy-looking colt named Hero's Tribute.Now, we're not saying Hero's Tribute is another Fusaichi Pegasus, but in a year when knockout performances have been scarce, it's a pleasure to witness a colt display all the qualities you look for in a Derby horse, while dominating his opponents. Throw in a classic-oriented pedigree and a juicy 1.37 dosage index, and you're looking at a serious Derby contender. The ease with which he handled a top-class field of 3-year-olds going seven furlongs was something to see.Also impressive this weekend was the professional-like performance of Dollar Bill, who did everything the right way in winning Sunday's Risen Star Stakes in his 3-year-old debut. He looked beaten at the quarter pole when Chris McCarron went to early right-hand whipping, but closed relentlessly down that long Fair Grounds stretch, running straight as an arrow after changing leads very smoothly turning for home. Trainer Dallas Stewart could not have asked for more. This was very solid performance, and although he didn't beat a sterling field, he sure did look good doing it. Runner-up Gracie's Dancer had won four of six starts sprinting, but he has a powerful stamina-oriented female family, and getting eight pounds from the winner, he proved to be a tough opponent who didn't appear to be stopping. McCarron is going to have an interesting decision to make between this colt and Millennium Wind.Getting back to Florida, not only did Hero's Tribute defeat three proven speedsters who had each won their last two starts, he knocked off last year's Champagne winner A P Valentine. And he did it under no urging whatsoever from Jorge Chavez, cruising home by 4 lengths under a hand ride in 1:22 1/5 after tracking a sizzling :44 opening half. With his speed, versatility, and distance pedigree, he looks to have all the tools. Back at the barn after the race, Chavez told trainer John Ward, "I just couldn't wait to shower and get back to the barn to see him." With Ward running Monarchos in the Florida Derby, Hero's Tribute will point for the Louisiana Derby the following day, setting up an enticing showdown with Dollar Bill. Because the colt does have a tendency to look around and wait on horses, as he did in the Iroquois last fall, Ward will put blinkers on him.A P Valentine, whom we've said all along was the most impressive 2-year-old we saw last year, ran a race that should help him move forward, which basically is what Nick Zito was looking for. Although many might have been disappointed in his third-place finish, beaten 6 1/2 lengths at even-money, there are several reasons to remain optimistic. He was making his first start since suffering bucked shins in the Breeders' Cup and was all wound up in the paddock, something Zito will have to work on. He was running at a distance way shorter than he likes, and he hooked a top-quality field, which you really don't want to do first time out. Despite being 7 lengths back, he still ran his opening half in :45 2/5, which was not in his game plan at all. He also was forced to race very wide the whole way, going 5-wide into the far turn and 6-wide around the turn. He lost valuable ground turning for home, and by being so wide, was late changing his leads.Sure he got tired in the stretch and had to be hit six times by Pat Day, but he did show a good burst of speed from the three-eighths pole to the quarter pole, passing four horses, and still ran his seven furlongs in 1:23 2/5 over a track that was on the loose side and not conducive to closers. All he really needed to do here was show enough to convince Zito that he made the transition from two to three, and is ready to start picking up the pace. The key will be his next race. If he keeps moving forward, it should set him up to peak on Derby Day, which is Zito's only goal. Remember, each of Zito's past two Derby winners went into the big race with only one victory in four starts that year.As for the Fountain of Youth, the feeling here is that the race proved little. Songandaprayer is a big, gorgeous individual who has made tremendous strides since his return from an injury late last year. By holding on as well as he did in the Holy Bull after battling on the lead in :45 4/5 over a dead track in his first two-turn race, it seemed logical he was going to carry them a lot farther this time. What was surprising was watching so many jockeys grab hold of their colts over this kind of track and totally ignore Songandaprayer, who basically cruised around there on a nice easy lead. He did crawl home the last quarter mile, but when Gulfstream loosens up like this, although the final times can be fast, horses just do not close in fast fractions, and that includes the closers.Songandaprayer will always be tough on the lead. He has a big, beautiful stride, very similar to his sire Unbridled's Song, and like his sire is an imposing figure rolling along on the lead. While there's a good deal of speed influences in his female family, there's certainly enough stamina to even things out, and he does have a dosage index of 2.08. With his running style and sire's tempestuous nature on the track, he's still suspect at 1 1/4 miles, but with the remarkable progress he's made, he could be a lot more horse than most people think. We just want to see if he has the mindset and versatility to lay off a contentious pace.Continued. . . .



Copyright © 2015 The Blood-Horse, Inc. All Rights Reserved.