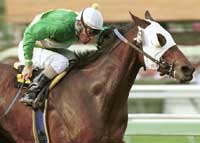 San Luis Lux
Surfside's elimination from the Big 'Cap picture wasn't the only big story over the weekend. The one reason that prompted a whole mass to show up for the 1 1/2-mile San Luis Obispo Handicap (gr. IIT) on Feb. 17 was the fact one horse didn't. Local turf runners have been sleeping with one eye open of late, dreading their next encounter with the monster of their nightmares, Bienamado. But a surprising announcement revealing that the son of Bien Bien would forgo the San Luis Obispo for a shot at the Santa Anita Handicap threw the door open for those otherwise seeking softer spots. Bienamado or no Bienamado, they still never got a chance, thanks to a former claimer named Persianlux and budding star Tyler Baze. There was no reason to think Persianlux would have much to say about the outcome of the San Luis Obispo. His record since arriving from France in mid-1999 was unsteady at best, and as recently as November the 5-year-old son of Persian Bold had seemingly topped out at the $50,000 claiming level. But it was that very race at Oak Tree that had trainer Wally Dollase exuding confidence. "He had a mile and a half here in 2:25 and one," Dollase said. "Nobody even came close to that. He won by six, and if he could repeat that race, he's got to be right there." As it was, no one else was even close. Persianlux is a free-running sort who doesn't take kindly to others. "He's not a people horse," said Dollase's wife, Cincy. "He doesn't even like you to pet him." Persianlux broke into a smooth gallop, and Baze, who rides with a confidence beyond his youth, put the gelding on autopilot and enjoyed the view. They were walking early--:25.43, :49.55, and 1:14.04--with Baze and Persianlux never feeling a trace of pressure. After a mile in 1:39.53, the rest started to close in. There were some tense moments heading into the far turn. Just as Persianlux banked into the curve, Delahoussaye made a dash to his inside with Falcon Flight. It was too close for comfort, and Falcon Flight was pinched hard, effectively halting his momemtum.
Simultaneously, Persianlux took a deep breath and then he took off. The rest had no answer. Covering the final half in just over :48, Persianlux was home by five at the wire in a respectable 2:27.70. Devon Deputy, trained by Bobby Frankel, emerged for second, a length ahead of the recovered Falcon Flight. Northern Quest, the 8-5 choice, was a length back in fourth. An inquiry into the Falcon Flight incident yielded nothing. The root of Persianlux's inconsistency, it turns out, were ulcers, which are now under control. Despite the $57.20 payoff, Dollase knew Persianlux was sitting on a big race--and always had been.
"He's got the talent," the trainer said. "The best thing about this horse is his respiratory system, his air. You gallop him a mile and a half and he comes back and his nostrils aren't even quivering." Consequently, owners Randy Lowe, Gary Margolis, and Horizon Stable are already looking ahead to March 17, when Persianlux will shoot for the $250,000 San Luis Rey Handicap (gr. IIT). He'll get his 12 furlongs again. The others will get a chance to catch him. "Pace makes the race," Dollase said. "It's the old expression, you know. That was easy for him, and he had gas left."