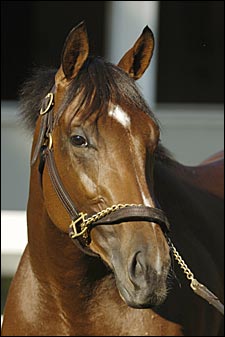 Northern Afleet could possibly start in only one, and if he passes the Haskell, he at least has recent history on his side, coming on the heels of Birdstone 's Travers score in his first start since the Belmont Stakes (gr. I). But no one can recall that happening before, so it's not exactly an ideal way to point for the Travers.With Kentucky Derby winner Giacomo on the sidelines after undergoing surgery to remove an ankle chip, we must turn to runner-up Closing Argument, who simply threw in a clunker in the Preakness (gr. I). Trainer Kiaran McLaughlin said the son of Successful Appeal is back in light training and has "put on a lot of weight and looks great." The races being considered are the Haskell, Jim Dandy (gr. II) July 30, and West Virginia Derby (gr. III) Aug. 14.The second season officially gets under way this weekend when Darley Stable's Oratory, brilliant winner of the Peter Pan Stakes (gr. II), tries to make it three in a row in the July 4 Dwyer Stakes (gr. II). His main threat likely will be Roman Ruler, who will be making his long-awaited debut after battling quarter cracks all winter. The son of Fusaichi Pegasus was scratched from an allowance sprint against older horses at Belmont June 29. Another threat could be Flower Alley, winner of the Lane's End Stakes (gr. II) who hasn't run since his ninth-place finish in the Kentucky Derby. Other possible starters include Mr. Congeniality, Biloxi Palace, Proud Accolade, and United.The July 2 Ohio Derby (gr. II) is the race that has suffered the most, timing-wise, which is reflected by the small, non-descript field it attracted, headed by Straight Line, Magna Graduate, Pinpoint, and Hal's Image.The July 17 Leonard Richard Stakes (gr. III) at Delaware Park, now with a $300,000 purse, likely will attract Withers (gr. III) winner and Preakness runner-up, Scrappy T. and Louisiana Derby (gr. II) winner High Limit. Scrappy T., who came so close to becoming the most notorious Thoroughbred in America, turned in a sharp six-furlong work in 1:12 1/5 at Colonial Downs on June 26. Bobby Frankel is looking forward to getting High Limit back in action following his fifth-place finish in the Preakness, in which he improved dramatically off his last-place finish in the Derby. The son of

Maria's Mon

had come out of the Derby with a bad lung infection. The Leonard Richards will likely be his prep for the Haskell.A week before the Leonard Richards, those remaining of the California 3-year-olds will face off in the July 9 Swaps Breeders' Cup Stakes (gr. II) at Hollywood. The nine-furlong race will be pretty much a replay of the June 18 Affirmed Handicap (gr. III), in which the up-and-coming Indian Ocean scored his third straight victory for trainer Jay Robbins. Another up-and-comer, Surf Cat, was second, with the hard-knocking stakes campaigner Dover Dere third. Finishing fourth at 6-5 was Buzzards Bay, winner of the Santa Anita Derby (gr. I). All, with the exception of Buzzards Bay, are expected to return in the Swaps, where they will have their hands full with Don't Get Mad, who may be the second best 3-year-old in the country right now.Following his explosive victory in the Derby Trial Stakes, Don't Get Mad came back a week later and ran a huge fourth in the Kentucky Derby after being forced to go 10-wide turning for home. Who knows what would have happened had he passed the Derby Trial and gone right for the Derby? He showed those races were no flukes by dropping back to 1 1/16 miles and defeating a talented field in the Northern Dancer BC Stakes (gr. III) at Churchill with another monster move on the far turn, something he seems to have patented. If he can do it again in the Swaps and score another impressive victory, it would set up an enticing showdown with Afleet Alex in the Travers. The colt's owner, B. Wayne Hughes, also owns Greeley's Galaxy, who was to have come east for the Dwyer, but plans for the colt are now uncertain.Then comes the Haskell, Jim Dandy and Travers at the Spa, and the West Virginia Derby snuggled right in between. Some of those who may use the Jim Dandy as their Travers prep are Sun King, fourth in the Preakness, A.P. Arrow, Chekhov, and possibly Nolan's Cat, the maiden who finished third in the Belmont Stakes. Other options for the son of Catienus are a maiden race and the Lexington Stakes (Gr. IIIT) on the grass. With Afleet Alex in the Haskell, look for most of the big-name 3-year-olds to seek other spots, like the Jim Dandy and West Virginia Derby (gr. III), with its $750,000 purse. As of now, only Frankel has made it known that he in not backing away from the Preakness and Belmont winner.Sun King's stablemate, Andromeda's Hero, runner-up in the Belmont, could also run in the Jim Dandy, while Sun King could go for the West Virginia Derby, a race trainer Nick Zito and owner Tracy Farmer won last year with Sir Shackleton. Then again, Zito could repeat his tactics from last year and go straight into the Travers with Andromeda's Hero after following the same Derby-to-Belmont path he did with Birdstone. Zito also has Indy Storm, an improving son of

A.P. Indy

who was fourth in the Belmont. So, between Sun King, Andromeda's Hero, Indy Storm, and Pinpoint, Zito will have some major shuffling to do.Another horse with several options is Wild Desert, winner of last Sunday's Queen's Plate (Can-I). The son of Wild Rush likely will come back in the Prince of Wales Stakes (Can-I) at 1 3/16 miles on July 17 if he bounces out of the Queen's Plate in good shape. The options then are to run in the Breeders' Stakes (Can-I) at 1 1/2 miles on the turf on Aug. 7 or wait for the Travers or try for both. It would mean running in four stakes, all at three-week intervals, but if Wild Desert wins the Prince of Wales, it is highly unlikely they will pass up an attempt to sweep the Canadian Triple Crown. Then, they can decide on the Travers after seeing what kind of toll the Canadian races took on the colt.So, with the possibility (remote as it may seem) of getting Afleet Alex, Don't Get Mad, Oratory, Wild Desert, High Limit, Scrappy T., Buzzards Bay, and Closing Argument, as well as a few of the Zito horses, to the Travers, it could be a race to look forward to.