Madeleine Paulson to Wed T. Boone Pickens; Scaling Back on Horse Business
by Lenny Shulman
Date Posted: 6/28/2005 4:42:08 PM
Last Updated: 6/29/2005 1:30:29 PM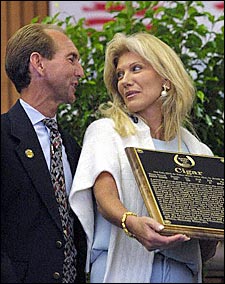 Madeleine Paulson, right, and jockey Jerry Bailey after Cigar was inducted into racing's Hall of Fame in August 2002.
Photo: Associated Press

Madeleine Paulson, widow of legendary horse breeder and owner Allen Paulson, is planning to marry Texas energy magnate T. Boone Pickens in the next couple of weeks. "I've found true love twice in my life. That doesn't always happen. I'm very lucky. They are very similar men," Paulson, 58, told The Blood-Horse magazine. "I am over the moon that I got hit by lightning one more time."The couple plan to reside at Pickens' ranch in the Texas Panhandle region as well as at a home in Dallas. Paulson said she will also maintain her home in Rancho Santa Fe just outside Del Mar.Pickens, 77, was born in Oklahoma and started in the energy business with Phillips Petroleum, but soon went out on his own, eventually founding the company that became Mesa Petroleum. He successfully explored for oil in Canada and the North Sea, and was active in a mining concern in Utah as well. He is active with his alma mater, Oklahoma State University.Paulson said she had no plans of convincing Pickens to enter the horse business, and said she is de-emphasizing her own involvement in the sport. She currently co-owns top handicap horse Rock Hard Ten, whom she bred. "I have my stallion prospect, although (co-owner) Ernie (Moody) and I haven't made any decisions yet." Paulson also has a small broodmare band."It would be difficult to achieve more than I already have in the business," she noted. "Why try to climb Mt. Everest again? I did it with Allen and there's no need to do it again."



Copyright © 2015 The Blood-Horse, Inc. All Rights Reserved.