Saratoga Sale Catalogue Considerably Smaller
by Dan Liebman
Date Posted: 6/28/2005 3:11:51 PM
Last Updated: 6/29/2005 6:15:15 PM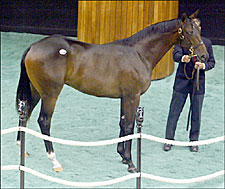 Giant's Causeway colt topped last year's Saratoga sale at $1,850,000.
Photo: Barbara D. Livingston

Having previously announced its Saratoga sale would be held over two nights rather than three for the first time, Fasig-Tipton officials said the catalogue for the sale has declined considerably.There will be 153 yearlings catalogued for the Aug. 9-10 auction, a 27.8% drop from the 212 that were catalogued last year. The number catalogued has been less than 200 only once from 1994-2004 and that was just barely, the 198 catalogued in 2000. In 1994, there were 264 yearlings catalogued.At the 2004 sale, 191 horses went through the ring, with 150 sold for $45,705,000, an average of $304,700. The gross was down 5.3% and the average dropped 2.8%."The change to two nights was because of the change in habits and patterns of major participants," Fasig-Tipton executive vice president and chief operating officer Boyd Browning said. "People want more activity in a shorter period of time."We thought the number (catalogued) might be down, but we did not see it declining to this extent."One of the factors affecting the number sold at Saratoga is the sale company's own July auction, which after Keeneland dropped its July sale two years ago, now kicks off the annual yearling selling season.This year's Fasig-Tipton July sale has catalogued 679 yearlings, up a whopping 37.2% from the 495 consigned a year ago."We think this is a one-year abberation and is indicative of the changing landscape of boutique marketplaces," Browning said. "The strength of our own sale and the strength of September are factors. There is no question some folks elected to come to Kentucky (rather than sell at Saratoga)."In fact three regular Saratoga consignors--Three Chimneys Farm, Stone Farm and Brookdale Farm--are not selling at Saratoga.Last year, Three Chimneys consigned seven at Saratoga and three at Fasig-Tipton July; it will sell 13 at this year's July sale. Stone and Brookdale, which each sold four at Saratoga in 2004, will sell all their yearlings at Keeneland."Saratoga is a great sale and we hope to be up there next year but unfortunately, we just didn't have the right horses (to sell there) this year," Case Clay of Three Chimneys said. "It's all timing and pedigree, and we just didn't have the right ones. We have the most in the July sale we've had there. Those are horses that we think are the right fit for that sale."



Copyright © 2015 The Blood-Horse, Inc. All Rights Reserved.