Old Gray 'Fred' to Make 100th Career Start
Date Posted: 6/24/2005 6:59:47 PM
Last Updated: 6/25/2005 3:45:47 PM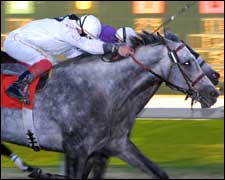 "Fred" Tissington, the gray gentleman on the outside, will make the 100th start of his long career Saturday.
Photo: Emerald Downs

By Patrick Kerrison
This game has sprinters, routers, speed horses, and stalkers. We've seen those with blistering speed and others who have used their superior tracking abilities. There are those who come from off the pace to get up in the nick of time, and others who come from so far off the pace they usually leave us wondering how they made up so much ground.Then, there's Fred. OK, Tissington. But, for the record, everyone that knows him calls him Fred. Only the announcer calls him Tissington. Fred likes to go long. It suits his running style best. He is one who likes to come from off the pace.OK, off the pace might be an understatement. Fred is generally in a different ZIP code than most as he begins his move. That's the way he likes it.After 99 trips around the racetrack, there's no changing him now. That's right, 99. Saturday afternoon, in the third race at Emerald Downs, a $3,500 claiming race, Fred (or Tissington as you'll read his name in the program) will make his 100th career start. Owner Jim Keen will saddle the 11-year-old gelding to be ridden by Juan Gutierrez.That is simply remarkable. He is expected to face six others in a one-mile route. It's a distance he's won eight times in 58 attempts with 11 seconds and 12 thirds.In 99 starts, Tissington has won 14 races, finished second 21 times and third on 19 occasions. He has earned $66,627. He has carried 30 different riders. Marijo Terleski has been given a leg up more than any other, with 23 mounts. The Emerald Downs-based Gutierrez is second with 10.Twenty jockeys have ridden him twice or less, ranging from bush track riders to Washington state's all-time leading pilot, Gary Baze.Seven of his 14 wins came with female riders. Emerald Downs-based Melissa Peery was the last to win on him. "I always wanted to ride Fred," Peery said. "I used ask Mr. Keen again and again if I could have the chance, and I was elated when he gave me the call." Peery made the most of her opportunities, finishing first, second, and third in three tries.Gutierrez has won three times aboard Fred (by a neck, a half-length and again by a neck), with four thirds."He always broke too slow," Gutierrez said. "But by the time we'd hit the three-eighths pole, he'd start to fly like crazy."Every time I rode him, he was as honest a horse as you would find," he continued. "He tried hard all the time, every time. He would always give the best he could."Terleski echoed Gutierrez sentiments. "He is an honest horse," she said. "He had a kick like no other." He not only closes like a freight train, he remains one of the more adored horses in the Northwest. "He has to be one of the most loved horses on a racetrack," Terleski continued. "Everyone that ever rides him just loves him."It started on May 29, 1994 in California on the farm of Sheldon & Claudia Judson. A gray/roan colt was born of a mare named Basically Honest. His dad was named Polynesian Flyer.Polynesian Flyer wasn't the most productive sire in all of California's breeding sheds. Although he fathered 98 progeny that raced competitively, only one earned better than $100,000.However, one thing that can be said for Polynesian Flyer is his offspring seem solid and durable and stick around for quite a while.In 1994, the year Tissington was foaled, horses in North America made an average of 7.84 starts a year, according to Jockey Club figures. Since then, that number has slowly softened. From 2001-04 the average number of starts a horse makes per year is just under seven.As a 3-year-old, Tissington made his first start Feb. 15, 1997. Leading into Saturday's event, he has started an average of 11 times a year.That's durability. In fact, 27 of Polynesian Flyer's children have made 30 or more career starts; 12 have made 50 or more, with only one making more trips to the starting gate than Tissington. In 99 starts Tissington finished last only five times. He has won on an off going twice. He has raced in 81 claiming races. He broke his maiden in his third start, a maiden-claiming event where he could have been claimed for $10,500. He raced for a price as low as $3,200 twice.In the 81 claiming events Keen has entered him in thus far, he never lost him once. Saturday morning, Tissington will ship up from his home at Portland Meadows. Since he has been in Keen's charge, he's always had the same stall, the first one next to the tack room."They have always babied Fred," Terleski said. "But that's ok. He's such a cool horse he deserves to be treated as something special, because he is."At 3:07 p.m. PST, Tissington will make his 100th start, breaking from post two. As he seeks win number 15, there is one sure bet ... he'll sit back, way back until the last three-eighths of a mile. Then, keep your eyes open for the old gray. He'll be the one charging like a freight train on the outside.



Copyright © 2015 The Blood-Horse, Inc. All Rights Reserved.