Jockeys Appeal Fines, Suspensions Over Derby Ads
by Amy Whitfield
Date Posted: 6/20/2005 7:48:57 AM
Last Updated: 6/23/2005 10:39:33 AM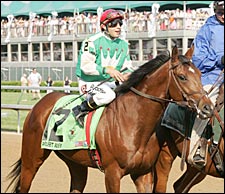 Jeremy Rose, wore ad on his jockeys' britches in the Kentucky Derby.
Photo: Barbara D. Livingston

Three jockeys have appealed their seven-day suspensions and $5,000 fines levied by the Churchill Downs stewards for wearing unapproved advertising in the Kentucky Derby (gr. I) and failing to comply with stewards' orders. According to the stewards ruling June 17, Jeremy Rose, Kent Desormeaux, and Corey Nakatani were suspended for "wearing of unauthorized advertising or promotional material," on their britches and fined for "failure to comply with the order of the stewards."The suspensions, which were to begin June 20, are being stayed pending the riders' appeal to the Kentucky Racing Authority, said Jim Gallagher, executive director of the Kentucky Horseracing Authority.Gallagher said a hearing date before stewards will be set soon.Rose, who finished third in the Derby aboard Afleet Alex and went on to win the Preakness (gr. I) and Belmont Stakes (gr. I), wore an ad for paradisepoker.com. According to the Philadelphia Daily News, Rose was paid $25,000 for the ad placement, $20,000 of which he gave on behalf of Alex's Lemonade Stand and $5,000 that was donated to a Louisville hospital.Desormeaux, who came in 11th aboard Greeley's Galaxy, wore advertisement for Vestin, a commercial mortgage brokerage business. Nakatani, who finished sixth on Wilko, wore unapproved advertising for online lending company CashCall.Rules state that any jockey advertising must be submitted at time of entry and have approval of the horse owner, the racing association where the race is being conducted, and the stewards, who review the requests sent them to by the racetrack.



Copyright © 2015 The Blood-Horse, Inc. All Rights Reserved.