Waddell Hancock, Matriarch of Claiborne Farm, Dies
by Evan Hammonds
Date Posted: 6/17/2005 2:48:49 PM
Last Updated: 6/19/2005 1:41:50 PM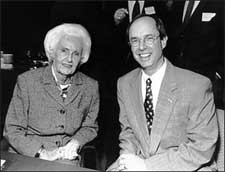 Waddell Hancock (left) was on hand in 1997 for the 25th anniversary of the A.B. Hancock Jr. Memorial Laboratory for Cancer Research, the Vanderbilt University facility named in honor of her late husband.
Photo: Donna Jone Bailey

Waddell Hancock, wife of the late A.B. "Bull" Hancock Jr. and mother of four children including Arthur Hancock III and Seth Hancock, died at her home at Claiborne Farm near Paris, Ky., Friday. She was 90.A cause of death has not been announced. Funeral arrangements are pending.A native of Nashville, Tenn., Waddell and "Bull" Hancock were married for 31 years prior to his death in 1972. "Bull" Hancock operated Claiborne Farm following the death of his father, A.B. Hancock Sr., in 1957.The 3,000-acre Claiborne Farm is owned by Hancock and three of her children: son Seth, who serves as the farm's president; and daughters Dell and Clay.Her elder son, Arthur III, is owner of Stone Farm near Paris.She is also survived by eight grandchildren.



Copyright © 2015 The Blood-Horse, Inc. All Rights Reserved.