State Auditor Calls NYRA 'Worst Agency of All'
Updated: Thursday, June 16, 2005 5:44 PM
Posted: Wednesday, June 15, 2005 2:45 PM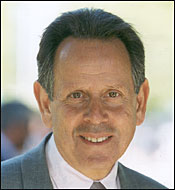 Photo: Barbara D. Livingston
Former NYRA chairman and CEO Barry Schwartz is named in report.
New York's top fiscal watchdog has issued a scathing financial audit of the New York Racing Association--findings he claims are so troublesome that most members of the current NYRA board should resign.State Comptroller Alan Hevesi said NYRA's reputation is so bad that some sort of formal oversight should remain in place if a federal judge permits the term of a current court-appointed monitor to expire as scheduled at the end of June."NYRA takes the cake," Hevesi said when he released the audit June 15. "This is the worst agency of all."The audit shows widespread violation of state bidding contracts, including a near $800,000 no-bid deal for Web-cast services by the son-in-law of former NYRA chairman Barry Schwartz. Hevesi called on Schwartz and others to resign from the NYRA board; he focused on those who were at NYRA before a federal monitor was brought in to oversee NYRA's finances in December 2003."New York Racing Association is the poster child for mismanagement and corruption," Hevesi said.Hevesi said NYRA has "mismanaged" and "squandered" money and violated their own rules as well as state laws when it comes to issuing contracts. The audit of NYRA's procurement procedures came while NYRA is trying to maneuver itself to try to keep the franchise to operate Aqueduct, Belmont Park, and Saratoga; its franchise expires at the end of 2007, and state officials are already preparing for a bidding process.The Hevesi audit covered a two-year period that ended last December. Though the federal monitor, Getnick & Getnick, was in place during part of that period, most of the abuses occurred before the firm took full control of NYRA's oversight, Hevesi said. The Manhattan law firm was appointed in December 2003 as part of a deferred prosecution agreement for NYRA's role in a host of illegal activities at its racetracks.Hevesi stopped short of criticizing current NYRA management, led by president Charles Hayward. He said the current NYRA team is trying to work with regulators and the monitor to improve operations.Hayward, in response to the audit, said NYRA makes no excuses for its past behavior and has improved its business procedures across the board in every department of the company."We're pleased that the comptroller has acknowledged NYRA's new leadership and its ongoing efforts to put into place a host of new operating procedures," Hayward said in a release. "With valuable assistance from our federal monitor, Getnick & Getnick, and key personnel changes that have included the hiring of a new director of internal audit and, most recently, the newly created position of director of contracting and procurement, NYRA has significantly improved its business practices."Hevesi said he would turn his audit over to the U.S. Attorney's office, which has handled NYRA's criminal investigation. If a federal judge doesn't extend the monitor's term, Hevesi said he would work with state Attorney General Eliot Spitzer on new ways to provide constant oversight of NYRA. Despite that, he said the current NYRA management team is "good people."But, when pointed out to him that most of the current NYRA board was in place during many of its troubles, Hevesi called on those members to resign. "I think they should not be on the board," Hevesi said."The impression that people have that this is an agency that has run amok is an accurate one," Hevesi said of NYRA.The audit found: - 49 of 58 sampled NYRA transactions, valued at $3.5 million, contained one or more violations of state racing laws or NYRA's own internal rules. Thirty-eight of the 58 transactions were not competitively bid. Hevesi, in particular, held out the Web-case deal to Schwartz's son-in-law, Michael Ferdman, which was awarded when Schwartz was chairman, and a $1.6-million public relations contract to Ed Lewi & Associates, an Albany-area firm.Lewi, in a written statement, confirmed the $1.6-million payment from NYRA for publicity, promotion, advertising, and media relations over three years, but said the figure includes reimbursement for Saratoga's 2002 and 2003 promotion and advertising expenses. - Excessive spending, such as paying for the cost of transporting horses between the NYRA tracks. Hevesi said horsemen should have paid the bill. (NYRA paid $400,000 to two horse transporters during the audit period.) He also said cash-starved NYRA, with a long history of running in the red, could have saved more than $400,000 by splitting the costs of trophies with horse owners. - A lack of documentation that work was actually performed for contracts that were awarded, including $10,000 with no invoice showing what services were provided for a media advertising contract. He also faulted widespread lack of spending controls."The management was awful," Hevesi said.NYRA officials have outlined a series of steps being taken to address the audit findings, including developing an accounting and internal controls manual, revising its code of ethics, establishing an ethics committee, and reducing expenses."We appreciate your having raised these issues with us and...agree in principle with your assessments and recommendations," Hayward wrote in a May 9 letter in response to the draft audit report. "NYRA's own assessment during the latter part of 2003 was quite similar, and, as a result, NYRA instituted a rigorous program of procurement scrutiny and control. The result was an overall reduction in operating expenses of $7,451,635 in fiscal year 2004."In addition, NYRA has committed to the New York State Racing and Wagering Board to develop a robust set of internal policies and controls during fiscal year 2005."Hevesi called the Web-cast deal "the worst" example of questionable spending auditors uncovered. "Draw your own conclusions as to whether that was the only firm that could provide Web services to NYRA," Hevesi said.A livid Schwartz insisted the contract held by his son-in-law was bid out by NYRA, and that it was awarded before he became chairman. He said the contract was for three years. "The original contract was bid, and he got it," Schwartz said."How does somebody this dumb get a job in this state?" Schwartz said of Hevesi. He added: "I won't say he's dead wrong. He's lying."Schwartz said he submitted a disclosure statement to NYRA--a NYRA policy--noting his son-in-law held the Internet contract with NYRA. "I have never dealt with my son-in-law on a single NYRA issue," Schwartz said.With the franchise renewal period set to start next year, Hevesi warned that if serious reforms aren't made, "NYRA will go out of existence." He said in his more than 10 years as the top auditor for New York City and now the state of New York he has never seen an operation run more poorly than NYRA.Hevesi also lashed out at a "culture" at NYRA that showed an "unwillingness to care" about following rules or laws and that termed past revelations of misconduct as "PR problems" instead of devising ways to fix them.
FREE! E-Newsletters from The Blood-Horse!...
Follow the top stories of major racing events, racing previews and results with FREE e-newsletters from bloodhorse.com. As news develops, we'll deliver updates to your inbox. Follow important events moment by moment, step by step!