Steve Haskin's Belmont Story: Crescendo
by Steve Haskin
Date Posted: 6/14/2005 9:41:15 AM
Last Updated: 6/14/2005 9:58:44 AM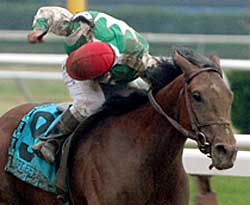 Jockey Jeremy Rose says 'see ya later' to the competition as Afleet Alex wins the Belmont Stakes by seven lengths.
Photo: Dave Harmon

It was a typical lazy afternoon on the Belmont Park backstretch as two figures strolled down the horse path heading to Barn 5. Afleet Alex and trainer Tim Ritchey had already spent five days stabled in Barn 14 preparing for the 137th Belmont Stakes (gr. I), but Ritchey decided he wanted to move to the barn in which he had originally been assigned. This atypical stroll on a hot, humid afternoon didn't seem to faze Alex in the slightest. He was used to anything by now. But when Ritchey unhooked the lead shank and let him loose in his new stall, the colt suddenly started bucking, kicking, squealing, and rolling in his wood chips, interrupted only by an occasional quick stop in front of the window fan for a blast of cool air. An amused Ritchey said to the Northern Afleet colt, "Hey, save that for Saturday." But Alex was saving much more for Saturday. The Preakness (gr. I) winner had already written one of the most amazing chapters in the annals of Thoroughbred racing, and was planning to add to it in the mile-and-a-half Belmont. This is a horse who has affected the lives of more people than any horse in recent memory. He has kept his dying breeder alive. He has kept the mission and memory of a courageous young girl alive. He has kept the hopes of hundreds of seriously ill children alive. He has kept the great American dream of his workaday owners alive. And he kept himself and his jockey alive with one of the most remarkable feats of agility ever seen in any sport. Now, with his spectacular seven-length victory in the June 11 Belmont, he has kept alive one of Thoroughbred racing's great Cinderella stories. Although he was not trying for a Triple Crown sweep, which accounted for a much smaller crowd than the past three years, the ovation he received following the race was no less enthusiastic than the ones that had been meant for War Emblem, Funny Cide, and Smarty Jones. After three consecutive years of disappointment and frustration, the 62,274 Belmont fans on hand finally got their chance to erupt, and they did so with a deafening roar and a chorus of chants for racing's newest hero. Whatever glory Afleet Alex had failed to attain with his third-place finish in the Kentucky Derby (gr. I) he made up for two weeks later in the Preakness. The frightening image of him nearly falling and picking himself up made its way on to national TV news and sports shows and front pages of newspapers across the country. The colt had become the poster child for courage and athleticism, and everything that is pure in the world of sport. Alex's owners, Cash is King Stable, as well as Ritchey, jockey Jeremy Rose, and publicists J.J. Graci and Anita Saint Clair, were now thrust into a world beyond their wildest imagination. In addition to the fame and glory, they all became involved with the fight against childhood cancer through Alexandra "Alex" Scott's now-famous lemonade stand that has spread throughout the racing world thanks to the heroics of Afleet Alex and his ever-growing Web site and the proceeds from his merchandising products. "Here was a little girl who had the awareness at age four to think about her fellow humans," Ritchey said. "That's amazing to me. She obviously was a special little girl and we're all very thankful and grateful we could be a part of this cause and try to bring some awareness to the American public." Afleet Alex, produced from the Hawkster mare, Maggy Hawk, was bred in Florida by John Silvertand, who was diagnosed with cancer more than two years ago and given only a few months to live. But he says it has been Afleet Alex who has helped keep him alive. At last report, he seems to be making excellent progress in his battle. There still was one more stop on Afleet Alex's already magical journey on the Triple Crown trail. The road to the Belmont Stakes proved to be an unconventional one, but then, there has never been anything conventional about Afleet Alex or his trainer. Since the winter at Oaklawn Park, Ritchey has had to withstand a barrage of criticism about the way he was handling the colt, especially his routine of training him twice a day. But Ritchey stood firm, insisting to anyone who would listen that he knew what was best for his horse. "If no one did the unconventional, we'd still be in Italy," he said. "We would never have gotten to America." Afleet Alex came out of the Preakness "a little muscle sore" from his ordeal, according to Ritchey, but "jogged right out of it." Ritchey had planned on shipping the colt to New York the Saturday following the Preakness, but decided to delay it a week when a suspected case of strangles was discovered on the Belmont backstretch. "I'm not going to do anything to jeopardize my horse's health," he said at the time. One week later, he was given the green light by the New York Racing Association, which later said the infected horse did not have strangles but an illness that mimicked the disease. Originally, Alex was to be put in Barn 5, which housed the Randy Schulhofer horses and was the temporary home of Smarty Jones last year. But it was decided by NYRA to take over Angel Penna's Barn 14 and use it for all horses racing on Belmont day. So, out went Penna's horses to Barn 11, and in came the NYRA maintenance crew, which gave Barn 14 a complete makeover, painting the entire barn, disinfecting it, and doing extensive carpentry and metal work. Even as the Andrew Simoff horse van arrived at 4:45 p.m. June 4, dropping off Afleet Alex; Always Noble, a 4-year-old gelding entered in the True North Breeders' Cup Handicap (gr. II); and a pony, work was still being done on the barn. On the Monday before the Belmont, Afleet Alex stunned onlookers by coming out at 8:45, following a mile-and-a-half jog earlier in the morning, and galloping three miles in near-90-degree weather, going the final mile in a two-minute lick. As Ritchey, who was sweating profusely, came off the track on the pony, he broke into a broad smile. "Do you think he's fit?" he asked. What no one realized was that there was a method to Ritchey's apparent madness. He was banking on his skills as a horseman and former equestrian and jump rider to get Afleet Alex through the Triple Crown without falling victim to the Belmont's demanding distance, as so many others have done. "This all began back in December," the 54-year-old trainer said. "I started with a plan to try to get him through the Triple Crown preps and build him up so he was physically and mentally as fit as he possibly could be. The whole plan was to get him through all the rigors of the prep races, then the Derby, Preakness, and Belmont. It was a slow buildup over a period of time, and as a result, he is still in peak condition." When asked about Afleet Alex's ability to get the mile and a half, all Ritchey would say was, "He will run as far as they write races. He'll run three miles if he has to, because he relaxes so well." With everything appearing to be running smoothly, a mini-drama unfolded Tuesday when several top trainers complained it was unfair to have the locally-based horses go to the new monitoring barns on race day, while the Belmont shippers were permitted to remain in Barn 14 until it was time to go to the paddock. NYRA officials decided to change the rule, stating that all horses would have to go to the monitoring barns. That didn't sit well with Ritchey, who had been told he would not have to be moved on race day, but he elected not to pursue it. "It is what it is; you can't let it bother you," he said. "Nothing bothers my horse, so it'll affect him less than any of the others." On Wednesday, Kentucky Derby winner Giacomo arrived from California, and, with strangles no longer an issue, trainer John Shirreffs asked to be put in Shug McGaughey's barn after paying a visit there and being impressed with the accommodations and quiet atmosphere. One by one, the other shippers also were placed in different barns, leaving Afleet Alex and the maiden Nolan's Cat as the only two Belmont starters in Barn 14. Nolan's Cat's trainer, Dale Romans, had had his barn at Palm Meadows in Florida quarantined due to strangles earlier in the year, and was coming from Churchill Downs, which has been hit with equine herpesvirus. Although Romans' horses had all been tested several times, a cautious Ritchey decided to pack up and move to Barn 5, where he originally was supposed to go. That meant Afleet Alex would be stabled in three barns in three days, but this is a horse who cares little where he hangs his hat. "They could put him in the hot dog stand and it wouldn't bother him," Ritchey said. As Ritchey watched Alex dashing about in his new home, he couldn't help but be amazed by the horse's unique personality and his ability to capture people's hearts. "I've received letters from people who say when they watch this horse run it literally brings tears to their eyes," he said. With the arrival on Thursday afternoon of the Patrick Biancone-trained Chekhov, all the Belmont starters were on the grounds, including three--Andromeda's Hero, Pinpoint, and Indy Storm--trained by Nick Zito, who had a record 11 starts with seven individual horses in this year's Triple Crown. It was Zito and Birdstone who denied Smarty Jones the Triple Crown in last year's Belmont. Biancone had a great deal of confidence in Chekhov, but understood the reality of the situation. "I need to find a weakness in Afleet Alex," he said. "I think he has an 'A' game and a 'B' game. If he runs his 'A' game he's unbeatable, so I have to hope he runs his 'B' game." That seemed to be a slim hope, as Alex's "B" game this year has consisted of one race in which he was suffering from a severe lung infection and his close third in the Derby. In his other races, he displayed amazing versatility and the ability to annihilate his opponents with one explosive burst of speed. The hot weather in the Northeast continued into race day, and there was little morning activity from the Belmont starters. Over at Barn 2, Bobby Frankel shared a revelation. "You know what? I was thinking the other day, Afleet Alex just may be that good," he said. "Maybe he is a Seattle Slew or an Affirmed or one of those kinds. Looking at his 'sheet' numbers, the fact that he's still around and doing what he's doing is pretty amazing." Afleet Alex was made the even-money favorite, with Giacomo (5-1) the only other horse going off at single-digit odds. Everyone else was lumped between 11-1 and 20-1. At the start, Pinpoint, as expected, went to the lead from post 2, followed by A. P. Arrow, Southern Africa, and Chekhov, who was hung wide going into the turn. Giacomo was closer to the pace than he had been in the Derby and Preakness, racing in fifth along the inside. Rose, as he had done in the Preakness, took a comfortable hold of Afleet Alex after breaking from post 9 in the 11-horse field, and steered him to the inside, getting an excellent position in the two-path while racing in ninth. Pinpoint continued to lead as they headed into the backstretch, the opening quarter in :24.47 and half in :48.62. The field began to spread out a bit, as Afleet Alex, who had been a length behind Giacomo, was now some four lengths off him and eight lengths behind the leaders, with Andromeda's Hero directly outside him. Ritchey had told Rose to "wait...wait...wait," and Rose sat chilly on the favorite, knowing he had a crate of dynamite under him and could light the fuse any time he wanted. Giacomo seemed a bit keen to go on and Mike Smith eased him out and took off after the leaders. But Rose paid no attention, and he continued to keep Alex covered up, waiting as long as he could. As they headed into the far turn after a mile in 1:38.05, Pinpoint held a narrow lead over A. P. Arrow, who stuck his head in front at the three-eighths pole. But Giacomo was on the move and looked strong coming to the quarter pole as he easily disposed of A. P. Arrow and took the lead. Smith said later he heard the Derby winner make loud noises, as if he were displacing his palate. Rose finally decided to step on the gas. He eased out to avoid a retreating Pinpoint, and then sliced his way between horses. In a flash, he was all over Giacomo. Andromeda's Hero tried to keep up with him, but had no hope of matching the power and quickness of Afleet Alex. Nolan's Cat was steered abruptly off the rail and wound up eight wide at the head of the stretch. Turning for home, the 2005 Belmont Stakes was history, as Alex stormed clear of Giacomo and was six in front at the eighth pole. Rose kept looking back under his right arm and over his left shoulder, occasionally giving Alex a crack of the whip. He crossed the wire seven lengths in front of Andromeda's Hero, who was giving Zito his sixth second-place finish in the Belmont. It was another 6 3/4 lengths back to Nolan's Cat, with Indy Storm fourth. Giacomo, apparently unable to get his air, finished seventh. The final time was 2:28.75, and Afleet Alex's final quarter of :24.50 was the fastest in the Belmont since Arts and Letters in 1969. After the race, Rose put it best when he described Afleet Alex as "a beast" and a "freak of nature." Although Rose took the blame for Alex's defeat in the Derby, in which the colt was down on the worst part of the track, Ritchey disagreed, claiming it simply "was not meant to be." Ritchey said the plans are to point Afleet Alex for the Haskell Invitational (gr. I) and/or the Travers Stakes (gr. I), concluding his campaign in one of the Breeders' Cup World Thoroughbred Championships races. "There are a couple we can run in," he said. "We'll have to decide which one." Immediately after the race, you could almost feel the roar of the crowd beginning to swell as Afleet Alex got closer, and it erupted into a glorious crescendo by the time he reached the winner's circle. "I told you he'd be able to run three miles," Ritchey said. "I could go for the Grand National maybe in a couple of years. We know he's athletic enough to jump." As Ritchey walked back to the barn following the post-race interviews, he was more reflective about the gift he and the Cash is King partners have been given. "I've never even dreamt of a horse like this," he said. "He's an absolutely amazing animal. I may get some good horses in the years to come, but I'll never have another one like him, no way, shape, or form. He's just a special, special horse, and now everyone is seeing it for themselves." Afleet Alex apparently does everything fast, as he surprisingly had already left the test barn when Ritchey went to check in on him. Back in Barn 5, Ritchey, Graci, and Saint Clair toasted Alex's victory with champagne. "To a job well done. You guys were a great part of it," he told them. The three, along with Cash is King managing partner Chuck Zacney and his wife Carol, recently visited New York Presbyterian Hospital, bringing Afleet Alex posters, caps, shirts, and buttons to the children and telling them of the horse "who almost fell, but didn't let it stop him, and how he kept fighting just like you guys are doing." Later, Zito drove by the barn and congratulated Ritchey. "You're a credit to the game," Zito told him. Ritchey thanked Zito and told him, "I consider you a friend, I really do." He then congratulated Zito on the second-place finish by Andromeda's Hero. "He just ran against a tremendous horse," Zito said. In the quiet of the evening hour, all was finally tranquil as Afleet Alex grazed contentedly while Ritchey looked on, holding his jacket under his arm and wiping the sweat off his forehead. As if feeling the urge to be close to the horse, he walked over and took the shank and immediately gave Alex several firm pats on the neck before running his hand over his back and hind quarters. Alex returned to grazing until he was interrupted by a sound off in the distance. It was the faint call of the day's final race. A wide-eyed Alex turned his head toward the grandstand and then turned his body until he was facing it. He picked his head up and cocked his ears and did not move a muscle until the call was over. "He's probably saying, 'Heck, I can whip them, too,' " Ritchey said. As soon as the race ended, Alex calmly walked back into his stall. After sharing a few special moments with Rose, who showed up later, and being given several mints, the light was shut off. All was dark, except for the glow that emanated from the stall. It was the same glow that has reached out and touched so many people. On this day it reached out and touched tens of thousands of appreciative fans at Belmont Park who, after years of disappointment, finally went home happy.



Copyright © 2015 The Blood-Horse, Inc. All Rights Reserved.