Sal Russo After 'Third' Belmont
by Evan Hammonds
Date Posted: 6/10/2005 12:53:34 PM
Last Updated: 6/10/2005 6:13:55 PM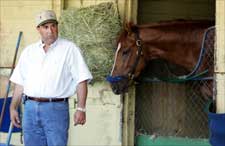 Sal Russo, with Belmont entry Reverberate.
Photo: Barbara D. Livingston

Trainer Sal Russo will be sending out his first Belmont Stakes (gr. I) starter tomorrow, but the 44-year-old native of Valley Stream will be looking for his third victory in the "Test of the Champion."As the assistant trainer for Hall of Fame conditioner Scotty Schulhofer, Russo was on hand for Colonial Affair's 1993 Belmont win for Centennial Farms. Then, as the jockey agent for Jose Santos, he was around for his victory aboard Jeanne Vance's Lemon Drop Kid . Lemon Drop Kid was also trained by Schulhofer.This year, he'll saddle Centennial Farms' Reverberate, who is coming off a good second-place effort in the Peter Pan Stakes (gr. II) on May 28.While being miked by ESPN and taping an interview as the "Budweiser Longshot" for the Belmont, Russo assessed his chances."Afleet Alex is the horse to beat, but I'm not a longshot," he said. "I'm a little concerned about running back this quickly, but I'm confident. "I wish we had more time, but we don't," he said. "This will be his third race in 34 days. This is our Triple Crown."Reverberate, a $400,000 Keeneland September sale yearling, won an entry level allowance race at Belmont May 8, defeating older horses going 1 1/16 miles. He came back 20 days later in the nine-furlong Peter Pan, where he ran second to Oratory."We were beaten by a buzzsaw that day," he said. "But this is a horse for the course. I totally believe that."Reverberate has made three starts at Belmont Park and has two wins and the grade II second-place finish. He broke his maiden at "Big Sandy" last September going 6 ½ furlongs. Bred in Kentucky by the Edward Seltzer Trust, Reverberate is a strapping son of

Thunder Gulch

out of the Proud Truth mare Peggibonsi.Russo, who has 22 horses in training, has seven horses under his care for the racing partnership group Centennial Farms. Centennial Farms is run by Don Little and his son, Don Jr."He worked for Scotty for 15 years, and Scotty was our main trainer for many, many years," said Don Little Jr. outside Barn 24 Friday morning. "When Scotty retired, we were looking for a new trainer. We have some horses with Bill Mott, we have some horses with Linda (Rice), and we decided to add Sal to the mix because we wanted a trainer that had our beliefs in training methods, the old-school methods.""We like more of the conservative training route," Little said. "We're looking to get a horse to the Belmont, the classic-type races. We're not looking for starting 2-year-olds in May. We're more into taking our time.""Everything I do is the same way he (Shulhofer) did it," Russo said. "The old Tartan/John Nerud way--the way Scotty came around. The way we feed, the way we train. Of course, each horse is an individual, too."It's little surprise that Jose Santos will be riding Reverberate. Santos has one win the Belmont from 12 starts. He ran second, to Colonial Affair, in 1993 while aboard Kissin Kris; was second with Skip Away in 1996; and third aboard Funny Cide in 2003."You have to save your horse until the end," Santos said. "A lot has to do with the training. You have to prepare these horses to go that far. I just try to be a good pilot."



Copyright © 2015 The Blood-Horse, Inc. All Rights Reserved.