Afleet Alex: 'The One That Got Away'
by Dan Liebman
Date Posted: 6/9/2005 5:11:07 PM
Last Updated: 6/10/2005 2:11:16 PM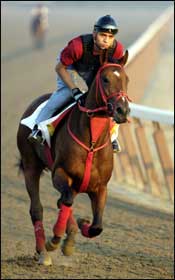 Afleet Alex on the track at Belmont Thursday morning.
Photo: Skip Dickstein

Jimmy Iselin has trained some good horses. But this is the classic story, as he said jokingly, "of the one that got away."Iselin was the underbidder on a colt at the 2004 Fasig-Tipton Midlantic sale. Bidding on the phone with a Fasig-Tipton official, he made it $70,000...trainer Tim Ritchey went to $75,000...and the gavel fell on Afleet Alex.The rest, as they say, is history.Of course there is an underbidder on every sale, and had that person purchased the horse, there is no guarantee the results would have been the same."My program is not Tim Ritchey's program," Iselin said on the Belmont Park backside Thursday morning. "I was interested in the colt because of Northern Afleet but timing is everything and right then, we weren't burning things up. He's the one that got away."I've given myself a hard time about it; I'm my own harshest critic."Iselin had tried to purchase Northern Afleet and move him to New York to stand at Michael Lischin's Metropolitan Stud, where he has other stud horses and boards some mares."We were very interested in Northern Afleet ," Iselin said. "He would have been the best thing to happen to New York breeding. When Afleet Alex won at Saratoga I thought we might lose out to Taylor Made, which had also already shown interest."Iselin called Wynn Jolley, who had been breeding to Northern Afleet since he entered stud originally in Florida, and inquired of all the offspring selling that year in Florida and Maryland, which one would he suggest Iselin try to purchase. Jolley said Afleet Alex."I sent a good friend, Jerry Paradise, to look at him in Ocala" Iselin said. "He said, 'When he walks, he paddles.' But he didn't think it would hurt him when he raced. I called to ask about buying him and he was going to Timonium that day."Though he missed out on Afleet Alex, Iselin and partner Junior Little bred two mares to Northern Afleet last year and four this year. They have a New York-bred filly and Kentucky-bred colt on the ground and two of the mares are confirmed in foal. The other two are still to be checked to confirm a pregnancy.Iselin also has a mare in New York in foal to Northern Afleet .Iselin is the son of the late Philip Iselin, who at one time owned Monmouth Park and was a partner in the ownership of the New York Jets.Iselin, who has seven horses in training, is the co-breeder of Blue Grass Stakes (gr. I) winner Bandini, who was injured in the Kentucky Derby (gr. I), along with Little and Ron McKee. One of those seven is the 4-year-old Kris S. filly Divine Lady, who is a half-sister to Bandini. Divine Lady broke her maiden in her last start and is schedule to run back in late June. She has a win, a second, and a third in four lifetime races.Iselin, who trained such horses as

Crafty Prospector

, had two mentors in the business, famous trainers Jimmy Jones and Woody Stephens.He learned much from both, but Iselin, 62, said he remembers one thing from each man the most. "Jimmy always said, 'In one day, a horse can make your career,' and Woody always said, 'Don't bring over the best horse, bring over the right horse.' "Neither mentioned anything about the ones that get away. Iselin learned that lesson on his own.To purchase photographs of Afleet Alex and other great thoroughbreds, click here.



Copyright © 2015 The Blood-Horse, Inc. All Rights Reserved.