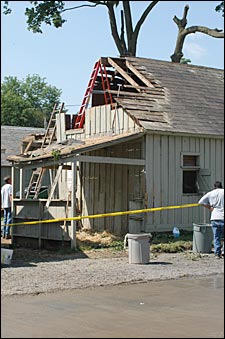 "It was probably about 3:25 and we were just watching the winds howl and the trees bend every which way and all of a sudden we just heard a big crash and saw that branch come down," he said.

At first, Benzel said he didn't realize how big the branch was. Within a few minutes, the rescue operations was underway."The maintenance crew here at the track came. They were right on it," Benzel said. "As soon as the storm had subsided they were here with a lot of equipment, a lot of trucks, a lot of people. They got right on it. They had some chain saws, got all those branches right out of the way and subsequently went to the wall. Once the wall was down we got her (filly) out."George Hathaway, the facilities manager at Saratoga, said a pony and three of Pletcher's horses were taken from Barn 58 after the branches were removed. On Tuesday morning, workmen were repairing damage to the old barn with the slate roof.

"We were lucky that no one or no horse got hurt," Hathaway said in a statement released by NYRA. "We are also thankful for all the track personnel and stable help that showed up to help us out."