Zito Humbled by Hall of Fame Induction
by Ron Mitchell
Date Posted: 5/31/2005 12:59:46 PM
Last Updated: 6/1/2005 12:32:50 PM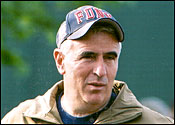 Trainer Nick Zito, will be inducted into the Hall of Fame this year.
Photo: Barbara D. Livingston

Trainer Nick Zito, the 57-year-old New York native who has won the Kentucky Derby (gr. I) twice, is rarely at a loss for words. But in trying to express his feelings over the announcement he will be inducted into the National Museum of Racing's Hall of Fame this year, reacted, "I just don't know what to say."When pressed, however, during a teleconference Tuesday to announce the 2005 Hall of Fame inductees, Zito said he is humbled by and grateful for the honor."It's hard to put into words," he said. "It's very humbling and only happens once in a lifetime. I've wanted this all my life, and this is what I've worked for. Although there have been some frustrations, you just have to wait your turn and remain humble and keep remembering that the game is bigger than anyone. Just to be in there with so many great trainers is an amazing thing. It's hard for me to believe, honestly."Zito, who had been bypassed previously in Hall of Fame voting, was the only nominee in the flat racing division to be elected to the Hall under rules approved in 2004 by the trustees of the National Museum of Racing requiring nominees to receive at least 75% of the votes cast to qualify for induction. Previously, the leading vote-getter in each of the four categories -- trainer, jockey, contemporary male, and contemporary female -- was inducted. A total of 163 ballots were mailed to Hall of Fame voters.Zito will be joined by three new inductees from steeplechase racing -- jockey Thomas Walsh, trainer Sidney Watters Jr., and five-time champion Lonesome Glory -- when they are formally inducted in public ceremonies at 10:30 a.m. Monday, Aug. 8 at the Fasig-Tipton Sales Pavilion in Saratoga Springs.The trainer of two champions and 20 horses who have won grade I stakes, Zito said he learned from each of the trainers for whom he worked and others at the track before striking out on his own, but that he tried to fashion his own training style."I learned something from all of them," he said. "No matter who you work for, you always go out and develop your own style, and that's the only way to become a successful horse trainer. It's good to emulate somebody, but you can make a much bigger mark on the sport if you do your own thing, and that's what I've tried to do."While success with Triple Crown runners is what gets him or any other trainer the most publicity, Zito said he and his staff attain as much satisfaction from the achievements of the other horses in his stable."There are horses you get attached to over the years and I am very lucky to have the opportunity to have that type of feeling with them," Zito said.But Zito said Triple Crown success does make a difference in a training career, noting that the turning point for his own stable came after Thirty Six Red was on the Triple Crown Trail in 1990. Thirty Six Red won the Gotham (gr. II) and Wood Memorial (gr. I) and was second in the Belmont Stakes (gr. I), but finished ninth in the Kentucky Derby (gr. I)."I'd have to say that Triple Crown trail helped open up the doors," he said. "That's what helped us get going into that different league. It's all about opportunity and I was lucky and blessed to have those type of horses."Zito said his mother was not pleased with his career choice when he first informed her he wanted to become a groom at the track. "I remember as a teenager, I wanted to go to the racetrack, and my mom was taken aback by that," Zito said. "She said, 'What kind of a life is that?' My brothers and my dad would say, "Let him go, let him go.' Since the first day I started training horses, my mom had every single clipping about me until the day she died, and she lived until she was 89."Zito has won the Kentucky Derby with Strike the Gold in 1991 and

Go for Gin

in 1994, in addition to saddling Louis Quatorze to win the Preakness (gr. I) in 1996, equaling the stakes record. Last year, Zito-trained Birdstone posted a huge upset when he denied Smarty Jones a Triple Crown by winning the Belmont Stakes .Responding to questions about the new voting process that resulted in no inductees this year in three of the four flat racing categories, Hall of Fame committee chairman Ed Bowen said the format will be reviewed by the executive committee. Zito was the only trainer to receive at least 75% of the vote, for which voters could vote for three of the five nominees, Bowen said. He noted that if more than one trainer got in excess of 75%, only the top vote-getter would be inducted into the Hall.To be eligible for consideration as a nominee, a trainer must be licensed for 25 years, a jockey must have ridden for 15 years and a horse must be retired for five years. In 2006, the minimum requirement for eligibility for a jockey moves to 20 years. The other trainers on the ballot were Dale Baird, Gary Jones, Mel Stute, and John Veitch.Jockeys on the ballot were Eddie Maple, Craig Perret, Jose Santos, Randy Romero, and Ismael (Milo) Valenzuela.Contemporary male horses nominated to the Hall were: Best Pal, Housebuster, Lure, Manila, and Silver Charm.In the Contemporary Female Horse category, the nominees were: Mom's Command, Open Mind, Sky Beauty, Inside Information, and Silverbulletday.Bowen said he was surprised that no horse got the requisite 75% of the vote in any of the other categories."Quite frankly I felt one of the divisions was very strong and one was not," Bowen said of the horse categories, noting that there will likely be some questions about the new process. "It's a great collection of opinions. Obviously there are people who disagree with the results, no matter what your process is."Watters, Walsh, and Lonesome Glory are the first steeplechase inductees since 1997. The three steeplechase inductees were selected by the 12-member Steeplechase Committee of the Hall of Fame that met this year. Members of the committee took part in a conference call to discuss the nominees and later cast votes to determine a finalist in each category. To earn induction, the finalist had to receive at least 75% of the votes cast in a second ballot. The Steeplechase Committee, which meets every other odd-numbered year, will next consider nominees in 2009.Watters, also a successful trainer of horses that ran in flat races, led or shared the lead in steeplechase victories in a season six times between 1948 and 1971. He led steeplechase trainers in purse money won three times. Watters, 87, was born in Baltimore. He is retired and lives on his farm in Monkton, Md.During his 12-year career as a steeplechase rider from 1956-67, Walsh recorded 253 victories, fifth on the career list. He was the leading jockey in races won twice and was the regular rider of champions Barnaby's Bluff, Bon Nouvel and Mako. Walsh won the pretigious Grand National Steeplechase a record five consecutive years. Walsh, 65, is a native of Great Neck, N.Y. and has been active in racing for 49 years. He lives in Muttontown, N.Y. and operates a stable based at Belmont Park.Lonesome Glory, a son of Transworld bred and raced by Mrs. Walter Jeffords Jr., won 24 of 44 career starts between 1991 and 1999 and is the leading money-earning horse in steeplechase history with $1.4 million.In his fourth career start, Oct. 12, 1991, Lonesome Glory competed in a steeplechase race for the first time and promptly broke his maiden by two lengths. He won the first of his record number of five titles in as a 4-year-old in 1992, a season that concluded with a victory over hurdles at Cheltenham in England. Lonesome Glory earned his final title as an 11-year-old in 1999 with a pair of Grade I victories. He won 19 jump races, 17 in the U.S. and two in England, from 35 starts and was the first steeplechase horse to earn over $1 million.Three years into his retirement, Lonesome Glory was found to have injured himself in a stall accident at trainer F. Bruce Miller's farm. When efforts failed to repair the broken bone in his left hind leg he was euthanized Feb. 25, 2002. He was 14.



Copyright © 2015 The Blood-Horse, Inc. All Rights Reserved.