Zito Assistant Abreu to Train for Whitney Stable
by Steve Haskin
Date Posted: 5/29/2005 3:37:44 PM
Last Updated: 6/1/2005 5:09:07 PM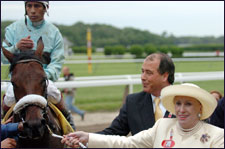 Owners Marylou Whitney and John Hendrickson (shown with Belmont Stakes winner Birdstone) have tapped veteran assistant to serve as their private trainer.
Photo: Skip Dickstein

Maylou Whitney and her husband, John Hendrickson, who won the grade I Belmont Stakes and Travers last year and the Kentucky Oaks in 2003, have hired Nick Zito assistant Reynaldo Abreu as their private trainer.Abreu, who has been with Zito since 2002, also worked for top trainers D. Wayne Lukas, Todd Pletcher, and John Ward. He will take over the 14 horses owned by Whitney this week and will be stabled at the Oklahoma training track in Saratoga, just a few barns away from Zito."Reynaldo had been getting a little itchy and wanted to try training on his own," Zito said. "He was considering going down to Florida to train but, when Marylou and John kept talking about wanting to have a private trainer, I suggested Reynaldo."John had been asking me for years to train privately, but I have too many good owners, and I just couldn't become a private trainer, and I felt this would work, especially since Reynaldo was going to go out on his own anyway. I'm rewarding him the way he rewarded us in the time he's been here.""We've always liked Reynaldo," Hendrickson said. "He's a terrific horseman and Nick recommended him highly, so we're very happy with the arrangement."Zito added, "Marylou and John have been great to me, and they've been friends with Reynaldo. We've all made history together. Reynaldo knows our system, so it seemed like the perfect match. I'm really happy for Reynaldo and for Marylou. I told Reynaldo he's the luckiest young guy alive. Every trainer in America is going to be envious of him. "He's getting 14 horses, with lots of well-bred young horses by sires such as

Empire Maker

and Mineshaft coming up. They're going to pay all the bills and pay him a percentage and a salary, just like the private stables used to do in the old days. You tell me, for a guy starting out, how are you going to do better than that? What's also good about it is that he's got John, who gets a lot of the credit in building Marylou's operation back up. This is what Reynaldo has always wanted to do, and now he has the greatest opportunity ever for somebody starting out."Zito saddled his last horse for Whitney on Sunday in the seven-furlong Jaipur Handicap (gr. IIIT), finishing third with Gulch Approval.



Copyright © 2015 The Blood-Horse, Inc. All Rights Reserved.