Preakness Sets Attendance, Handle Marks
Date Posted: 5/22/2005 1:27:59 PM
Last Updated: 5/24/2005 5:58:24 PM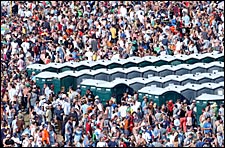 The Maryland Jockey Club reported a record crowd at Saturday's Preakness Stakes.
Photo: Rick Samuels

Preakness records for handle and attendance were shattered Saturday, according to figures released by the Maryland Jockey Club. A crowd of 115,318 packed historic Pimlico Race Course, the largest crowd to witness a sporting event in the state. The old mark of 112,668 was set last year. Attendance figures have topped six-figures in six of the last seven years and for five years in a row. Preakness day wagering reached $88,083,366, eclipsing the record of $87,858,878 set in 2004. A pool of $60,861,090 was bet on the state's signature event, another record. The difference from Saturday's figures came from an additional $2,832,362 in the separate pool."It was absolutely the best Preakness ever," said Joe De Francis, MJC president and chief executive officer. "We had a phenomenal performance by Afleet Alex and Jeremy Rose. The turnout was sensational. I never thought we'd break last year's record with all the attention Smarty Jones captured. "It was a record in every category and the first time ever that over $11 million was wagered in a single day within the state of Maryland. It goes to show you the appeal of the Preakness and the excitement of the middle jewel of the Triple Crown. It is just astounding to see the continued growth in the popularity of this event." 2005 PREAKNESS DAY WAGERING & ATTENDANCEPreakness
In Maryland – $4,079,858
Outside Maryland -– $56,781,232
Total – $60,861,090 Entire Card
In Maryland – $11,084,415
Outside Maryland – $76,998,951
Total – $88,083,366 On-Site Attendance – 115,318



Copyright © 2015 The Blood-Horse, Inc. All Rights Reserved.