Songwriter Revives Giacomo Tune for NBC
Date Posted: 5/20/2005 7:28:52 PM
Last Updated: 5/20/2005 7:37:24 PM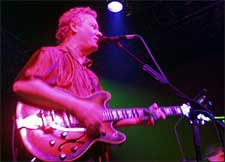 Louisville songwriter Tim Krekel featured on NBC broadcast.
Photo: timkrekel.com

By Kathleen Adams
It was some ten years ago that Louisville singer-songwriter Tim Krekel sat down with his guitar and wrote a seemingly simple song – "No Mo Do Giacomo" – about a guy who had run out of money after living the high life too long.While Krekel, 55, enjoyed performing the tune, it was never the strongest in his catalogue until a 50-1 long-shot named Giacomo won the 131st running of the Kentucky Derby (gr. I). That's when Krekel, who grew up attending horse races at Churchill Downs, got the idea to transform the piece in celebration of the equine Giacomo."I bet on him because of his name," Krekel said in a telephone interview. "Then I thought, 'I like this horse, I've got this song, why not rewrite it?'"A veteran musician who has penned lyrics for singers such as Deana Carter, Kathy Mattea, Crystal Gayle, and Patty Loveless, it took Krekel 20 minutes to revise the tune.And two days after the Kentucky Derby, he went into the studio and recorded the latest version of "No Mo Do Giacomo". (Do is pronounced Dough, by the way.)On Saturday, countless horse racing fans will hear the song when NBC Sports airs taped footage of Krekel performing it as part of the network's Preakness Stakes (gr. I) telecast. Krekel knows, of course, that Giacomo's owner, Jerry Moss, is co-founder of A&M Records."I hope he likes it," Krekel said. "It's a compliment to his horse."Synchronicity is the word Krekel uses to describe how "No Mo Do Giacomo" came to the attention of NBC Sports.But it was more likely quick thinking on the part of ear-X-tacy records promotion director Leslie Stewart, who approached John Asher, Churchill Downs' vice president of racing communications, with the idea of giving the song to NBC."John gave the project to the Downs' publicity director Tony Terry, who made the NBC connection for us," Stewart said.Terry said he attended high school with Krekel's nephew and was happy to help. So, he personally contacted NBC telecast producer David Michaels."He said right away, 'We want it,'" Terry said.Krekel said while pursuing the opportunity with NBC Sports has been "a whole lot of fun," he has even higher hopes for the four-legged Giacomo."I believe in the horse," he said. "I think he's going all the way."



Copyright © 2015 The Blood-Horse, Inc. All Rights Reserved.