Preakness Offers Enticing Wagering Possibilities
by Steve Haskin
Date Posted: 5/20/2005 2:09:20 PM
Last Updated: 5/21/2005 10:31:43 PM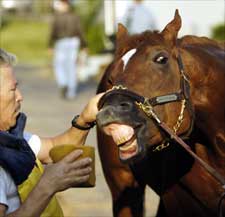 Greeley's Galaxy is Haskin's choice to win at the window.
Photo: Skip Dickstein

If logic and the science of handicapping confuse you, if you're more comfortable guessing than analyzing, then Saturday's Preakness Stakes (gr. I) is right up your alley. Regardless of what the experts say, there are no experts when it comes to this race. It's a pure guess, period.Of course, if my pricey selection, Greeley's Galaxy, comes in, forget everything I just wrote. I will take credit for a brilliant, well thought out analysis, which comprised most of Thursday's column. But I have to state up front, I'm not as confident in the horse as I was before he worked three furlongs in :34 4/5, out in :47 4/5 over a wet track this morning. Talk about old school. No matter how you look at it, that is a pretty wild work the day before a race. So proceed at your own risk. I know I will. I can't go off him now, but there has to be some concern.The problem is what to do with Greeley's Galaxy, other than a straight win bet, because there are numerous horses that can pop up and run big in here to complete another monster exacta and trifecta.First off, what do you do with Giacomo, and to a lesser extent, Closing Argument? In Giacomo's case, he's probably getting less respect now in some ways than he did before the Kentucky Derby (gr. I). He was made the fourth choice in the morning line, and many have come out and said he can't do it again. Their thinking is based on the old racing philosophy: if you didn't go to the wedding, don't go to the funeral.Others feel the race was set up perfectly for him, and that Closing Argument actually turned in a more impressive performance, sitting in behind that suicidal pace, and just getting nipped in the final strides. The son of Successful Appeal was the only horse who was close to the pace early and still around at the finish.Then we come to Nick Zito's trio of High Fly, Sun King, and Noble Causeway, each of whom is capable of rebounding from their Derby debacle with a big effort. Then, of course, we have Wilko, another who had excuses in the Derby, and High Limit. And finally, there is the morning line favorite, Afleet Alex, who ran his heart out again, only to be beaten a length, while racing a good deal of the way on the inside, considered by many as the worst part of the track. And that's just the Derby starters. We also have to contend with several new shooters, headed by the tough and consistent Scrappy T.As I explained yesterday, Greeley's Galaxy looks to be a live longshot for a variety of reasons, and worth a straight win bet. Afleet Alex is still the best horse in the race, and is hard to leave out of any exotics. Wilko, who also should run a good race, has been plagued with quarter cracks, and the bad weather and a wet track would definitely compromise his chances, so if you like Wilko, keep an eye on the weather and the track condition.Having had Sun King ranked number one for a good portion of the year, I'll probably put a saver on him. He either had some kind of breathing problem in the Derby – Zito says he did not bleed and showed no signs of displacing – or he simply stopped running. He was stuck down on the inside, and a number of horses did have dirt down in their trachea after the race. So, on the assumption that something did in fact hamper his breathing, I'll take one more shot with him. If you liked High Fly or Noble Causeway in the Derby, don't give up on them yet. Noble Causeway had a nightmare trip in the Derby, and was all but eliminated early when Flower Alley knocked High Limit into him, causing him to take up sharply. And off his Derby run, Closing Argument is hard to leave out. And why can't this race set up for Giacomo again?Having just made a case for half the field, let's simply go back to basics. I like Greeley's Galaxy at a big price, and will concentrate on him to win, with a couple of exactas thrown in, and let the other cards fall where they may. When you're totally confused, why push it?



Copyright © 2015 The Blood-Horse, Inc. All Rights Reserved.