Steve Haskin's Preakness Analysis: Galaxy Shot
by Steve Haskin
Date Posted: 5/19/2005 2:56:55 PM
Last Updated: 5/20/2005 12:03:54 PM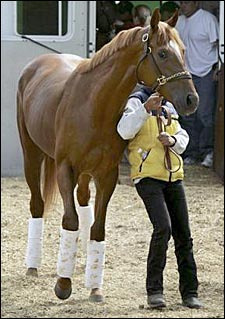 Greeley's Galaxy, Steve Haskin's pick to win the Preakness, upon his arrival at Pimlico Wednesday.
Photo: AP/Chris Gardner

When the field crossed the finish line in the Kentucky Derby (gr. I), it already was clear who my Preakness (gr. I) selection would be. In fact, it was at the quarter pole, as Greeley's Galaxy closed to within four lengths of the leaders, that I started thinking, 'There's the Preakness winner.'Of course, like everything in this year's Preakness, it's a total guess, and the son of Mr. Greeley will be a longshot in the 14-horse field. But if you're looking for a potential live horse who could come in at a big price, then consider the race Greeley's Galaxy ran in the Derby.First off, it should be noted that with only four career starts going into the Derby, he was at a historical disadvantage, and coming off a 9 1/2-length victory in the Illinois Derby (gr. I) was not what you look for in a Derby prep. Also, Greeley's Galaxy was a stalker/speed horse who had never been worse than third or farther back than 1 1/2 lengths in the early going.In the Derby, he broke slowly, the kiss of death for an inexperienced horse. Here was a horse who was used to being competitive early in all his races, having only three horses behind him in a 20-horse cavalry charge. Going into the first turn, Kent Desormeaux fanned him 6-7 wide. Still racing in 16th heading down the backstretch, he remained wide, while picking off horses slowly and methodically. Heading into the far turn, he still was about 5-wide as he launched his bid. Around the turn, he was motoring past horses on the outside as if he were a seasoned closer. Approaching the top of the stretch, he pulled to within four lengths of the leaders, having made up close to 10 lengths, but was fanned way out to the middle of the track, getting hung 8-wide turning for home.Straightening into the stretch, it was obvious he was getting leg weary, as he began weaving a bit. He had already run farther than 1 1/4 miles. But he kept trying, and it wasn't until he got squeezed badly and was forced to take up at the three-sixteenths pole that Desormeaux decided to stop riding him and save him for another day. Although he finished 11th, beaten a respectable eight lengths, he was being virtually eased the entire final furlong, and no doubt would have been closer had Desormeaux persevered with him. But this was a smart move on Desormeaux' part, or he could have ruined the colt's chances for the Preakness for no reason.Greeley's Galaxy, as he had done following the Illinois Derby, came back one week after the Derby and turned in a bullet work, indicating he had bounced out of his ordeal in good shape. The colt looked particularly strong galloping this morning, and has been feisty in his stall.Of course, you never know for sure how a hard race is going to affect a horse. But Greeley's Galaxy is a tough, rugged type of horse, with a huge stride, who should be dead-fit now, while having gained a lifetime of experience in the Derby. In a wide-open race like the Preakness, there is little separating these horses, and if there is one horse who looks as if his time is now it is Greeley's Galaxy. All signs are pointing toward a big performance.Kentucky Derby winner Giacomo has held his flesh very well since the Derby, and he couldn't be doing better physically and mentally. I must say one thing about trainer John Shirreffs. In all the years I have been covering the Derby, I have never met a more humble, unpretentious person. And just a nice guy. How refreshing in a world of inflated egos. Between Shirreffs, owners Jerry and Ann Moss, and of course jockey Mike Smith, you have four of the most likable people ever to grace the Triple Crown scene.Also making an impressive appearance this morning was Derby runner-up Closing Argument, whose coat looks great. For those who believe his Derby was a fluke, remember, in his last three races, Afleet Alex, Sun King, and High Fly all had the entire length of the stretch to get by him and couldn't.One horse who is feeling good and acting frisky is Wilko, who bled in the Derby and didn't have the smoothest of trips. And speaking of bad trips, Noble Causeway was totally wiped out after Flower Alley forced High Limit into him passing the stands the first time. Of the newcomers, Scrappy T is an impressive-looking colt who is as gritty as they come. Finally, although Nick Zito said Sun King did not bleed or displace in the Derby, he sure ran like a horse who did, hitting the proverbial brick wall after looking to be in excellent position and running smoothly. If you're looking for an angle (that admittedly may not be an angle), it still could be worth the gamble that something did happen to the colt that caused him to shut off his air.Tomorrow, I'll go over the field for prospective wagers, including, of course, Greeley's Galaxy in almost all of them. But there should be several other bargains to play around with, in what looks to be an exotic wager free-for-all.



Copyright © 2015 The Blood-Horse, Inc. All Rights Reserved.