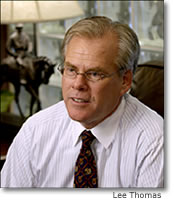 Today, ESPN is in 90 million of America's 108 million television homes, and its programming hours feature every major sport and include playoffs and league championships. The best example of the transformation of franchise events from network to cable was the recent announcement that "Monday Night Football," a 35-year prime-time fixture on ABC, would move to ESPN in 2006. ABC and ESPN are both owned by Disney. ESPN has been televising NFL football on Sunday nights, viewed by an average of 7.2 million households each week. NBC, which hasn't broadcast the NFL for eight years, will pick up the Sunday night games formerly shown on "cable." "The difference between cable and broadcast grows more meaningless every week," said Dave Nagle, manager of media relations for ESPN. "Anyone under 35 years old doesn't even know the difference."Keeping the Derby and Preakness on NBC may be best for those events. The Breeders' Cup telecast, whose viewership has steadily declined, hit an all-time low rating of 1.4 last year, or approximately 1.5 million households. (By comparison, more than 1.7 million households were tuned in to ESPN last year to watch the preview to the Belmont Stakes prior to NBC's telecast of the race.)The Breeders' Cup hasn't caught on with the general public, but ESPN has the ability to change that.ESPN is the network responsible for the current poker craze. It invented the X Games and the Outdoor Games, two events popular with youth. It turned the NFL draft into two days of must-see TV for football junkies. ESPN's SportsCenter is background noise for a whole generation of sports fans. Coming soon is the ESPN phone that will allow consumers to watch live programming on a cell phone.

If ESPN marshals all of its marketing and technological forces, as executive vice president of programming Mark Shapiro says it will, the Breeders' Cup will grow--not just in viewers, but in significance.
This could be a very good deal for the Thoroughbred industry.