Breeding Season Over For Successful Appeal
Date Posted: 5/13/2005 5:11:14 PM
Last Updated: 5/13/2005 7:06:42 PM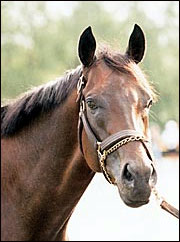 Successful Appeal ends breeding season early.
Photo: Barbara D. Livingston

Successful Appeal , the leading freshman sire of 2004 and sire of Kentucky Derby (gr. I) second-place finisher Closing Argument, will not cover any more mares this breeding season, John T.L. Jones III of Walmac Farm said in a release today.The son of Valid Appeal had colic surgery April 25 at Rood and Riddle Equine Hospital near Lexington. He covered 83 of the 113 mares booked to him."After consultation amongst attending veterinarian Rolf Embertson, stallion manager Ron Gilbert, and myself, we have decided that in order to insure Successful Appeal's future health at stud, he will not cover any more mares this season." Jones said, "Successful Appeal's health has been excellent since his return to Walmac from Rood and Riddle, and Dr. Embertson will re-examine the stallion May 25." Successful Appeal stood at Hartley/De Renzo, Walmac South near Ocala, Fla., before being relocated to Walmac Farm for the 2005 season. His fee is $25,000.



Copyright © 2015 The Blood-Horse, Inc. All Rights Reserved.