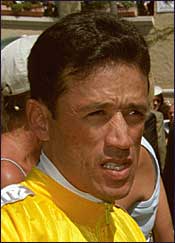 Northern Afleet colt jogged 1 1/2 miles, and then galloped another 1 1/2 miles with exercise rider Salamon Diego. Trainer Tim Ritchey remains upbeat about "Alex's" chances. "The shortened distance will help him," said Ritchey. "The tight turns will be to his advantage because he is a very agile horse. We shouldn't have as much traffic as the Derby because of the field size. I do not anticipate the pace being like it was in the Derby. "Everybody was going way too fast early, and I think a lot of the riders of the horses that run in back might slow it down a little bit. I would think we would be a little closer, a little more of a stalking position and hopefully from the three-eighths pole to the wire he'll make that kick he made in the Arkansas Derby and we should be in good shape."Ritchey indicated Afleet Alex would be sent out to train twice on Saturday.Another trainer who has reason to be upbeat is Robbie Bailes, who conditions Withers Stakes winner Scrappy T. Bailes said, "He came out of his work super." Scrappy T worked four furlongs in :48.4 Wednesday at Delaware Park and will ship to Pimlico Monday."He'll probably stretch his legs at Pimlico Wednesday morning," added Bailes.King Leatherbury has Tesio Stakes winner Malibu Moonshine poised to step onto the Triple Crown trail. Leatherbury said, "He doesn't need much (work). Malibu Moonshine will breeze three furlongs Saturday. It may end up being a half-mile work, by the time he pulls up." Regular rider Steve Hamilton will be up for the breeze.Meanwhile in New York Galloping Grocer, the New York-bred gelding, worked Friday morning at Belmont Park. The son of

A.P. Jet

went :59.2 under jockey Joe Bravo.

The most recent word on the status of Derby runner-up Closing Argument came from trainer Kiaran McLaughlin Thursday in a teleconference call sponsored by the NTRA.McLaughlin said, "We galloped the last two days here at Belmont Park and he will continue to train here. I'll watch the weather there and here and make a decision when to ship him. But most likely, ideally we would work him just an easy half a mile on Monday and probably ship Wednesday or Thursday. But he's fit and doesn't require a lot of work."The third New York-based contender, supplemental entry Golden Man, would need a defection to get into the field. Of the 15 contenders for the Preakness, the Richard Dutrow trainee is last. If he does make it into the field, the Preakness purse swells to $1.1 million.Hal's Image will be shipped from his South Florida base on Tuesday.