Smith Discusses Derby During Online Chat
Date Posted: 5/11/2005 3:25:25 PM
Last Updated: 5/11/2005 5:34:29 PM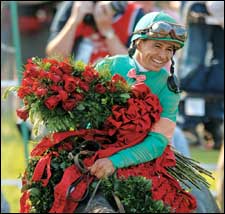 Jockey Mike Smith aboard Derby winner Giacomo.
Photo: Mike Corrado

Kentucky Derby (gr. I) winning rider Mike Smith had to ride a masterful race to get Giacomo to the wire first but the jockey said today the journey was almost exactly as he planned.Taking part in a live chat on bloodhorse.com today with Steve Haskin of The Blood-Horse, Smith said, "It happened just almost the way I planned it other than getting hung out on the first turn. I'd planned on sitting back and making one big run. And I knew I'd have to go through a lot of traffic, but it all worked out."Smith reiterated the confidence he had in Giacomo from the first time he rode him as a 2-year-old. "His balance. The way he carried himself. He felt like a good horse," Smith said answering a question about why he felt so sure early on. "He looked a lot like his father. He reminded me of

Holy Bull

in a lot of ways and I just fell in love with him."And as for the impossible task of comparing Giacomo to Holy Bull at this stage of their career? "That's a hard question," Smith admitted. "They're both very talented. Holy Bull had done a whole lot more than Giacomo early in his career. Giacomo is just now beginning to reach his potential. Holy Bull was great from the start."Smith said there are differences between the two: "Holy Bull was more aggressive all the way around -- he was aggressive to be around and when he ran. He was quicker early than Giacomo. He was a very, very fast horse."Giacomo, owned by Jerry and Ann Moss and trained by John Shirreffs, will run next in the middle leg of the Triple Crown, the May 21 Preakness (gr. I). Asked during the chat who he fears most in that race, Smith's short reply was, "Afleet Alex is always tough."

Click here for the complete transcript of the one-hour chat with Smith and Haskin.





Copyright © 2015 The Blood-Horse, Inc. All Rights Reserved.