Steve Haskin's Derby Analysis
Updated: Wednesday, May 11, 2005 9:28 AM
Posted: Friday, May 6, 2005 4:31 PM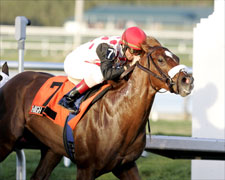 Photo: Equi-Photo
High Fly is Haskin's value horse in Saturday's Derby field.
Somewhere within my vast network of dead brain cells, there is a Kentucky Derby (gr. I) analysis waiting to be formulated. The problem is actually putting together the morass of observations and information accumulated over the past two weeks. In that regard, I have to admit this Derby gets more perplexing the more I look at it.Then again, maybe it isn't perplexing at all. Maybe Bellamy Road is the freak many think he is, and he will devour this field just as he did his other overmatched opponents this year. Because he is such a difficult horse to handicap, and because no one really knows what to expect, he has to be included in most wagers on the premise that he is the next coming. Based on his training and physical appearance, it is almost impossible to find any flaws in him other than being occasionally headstrong in the morning.Also difficult to analyze are the three California shippers, Wilko, Buzzards Bay, and Giacomo, simply because none of them will have a work over the track, and I haven't seen enough of them to make any conclusive observations based on their training and overall appearance and demeanor.Let's face it, these are Derby caliber horses, and the vast majority of them are going to work well. What you try to do is find one or two that you can separate from the others. My latest rankings have Afleet Alex number one, followed by Bellamy Road and Bandini. But, let's face it, we're talking the three favorites, and anyone can come up with the same three horses. There are question marks surrounding most of the horses in what looks to be as strong and deep a Derby field as we've had in a long while (assuming again that Bellamy Road is on the same planet as the others). The purpose here is to find value, whether through potential overlays or live long shots who might be able to complete an enticing exacta or trifecta.Briefly, the Derby horses as a whole were full of themselves this morning, as if they're aware something big is about to happen. There were three in particular who stood out.
Bellamy Road
was quite a handful for exercise rider Carlos Correa. It was the toughest I've seen him in the past two weeks. This big guy is pumped, and it will be interesting to see how keyed up he is coming out of the gate from post 16. What I also find interesting is Patrick Biancone selecting post 13 for Spanish Chestnut. If he wanted to try to force Bellamy Road's hand early, he could have drawn outside him. If he had any ideas of actually winning or finishing in the money, he could have gone inside and picked posts 1, 3, or 5, as he did with pacesetters Lion Heart (post 3) last year and Brancusi (post 2) the year before. But instead, he chose post 13, the closest he could have gotten to Bellamy Road. The question is, will Spanish Chestnut try to hang Bellamy Road wide into the first turn? If he does, John Velazquez will have to make sure Bandini, breaking from post 15, drops back far enough to let both horses clear him. Of course, this is all hypothetical and not intended to suggest any conspiracy to bring down Bellamy Road. But it does add a little twist to the strategy and analyzing how the race will be run.One very telling gallop this morning was the one turned in by
Wilko
, who was as strong as I've seen him by far. The second time around, he was almost running off with the rider, whose arms were fully extended in an attempt to control him. For such a small horse (he looks to be barely 15 hands, tops), he is amazingly strong. He definitely is one horse who is crawling out of his skin, and all signs point to him running the race of his life tomorrow.The third horse who stood out was
Buzzard's Bay
, who is a spectacular-looking colt. He was bouncing over the track, with his neck arched, and I was impressed with how much power he generates. I can't help but think this is an improving horse who is much better than people think. With Don't Get Mad coming out of the Santa Anita Derby (gr. I) to romp in the Derby Trial, it might not be wise to dismiss that race, as many have done. Although they haven't worked over track, which is not ideal, you couldn't ask for Buzzards Bay and Wilko to be looking or acting any better. Even
Giacomo
, 50-1 on the morning line, makes an impressive appearance. Now, it's just a matter of how good they are.
High Flying Works
OK, now let's get down to the observations of the past two weeks. I have gone into detail about every aspect of
Afleet Alex
, so it's no secret how I feel about this horse. Are there question marks? Yes. But, as I said, there are questions surrounding most of the horses in one form or another. He has been my pick, albeit a slight one, and I have seen nothing to make me change my mind. We'll soon find out if his unorthodox training regimen works to his advantage or disadvantage. Horses can turn sour very quickly. His two works have been terrific, his gallops have been strong, and he looks to be a happy horse. If he's as happy and as enthusiastic as he's been in recent weeks, there is no reason why he shouldn't turn in another big effort. Because of his strong speed numbers as a 2-year-old, he has a solid foundation to fall back on, and, according to the speed experts, he is less likely to "bounce" off his last race than the other big prep winners.But, again, he is 9-2 on the morning line, and the objective here is to find those big-price horses who, after they win, you say, "I should have had that horse."The more I think of it, the more I believe
High Fly
could be that kind of horse. His victory in the Aventura, was one of the most brilliant this year, and he showed the kind of explosive acceleration you look for in a Derby horse. He took his step backward in the Holy Bull (gr. III) and has been moving forward since. He is the only horse in the race who has won three stakes this year. I would have been a bit hesitant about his coming off a five-week layoff, but his last work really helped in that regard, thanks to an unscheduled workmate from heaven. Instead of finishing seven lengths ahead of his own workmate and possibly not getting as much out of the work as he should have, he was forced to go between horses, then had the mystery horse come after him full throttle. That got his blood up and he dug down and held him off by 1 ½ lengths, making the final eighth a virtual replay of the Florida Derby (gr. I). He continued to gallop out strong, still dogged by the other horse. Nick Zito could not have scripted a better work. The feeling here is that if he gets the lead anywhere between the quarter pole and eighth pole, he is going to be extremely tough to catch.Another point of interest is that when he was a youngster, he was given an outstanding rating on his heart scan, which registers heart size and the flow of blood, as well as other factors. So, combined with his strong female family, he really shouldn't get tired going a mile and a quarter. He is 8-1 on the morning and may even go off a bit higher, unless Jerry Bailey takes a lot of money.
Gimmicks Galore
Also remember, if you like High Fly, you have to play him in an exacta box with
Noble Causeway
and
Bandini
, and possibly even a trifecta box using all three Florida horses. All are solid, improving colts and more than capable of winning the Derby.While on the subject of gimmick exotics, consider these: an exacta and/or trifecta box of Wilko, Afleet Alex, and Sun King, the first three finishers in the Bessemer Trust Breeders' Cup Juvenile (gr. I). All three are doing great and this could be the year the Juvenile "curse" comes to an end big-time. Also, I had
Sun King
ranked number one for many weeks, and I'm certainly not going to give up on him off one bad race.Another is a Bellamy Road-High Limit-Afleet Alex box, using the three horses who broke their maidens at Delaware Park last year (I said they were gimmicks). Again, all three are live, and no one has trained or looked better on a daily basis than
High Limit
. If only this colt had one more start, he definitely would be in my top three picks, but he certainly could run a big enough race to hit the board. He is doing as well or better than anyone, and if he does come up a little short, watch out in the Preakness.The same applies to
Greeley's Galaxy
, who has to overcome both the Apollo (1882) and Exterminator (1918) curses, having never won at two and having only four career starts. But, despite his misadventure in a work last week, this is a very good horse with great action, who should be ready for a big effort in the Preakness.Finally, along the same lines, you have a High Fly-Buzzards Bay exacta box as the two horses who broke their maidens at Calder, which has always produced talented, tough horses. And Buzzards Bay
is
a tough horse who still is improving. He has the 20-post to overcome, but he is going to be a big price and is worth looking at for sure. His average Beyer leap in his career has been 12.4 points, and another such jump moves him up to a 110, certainly enough to put him right there at the finish.
Mighty Mite
As I mentioned before, I love the way Wilko is coming into the race. There is no tougher warrior, and all the pieces finally look to be coming together following a frustrating winter, in which he suffered two quarter cracks. But he has all the tools, he's learned to change leads, and he has the pedigree, despite his high dosage index. And most of all, he's finally coming into a race at 100%. He is the kind of horse we've all been waiting for: a tough, durable colt who never runs a bad race, and a horse who can end the Breeders' Cup Juvenile jinx. He's also the kind of horse you're going to wish you had bet if he wins.
Longshot Heroes
After this category, I'll try to make some sense of all this confusion. Some people, myself included, love to put win bets on a few horses who will help pay the rent for a couple of months. This is my favorite category, as I love trying to find the horse or horses people are paying no attention to. In the Derby, there are always classy horses who are totally overlooked, but have the talent to win at a monster price.
Andromeda's Hero
, who, despite appearing to be too slow, is a keg of dynamite waiting to go off. All he might need to set it off is the extra furlong and a cleaner trip than he's been having. I loved his work last week and was surprised how quick-footed this horse is. And he has a top and bottom pedigree to die for.Also, I will play Coolmore Lexington (gr. II) winner
Coin Silver
, whose victory at Keeneland was not about loving the slop, but about a powerfully built colt who is improving dramatically in all areas (mentally, physically, and on the racetrack) just at the right time. He will have no problem with the two weeks between races, and he gets the services of Pat Valenzuela. His physical therapist says he has gotten much stronger since the Lexington.Those are my two big longshot specials. To a lesser degree, you can take a look at
Sort it Out
, whom Bob Baffert finally is getting on the right track, and who has made great progress in recent weeks. He looked strong galloping this morning. And I'm still intrigued by
Don't Get Mad
. I loved him in the Santa Anita Derby, and, who knows, maybe he is a one-turn horse. But he's three-for-three at Churchill Downs, with three explosive victories, and he looks like a "racehorse." I love his head and eye and chiseled look, and his coat is radiant. Watching him graze earlier this week, he is really feeling good and seems to have bounced out of the Derby Trial in great shape.
The Bets
Now that you're even more confused, I have to say this will be a tote board race for me. As a former stock trader, I will be looking for market value, and my key value horse will be
High Fly
. I will include
High Limit
in all exotics, because he is doing so well and can easily finish in the money. My job the past two weeks has been to observe, and he has been the only horse I can honestly say has been flawless on a day-in and day-out basis. I also have to include Wilko in my win bets if he's a big price, or put him in the exotics if he gets bet down.
Andromeda's Hero
and
Coin Silver
are my bombs away horses, as straight win bets or part the exotics. And as a saver, I will have to put a few bob on Don't Get Mad.I also will be playing the gimmick exotics mentioned above to eliminate any further brain drain. And how about a five-horse Nick Zito trifecta box? Hey, it can happen.In short, it's
High Fly
for value based on his work and many other factors, and for a solid exotics horse, it's
High Limit
as the most impressive horse I've seen in the past two weeks in every category – works, gallops, overall appearance and demeanor, and fitness. But his lack of experience prevents me from making him my value win horse. Then again, who knows?
FREE! E-Newsletters from The Blood-Horse!...
Follow the top stories of major racing events, racing previews and results with FREE e-newsletters from bloodhorse.com. As news develops, we'll deliver updates to your inbox. Follow important events moment by moment, step by step!