Nafzger Recalls Unbridled: 'It Was As If He Could Talk'
by Dan Liebman
Date Posted: 5/6/2005 8:20:41 AM
Last Updated: 5/6/2005 9:01:29 AM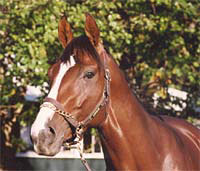 1990 Kentucky Derby winner Unbridled
Photo: File

In both the good times and the bad times, 1990 Kentucky Derby (gr. I) winner Unbridled would let his trainer, Carl Nafzger, know everything was all right."It was as if he could talk," Nafzger said from his barn at Churchill Downs, "He always told me what he wanted to do in his training. I called him the 'gentle giant.'"He was such as unbelievable horse," Nafzger continued. "He looked at me the day before the Derby and it was if he was saying, 'I'm OK.' The day before he died, he had the same look; he was telling me, 'I'm OK.' "Unbridled ran third in his final Derby prep, the Blue Grass Stakes (gr. II), run over a muddy track and won by Summer Squall over Land Rush. That night, Nafzger knew he could win the Derby."He cleaned up his feed that night, and I knew then it was the track surface that compromised his chances at Keeneland. He made a big move in the turn but Pat (Day, aboard Summer Squall) had more horse."All Nafzger wanted to see was how Unbridled would adapt to the Churchill Downs surface over which he had never run before. It didn't take long to find out."The first work was good, but the second was fantastic," Nafzger recalled.Unbridled had worked a half-mile in :51 1/5 eight days after the Blue Grass, and then three days later blazed six furlongs in 1:13. He blew out three days before the race in 1:01 4/5."That six furlong work, he was just moving along so easily and shattered the clock. He had really blossomed at the right time."During the Derby walkover, in the paddock, and throughout the post parade, Unbridled never turned a hair. His odds blinked 10-1 and never changed. Most of the other horses got stirred up as My Old Kentucky Home was sung."He thought everyone was there to see him. He just loved people. He passed that on to his offspring. That and the ability to run and not get tired. Banshee Breeze was the same way. She won the CCA Oaks and after the race took two deep breaths and that was it."He won the Derby under Craig Perret by 3 1/2 lengths over Summer Squall and Pleasant Tap.Nafzger is not known for having a high win percentage with first-time starters, but Unbridled signaled his class by winning first out at Arlington Park by 10 1/2 lengths."We weren't worried about him first time out, but we wondered about his ability to get a route of ground," he said of the son of Fappiano-Gana Facil, by Le Fabuleux."In his first race, he beat Sound of Cannons and Home at Last (his stablemate); all three of them ended up earning more than a million dollars."But it was Frances Genter's Unbridled who won the Kentucky Derby and ended the year by winning the Breeders' Cup Classic (gr. I)."Everybody was on my case prior to the Breeders' Cup, but I knew I had him right in the Derby and I knew I had him right in the Breeders' Cup. I thought, if he was within seven lengths at the quarter pole in the Breeders' Cup, he would win."So does it seem like it has been 15 years?"That can't be; must be only four or five years ago," Nafzger said chuckling. "You train all your life and just hope to be around a horse like that. No one can take those memories away from me."



Copyright © 2015 The Blood-Horse, Inc. All Rights Reserved.