Turfway Park First to Install Polytrack on Main Track
by Amy Whitfield
Date Posted: 4/27/2005 12:23:44 PM
Last Updated: 4/28/2005 8:07:30 AM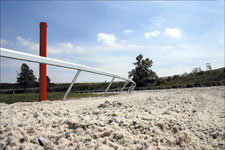 Polytrack surface at Keeneland training track.
Photo: Keeneland Association

Turfway Park will be the first racetrack in North America to install a Polytrack surface on its main track, Turfway president Bob Elliston announced April 27 at a press conference at Keeneland.The new synthetic surface, a blend of fibers and recycled rubber and silica covered with a wax coating on top of a vertical drainage system, will replace Turfway's conventional one-mile dirt track and is scheduled to be in place by the 2005 fall meet that begins Sept. 7, Elliston said.Keeneland, which co-owns the Northern Kentucky track with Harrah's and GTECH, began using Polytrack on its five-eighths-mile training track in September 2004 as a test. Keeneland partners with Martin Collins International as the North American distributor of the product."This surface is phenomenal," Elliston said of Keeneland's Polytrack training surface. "I'm not sure there has been an introduction of something in racing that has been so universally purported and lauded by the horsemen, by the trainers, and by race fans who come down and watch (horses train) every morning." Polytrack is designed to provide a consistent racing surface and to withstand extreme weather conditions, which makes it an obvious choice for Turfway, which conducts racing during Kentucky's harsh winter months, Elliston said."This (surface) will allow us to race continually through the winter months as well as train through those months," Elliston said. During the 2005 winter/spring meet, four cards were canceled after two or more races had been run, and seven full cards were canceled due to weather-related conditions. Elliston said with the new racing surface, he would like to see the racetrack also serve as a training facility in the summer months.Keeneland president Nick Nicholson said he wouldn't be surprised if he made the same announcement about installing Polytrack on Keeneland's main track a year from now."I would say there's more than a chance," Nicholson said. "We said we would go four seasons before we made a decision. We will go through the summer now and then make a decision."Though Elliston wouldn't offer specifics, he said installing Polytrack would cost "a significant amount of money." He also said he's confident the new surface would be installed by September. There is no backup plan in place if the deadline isn't met.A new safety rail will also be installed at Turfway. The process of tearing out the old rail and preparing the track for installation began April 27.



Copyright © 2015 The Blood-Horse, Inc. All Rights Reserved.