Where Are They Now?
by Ray Paulick
Date Posted: 4/26/2005 4:10:16 PM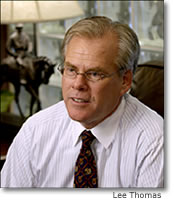 Ray Paulick
Editor-in-Chief


Santa Anita Park has gone through many changes since Frank Stronach purchased the Arcadia, Calif., track in December 1998. Cliff Goodrich, longtime executive under two previous ownership groups, exited as Santa Anita president in June 1999 and was replaced by Lonny Powell. Powell, a racing industry veteran who at one time was tabbed to run all of Stronach's growing empire of racetracks, departed in October 2000, lasting a little over one year. Jack Liebau was named president of Santa Anita by Stronach in December 2000, a position he held for more than three years. Liebau, an owner, breeder, and former head of Bay Meadows racetrack in Northern California, resigned in January 2004. Liebau was replaced by Jack McDaniel, a 30-year veteran of the entertainment industry who consulted with Magna for several years. McDaniel's tenure as president lasted just over one year. At the conclusion of the Santa Anita meeting April 18, a Magna press release announced McDaniel's resignation. McDaniel is being replaced by Ron Charles, a longtime owner who was chairman of the Thoroughbred Owners of California when Stronach called in October 2004 and offered Charles a key position overseeing both Santa Anita and Golden Gate Fields in Northern California. All told, that's five presidents for Santa Anita over a six-year period (By comparison, even Italy, known for its rapid turnover of government leaders, has had only three prime ministers in that time and George Steinbrenner's New York Yankees have had the same manager since 1996.) Is it any surprise that Santa Anita's business is down? In 1997-98, before its purchase by Stronach, Santa Anita topped $1 billion in total handle (on-track, in-state and out-of-state simulcast wagers); purses reached $37 million; and on-track daily average attendance was just over 12,000. The recently completed meeting handled approximately $866 million, a 13% decline from seven years ago. Included in that figure is advance-deposit or account wagering, which began in 2001 and allowed Californians to wager on pari-mutuel races by telephone or via the Internet. Account wagering apparently has not been a savior for Santa Anita. Purses are up modestly. The 2004-05 meeting offered $40.1 million in purses, up 7.8% from 1997-98 purse levels. Those increases have not kept pace with inflation. Stronach has done some nice things at Santa Anita: upscale restaurants adjacent to the paddock and atop the grandstand have been built, and Sunshine Millions day, featuring Cal-breds against Florida-breds, was created. Still, attendance has fallen sharply. The 1997-98 Santa Anita meeting had daily average on-track attendance of 12,356. This year's meet closed with a daily average of 8,062, a 34.8% decline in the seven years it's been owned by Stronach. Crosstown rival Hollywood Park hasn't fared much better. Purchased by Churchill Downs in 1999, the Inglewood track also has suffered business declines for its new owner. On- and off-track handle reached an all-time record $729 million during the Hollywood spring-summer meet in 1998. Last year's handle was down 6.8% from that mark, to $679.7 million. Daily average on-track attendance in 2004 was 8,348, a 19.7% drop from 1998, when the daily average was 10,385. Purses have increased 9.8%, from $26.6 million to $29.2 million from 1998-2004. Churchill has not employed a revolving-door policy in the Hollywood presidency, with Rick Baedecker filling that post since 1999. Conglomerate ownership was designed to bring economies of scale to the racetrack segment of the industry. Statistical evidence, along with unconfirmed reports that Hollywood Park may be sold to developers, suggests it hasn't worked very well in Southern California.



Copyright © 2015 The Blood-Horse, Inc. All Rights Reserved.