Steve Haskin's Derby Report: Revelations on the Pa. Turnpike
by Steve Haskin
Date Posted: 4/25/2005 1:51:17 PM
Last Updated: 4/26/2005 12:50:20 PM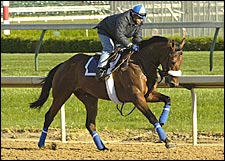 High Limit, in strong gallop at Churchill Downs Monday morning.
Photo: Anne M. Eberhardt

I was on the road by 5:30 on Sunday morning. Eleven hours and five states later, I would be treading on hallowed ground once again. But it took only 30 minutes for the first wave of Derby fever to hit me. The catalyst was the exit sign for Philadelphia Park. Suddenly, I could feel the temperature begin to rise. God, has it been a year already?There, to my left were the rows of tan sheet-metal barns and the now-familiar rectangular glass structure rising beyond it. It's still hard to believe that just about a year ago, this was the center of the racing universe, and pretty darn close to the center of the sports universe.As memories of Smarty Jones began to creep back in my mind through the misty blackness of a wintry morning, I started to think about this year's Philly connection – Afleet Alex's owners, Cash is King Stable, headed by Chuck Zacney, and their Delaware Valley based trainer Tim Ritchey. Could it actually happen again? When you think of it, Afleet Alex's story appears to be the one this year that could rival Smarty's for human interest value.A short while later, I just happened to look up at a rather unobtrusive underpass and read the street sign attached to it. It read: Ritchey Road. "Wow, that's pretty weird," I thought. Just then, the first tractor trailer of the morning came roaring by in the left lane. It was all white, with just two large words emblazoned on its side and back: Triple Crown.OK, now it was time to cue in the music to "The Twilight Zone." I shook the sandman out of my eyes, popped in a CD, then took a bite of my bagel and focused on the road. There was a long way to go.Well, here I am, back at Churchill Downs, although things are mighty different this year. The Twin Spires, now dwarfed by two massive structures on both sides, no longer seem to be piercing the sky as they had in the past. But time marches on, as they say.With the previous day's Afleet Afleet omens still dancing around in my brain, I headed immediately over to Barn 41 this morning to see if there was some sort of aura around the colt or any other ethereal sign. With the track not scheduled to open for another 30 minutes, Alex was the only horse out. Sadly, there no were no more revelations, just a plain brown colt standing outside his barn in the darkness having his poultice removed.Alex went out for a jog just before 7, but because he is scheduled to work on Tuesday, Ritchey did not send him out again for his customary 8:30 gallop. Although it is unorthodox to send a horse out twice in one morning, Ritchey feels it relieves the boredom, and Alex loves it. Because the son of Northern Afleet will be the center of attention tomorrow, let's check in on some of the other major players.Nick Zito had his four Churchill Downs-based Derby colts out for gallops. Wood Memorial (gr. I) winner Bellamy Road was in the first set, and Zito hinted at what was to come. "Watch him when he comes by; you're going to love the way he goes," Zito said. Sure enough, here came the big dark figure rambling around the clubhouse turn. He can be spotted in the dark thanks to Zito's customary white martingale.Zito was dead-on. Bellamy Road galloped by with those long powerful strides, his neck bowed in regal splendor. He was full of himself, shaking his head and bouncing off the ground. It's no wonder why this colt can bury his opponents and leave them for dead. The son of Concerto is just an intimidating presence, with a controlled energy that looks as if it's going to erupt at any minute. But he has good sense and knows how to use that energy, which makes him all the more dangerous. Between his two spectacular races this year and the way he does things in the morning, he could very well be something special.If there was any horse out there that could rival Bellamy Road in the "he-takes-your-breath-away" department, it was Bandini, a Black Beauty type if ever there was one. The son of Fusaichi Pegasus is another imposing presence, strutting around as if he owns the place. Although he has shown a great deal of maturity over the past few months, he still is his father's son, and is a high-energy horse who still has a lot of horsing-around in him. Walking back after his gallop, he was throwing his head occasionally and grunting and nickering. Everyone close to this horse, from his exercise rider to his physical therapist, feels he is something very special. Nothing I saw this morning would dispute that. With his classic head and eye and a powerful hind end, he is an amazing-looking horse, especially under track.The other horse who made a big impression this morning was High Limit, so much so, that I will have to take a closer look at him and not hold his historical obstacles against him as much as I have been. It is true, he is inexperienced with only four career starts and only two this year, but after learning from trainer Bobby Frankel that he paired up "4s" in his two starts this year on the Ragozin Sheets, it would seem to indicate he is sitting on a strong race.Frankel had originally decided to breeze the son of

Maria's Mon

a half-mile Monday morning to try and beat the rain that is predicted for Tuesday. But he decided at the last minute to give him a good stiff gallop and let him come home a quarter mile. High Limit broke off with good energy and was already rolling around the clubhouse turn. Exercise rider Jose Cuevas kept him down on the rail, then let him open up a bit down the stretch, which was caught by the clockers in :25. He continued on strongly around the turn and was still motoring pretty good down the backstretch, still down on the rail. Cuevas didn't start pulling him up until they neared the track kitchen at the half-mile pole. This was a very strong 1 5/8-mile gallop, and High Limit was only blowing mildly coming off the track.Frankel said he's gotten much stronger and fitter since finishing second in the Toyota Blue Grass Stakes (gr. I), so who knows, maybe this colt is a serious contender who can either wire the field if everyone takes back or sit off the pace, as he did in the Blue Grass. But with that race under him, he should be much tougher next time. He will have his final Derby work over the weekend, and Frankel said he may send him in company with Ghostzapper.Another slight concern with this colt is his habit of jumping tire tracks in the stretch and switching back to his left lead. He's jumped the tracks in his last three races, despite wearing a shadow roll, which he also wore in today's gallop. As for the Derby, the only thing in his favor is that the starting gate is way up at the quarter pole and should not affect him. But the habit does indicate an acute awareness of things around him. Another horse who was strong this morning was Sun King. While his gallop was not as vigorous as High Limit's, he had exercise rider Carlos Correa's arms fully extended. Zito assures that the son of Charismatic will be a different horse on Day Day. Like Bellamy Road, he is a long-bodied horse with a long, fluid stride. Although it's only been one day, this appears to be the best-looking bunch of Derby horses in memory.Lane's End (gr. II) winner Flower Alley went out in the first set with Bandini and wore blinkers for his gallop.Craig Dollase, trainer of Wilko, said last year's Bessemer Trust Breeders' Cup Juvenile (gr. I) winner will be flown to Louisville on Wednesday, but if the weather is inclement, as predicted, he may wait until the weekend or even the following Wednesday, when Santa Anita Derby (gr.I) winner Buzzards Bay is expected to arrive. Dollase has been battling quarter cracks with Wilko and does not want to train the colt on a wet track.Bob Baffert said he will decide next week whether to run Coolmore Lexington (gr. II) runner-up Sort it Out in the Derby after watching him train. "I needed to find 10 lengths real quick," Baffert said. "Now I only need to find five more. I feel like he has a longshot chance because of his (running) style."



Copyright © 2015 The Blood-Horse, Inc. All Rights Reserved.