CHRB Complaint Against Wygod Dismissed
by Margaret Ransom
Date Posted: 4/23/2005 10:07:22 PM
Last Updated: 4/26/2005 12:48:40 PM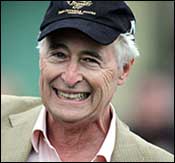 Owner Martin Wygod cleared by CHRB.
Photo: Horsephotos/NTRA

A complaint filed against owner Martin Wygod by the California Horse Racing Board was dismissed Saturday by Hollywood Park stewards, who concluded Wygod had not violated racing rules with his conduct and comments regarding his champion filly, Sweet Catomine.Following the dismissal, Wygod questioned his future involvement in the sport of horseracing after nearly 40 years as an owner, breeder, and director of various organizations. The CHRB filed its complaint against Wygod April 11, two days after Sweet Catomine finished fifth as the even-money favorite in the Santa Anita Derby (gr. I). In post-race comments, Wygod disclosed that the filly suffered several minor setbacks in the week prior to the race. He said the horse had hemorrhaged internally during a workout and was taken to a clinic more than 140 miles away for treatment in a therapeutic hyperbaric chamber. None of this had previously been disclosed, and it was later learned that Sweet Catomine had been removed from the Santa Anita backstretch without being correctly identified.Following a three-hour hearing before stewards Dennis Nevin, Pete Petersen and Tom Ward, Wygod's attorney, Richard Kendall, pointed the finger squarely at the racing media. He claimed there was a rush to judgment by the press, as well as CHRB executive director Ingrid Fermin, who initiated the investigation into Wygod's comments and activities. Kendall contended Fermin allowed the complaints to be filed without what he believed to be a thorough investigation. "That's the problem with journalism," Kendall said. "It was a junk misunderstanding. Journalists took at face value what they saw without asking the hard questions. Why does it have to be the lawyers after the fact who have to investigate the hard facts? If they had used a little more care and a little more judgment (the investigation would have never happened.)" "My name has been dragged through the mud," an emotional Wygod said following the dismissal. "It was terrible for both my wife and my kids, who I had hoped would continue to become more involved in the game." Wygod was alleged to have violated rules pertaining to the identification of horses and conduct detrimental to horse racing in connection with statements he made regarding Sweet Catomine. Fermin ordered the investigation into Wygod after several newspaper articles alleged that Wygod had deceived the betting public by not disclosing the filly's problems before the race. Under the direction of both Fermin and supervising investigator Marla Lloyd, senior special investigator Christopher Loop interrogated several witnesses, including horse transportation workers, grooms, trainers, veterinarians, and track security. His report concluded, "Wygod, engaged in conduct detrimental to the best interests of horse racing. The perception of the betting public was that they were wagering upon reliable information, which was widely broadcast. The information concerning the true condition of the horse was not complete, or factual, in its presentation." Loop, under questioning from deputy attorney general James Ahern and Kendall, testified that he was ordered by Lloyd to "expedite" the investigation process and that he'd spent just under 3 ½ hours questioning witnesses. He also testified that his five-page report was compiled and completed by 8:30 that same evening and several times admitted he would have liked to have had more time to do a more thorough investigation and speak to every potential witness. Under cross-examination by Kendall, Loop admitted that because of time constraints he didn't speak to Wygod personally regarding the allegations and that, had he more time, would have liked to. "Did you ever make any attempt to speak to (Wygod)?" Kendall asked; to which Loop replied, "No sir." Asked why not, Loop stated, "I can't answer that." Loop admitted he'd also been unable to reach Wygod's farm manager, Russell Drake, who allegedly arranged the filly's transportation to Alamo Pintado equine clinic with van driver Dean Kerkhoff. He said that in his discussions with the filly's trainer, Julio Canani, he'd determined that neither the conditioner nor the owner had been directly involved in making the arrangements. "I believe (Canani's) statement was that he didn't make the arrangements (and) he said he had nothing to do with the shipping of the horse (to the equine clinic)." Kerkhoff confirmed Loop's finding that Wygod hadn't been involved in the plan to ship Sweet Catomine to Alamo Pintado. Kerkhoff detailed several phone conversations he had with Drake about transportation arrangements for the filly for the morning of April 4. He said that he never spoke to Canani or saw him the morning he shipped the filly out of the Santa Anita stable area. "I never met Mr. Wygod until this morning. We rode up on the elevator together," Kerkhoff said. "I told him I was sorry for what I did. He told me everything was OK and to just tell the truth." Kerkhoff also explained that he was asked to keep the filly's transportation out of the racetrack "low profile" and that it was his own decision to sign the filly out and in of the Santa Anita stable area as the "pony." He also explained why the decision was made to ship the filly out of Santa Anita at 3 a.m. "Low profile wasn't (Drake's) exact words," Kerkhoff explained. "He said, to the effect of, something like maybe try to keep it to myself or ... I don't recall. It was just another order from Mr. Drake. He also mentioned that Julio (Canani) mentioned that it was a better time to beat the traffic." Canani was the final witness to be called by Ahern and he testified about the morning the filly worked and subsequently bled, as well as his knowledge of the filly's trip to Alamo Pintado. Canani explained he had never heard of a hyperbaric chamber and that the arrangements to ship her out were made by Drake and veterinarian Dr. Jeff Blea. "If an owner is going to do something to an animal to help it ... I'm just working for him. I'm not a vet; it was the first time in my life I've heard of this thing. I don't remember who told me (she was being shipped to Alamo Pintado), Dr. Blea or Drake." Kendall asked Canani if Wygod had ever instructed him to instruct the grooms or anyone else to not disclose the identity of Sweet Catomine to anyone, to which Canani replied, "No. Never." Immediately following Canani's testimony, Kendall requested that the charges against Wygod be dropped, saying there was no evidence presented to show Sweet Catomine had any physical ailments leading into the Santa Anita Derby. He contended that it was common knowledge she was a bleeder, having been under the influence of the anti-bleeder medication Lasix in each one of her races. After conferring briefly, Ward announced the board of stewards had decided that "the charges against Mr. Wygod be dropped in the interest of justice." The decision was greeted with applause from many of the nearly 50 who attended the meeting, including Wygod's wife and children. "It's going to be a hard decision, whether or not to stay in the game," Wygod said. "The main problem is the effect all this had on my family. "I wanted Sweet Catomine to retire sound and the veterinarians said that if she continued to race she could suffer from osteo-arthritis so we retired her. She was examined and had two follicles so she's scheduled to be bred (to leading sire

A.P. Indy

) either today or tomorrow." Kerkhoff's hearing was continued until April 30. Canani, who was also charged with violations of rule 1489 (c) (grounds for refusal of license), and 1902 (conduct detrimental to horseracing), as well as rule 1887 (a) (Trainer to Insure Condition of Horse), is set to be heard by the stewards on May 1.



Copyright © 2015 The Blood-Horse, Inc. All Rights Reserved.