Stacked Deck
by Ray Paulick
Date Posted: 4/13/2005 9:47:54 AM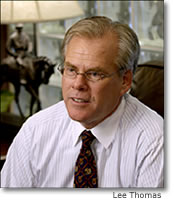 Ray Paulick
Editor-in-Chief


Only one trainer in the modern era of Thoroughbred racing--D. Wayne Lukas--has started more horses in the Kentucky Derby (gr. I) than Nick Zito. Beginning with Thirty Six Red in 1990, Zito has sent 14 horses postward in the Run for the Roses. Two of them have won: Strike the Gold in 1991 and Go for Gin in 1994. He's sitting in the catbird seat with as many as five potential contenders for the 2005 Kentucky Derby. Only James Rowe Sr., with 18, and H.J. "Dick" Thompson, with 24, stand between Zito and Lukas as trainers with the most Derby starters. Lukas has had 41 entrants between 1981 and 2003, and he's won the Roses four times. Bob Baffert, with three wins from 13 starters between 1996-2003, has put a similar emphasis on racing's "big dance." Lukas, Zito, and Baffert target Churchill Downs and the first Saturday in May the same way Tiger Woods approaches his annual visit to Augusta, Ga., in April. It is what ultimately defines them as trainers. Success, however, does not guarantee continued success. Lukas won the 1995 Derby with Thunder Gulch, one of his three starters in the race. He then took the 1996 Derby with Grindstone, part of a five-horse entry from his barn. The following year, however, the best he could field as a Derby starter was 32-1 outsider Deeds Not Words, who finished last of 13 runners. From 1981, when he saddled Partez to a third-place finish, through 2000, when a three-horse entry was unplaced, Lukas had runners in 20 consecutive Kentucky Derbys. He failed to come up with a Derby runner in 2001, finished second with Proud Citizen in 2002, and was unplaced in 2003 with a pair of entrants. Lukas is right back in the thick of things this year with Consolidator, the San Felipe Stakes (gr. II) winner who will have his final Derby prep in the April 16 Toyota Blue Grass Stakes (gr. I) at Keeneland. Baffert was rolling in the late 1990s, finishing second with Cavonnier in his first Derby in 1996. He then won back-to-back runnings with Silver Charm and Real Quiet in 1997 and '98 before a three-horse entry came up empty in 1999. Baffert won the 2002 Derby with War Emblem--a horse bought privately just weeks before the race--finished far back with a longshot in 2003 and saw his 2004 hopes go up in smoke when Wimbledon was scratched because of an injury on Derby eve. With a recent setback to Roman Ruler, Baffert again finds himself on the outside looking in at the 2005 Derby. Zito, on the other hand, has what can almost be described as an embarrassment of riches in his barn this spring. The 57-year-old New York native has the top three contenders in Steve Haskin's Derby Dozen (page 2362) and is coming off his best year statistically as a trainer: 11 individual stakes winners and 2004 earnings of nearly $7 million. In 2005, he's had eight individual stakes winners, including Wood Memorial Stakes (gr. I) victor Bellamy Road, Florida Derby (gr. I) conqueror High Fly, and Tampa Bay Derby (gr. III) winner Sun King. Florida Derby runner-up Noble Causeway and Sam F. Davis Stakes winner Andromeda's Hero round out his Derby candidates. Zito's come a long way from now-defunct Liberty Bell in Pennsylvania, where he saddled his first winner in 1972. Zito won the 1996 Preakness Stakes (gr. I) with Louis Quatorze (one of his four grade I winners and 13 stakes winners that year) and upset Smarty Jones with Birdstone in last year's Belmont Stakes (gr. I). But it's been 11 years and the same number of starters since Zito last stood in the Derby winner's circle. With four weeks remaining until the first Saturday in May, no one has a stronger hand than Zito. Everything's coming up roses.



Copyright © 2015 The Blood-Horse, Inc. All Rights Reserved.