Kentucky Derby Trail: A Road Less Traveled
by Steve Haskin
Date Posted: 4/12/2005 8:51:19 AM
Last Updated: 4/12/2005 2:02:39 PM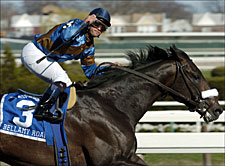 Bellamy Road, impressive in Wood Memorial victory.
Photo: Skip Dickstein

There was no one on Bellamy Road (also known as the Aqueduct stretch on Saturday) except one lone traveler who cruised along in isolated splendor as if out for an afternoon joy ride. But the Wood Memorial (gr. I) was not the only big race last weekend, despite what one may think of the Santa Anita Derby (gr. I).Although these fingers have scoured the keyboard several times over trying to formulate a series of words or phrases to describe Bellamy Road's performance in the Wood Memorial, the only true image of the race is the one in the eyes of each person who witnessed it. In short, you had to see it for yourself.Sure, you can hear again how fast he went, how far he won by, and how easily he did it. You can be reminded of his Beyer Speed Figure that is floating somewhere up in the stratosphere. You can hear mention once again about how Javier Castellano, in his boyish enthusiasm, threw four quick jabs, then a kiss, into the cool spring air with a sixteenth of a mile still to go. You can have words like breathtaking, awesome, and spectacular thrown at you, even though you've probably thought of them yourself already. You can have his sprint-like fractions drummed into your head again, and how he went his opening quarter in :23 flat into a stiff headwind and his final eighth in :12 3/5 into the same wind, while in a common gallop; and how he broke the stakes record and equaled Riva Ridge's 32-year-old track record. Then again, you just did hear it. Sorry, lost control there for awhile.Some of the images you might not have seen were the emotional phone calls between Jessica Steinbrenner and her father (George, for those of you reading this in Papua, New Guinea), and between Kinsman Stud farm manager Edward Sexton, who broke and exercised Bellamy Road, and "The Boss.""He was as happy as winning the World Series," Jessica said of her father, who owns the New York Yankees baseball team. "This was so thrilling, and now it's on to Kentucky...the American dream, right?"Sexton said, "And we haven't seen the best of this horse, not by a longshot." That's a pretty scary thought.There was the uncharacteristically restrained Nick Zito waiting for his horse to return, proving that even someone as passionate and demonstrative as Zito can be simply too overwhelmed by something to let his emotions pour out.By now, all the "bounce" theorists are probably clenching their fists and shouting, "Enough already."Well, this is strictly about the Wood Memorial, and in no way is meant as a prognostication of what is going to transpire on May 7.Can Bellamy Road come even remotely close to duplicating this effort? Does he have to? It's possible he can plummet 10 Beyer points and still be several lengths better than anyone else. Can he win a grueling race like the Derby, which promises to be loaded with speed horses and stalkers, off two extended workouts? Beats me. All one can go by right now is what this horse did on Saturday and consider the possibility that maybe he is some sort of freak, a budding superstar if you will. Anything is possible.As for running so fast and winning by such a large margin, it is not unprecedented. In 1985, Spend a Buck won the Kentucky Derby (gr. I) two weeks after winning the 1 1/8-mile Garden State Stakes by 9 1/2 lengths in a scorching 1:45 4/5, by far the fastest nine-furlong Derby prep ever run. Not only did Spend a Buck come right back and win the Derby in such a short period of time, he won by 5 1/4 lengths, and his time of 2:00 1/5 was the third fastest Derby in history. If you're looking for a chink in Bellamy Road's pedigree armor, and are not familiar with his sire, Concerto, just a note that Concerto was a stakes winner at 1 1/4 miles, and was second to eventual Breeders' Cup Classic (gr. I) winner Awesome Again in the 10-furlong Saratoga Breeders' Cup Handicap (gr. II). He also won three graded stakes at 1 1/8 miles. On his female side, Bellamy Road's great-grandsire,

Cozzene

, is the only stallion to sire the winners of the Breeders' Cup Classic and Breeders' Cup Turf (gr. IT).So, where does all this leave Bellamy Road in the Derby? Well, it could leave him just about anywhere, including well ahead of everyone else. We don't even know where he ranks in Zito's barn, which currently houses an equine Murderer's Row that would make Steinbrenner proud.One thing is for sure, if Bellamy Road does win the Derby, you can bet they'll be putting the polish to the Triple Crown trophy minutes after the race.Shug McGaughey said that runner-up Survivalist is a "very slim possibility" for the Kentucky Derby. The son of Danzig actually turned in a performance solid enough to earn a Derby berth. He had absolutely no shot to win under the circumstances and was the only horse to show any kind of acceleration, bursting out of the pack between horses at the five-sixteenths pole. Nearing the top of the stretch, he was still some seven lengths behind Scrappy T, who was running second at that point, and was able to run him down for the place spot. Even though he was far back early, he still was forced to run his three opening quarters in :24 3/5, :23 2/5, and :23 3/5, which he certainly wouldn't be forced to do in the Derby. The feeling here is that this colt still is on the improve and could make his presence felt in the Derby if there is a competitive pace, which seems likely.Scavenger HuntOK, here we go: find the Kentucky Derby winner hidden somewhere in the Santa Anita Derby field. All "Sheets" guys and Beyer gurus may be excused.Has there been a race since last year's Florida Derby (gr. I) so maligned by the experts as this year's Santa Anita Derby? Even many of the leading trainers are calling it a dawdling Derby, and to forget about any horse coming out of that race.Well, that's all that has to be said for the devil's advocate in me to come forth. Whether one needs to be a defender of the downtrodden or simply a hopeless romantic to engage in such folly, the plea is guilty as charged.First off, it is agreed that the race was not as fast as the Wood Memorial (OK, that's an understatement) or the Illinois Derby (gr. II). It is also agreed that when four horses finish within two lengths of each other, and the first two finishers are 30-1 and 64-1, respectively, it is a relatively safe assumption that the race is not one to be taken too seriously.Rather than expound on the possible virtues of such a race, let's take a different approach and just look at the race as the launch pad instead of the rocket.Before getting to the winner, Buzzards Bay, how can anyone not admire a tough little horse like Wilko, who goes out there every time and runs his heart out, despite nagging quarter cracks on both feet and constantly drawing outside post positions and losing ground on the turns? He's been through the wars on two continents, running 14 times against some of the best horses in Europe and America. And he's barely 15 hands tall.Maybe he isn't as talented as some of the big, powerhouses in the East, but he's tenacious, like a terrier that grabs you by the pant leg and refuses to let go. With the longer stretch at Churchill Downs and the Santa Anita Derby under his belt, there's no reason to think he won't take a significant step forward on May 7. Whether that's good enough to handle the beasts of the East we really won't know until then. But he is a Breeders' Cup winner and he'll never back down from a fight. As an enthusiastic Frankie Dettori said to trainer Craig Dollase after dismounting, "You're heading in the right direction, mate."In short, the son of Awesome Again obviously needed the Santa Anita Derby after a winter of setbacks, and still came home his final eighth in :12 2/5. Off that alone, and the extra furlong of the Derby, he still has to be considered a solid contender.As for Buzzards Bay, again, we're dealing with a tough brawler who will fight you if he gets the chance. He's another who is still improving, and there is no reason to think that the Santa Anita Derby will be his crowning achievement. He can run on the lead, make a big middle move to the front as he did on Saturday, or lay back and make one run as he did in the El Camino Real Derby (gr. III), in which he bled severely, but still finished third.What he has going for him is a pedigree that shouts class and stamina. You don't see many horses inbred to the great Ribot three times, but he is, through Maribeau on top and Graustark and Arts and Letters on the bottom. His broodmare sire, Seneca Jones, is by Alydar, out of 1986 3-year-old filly champion Tiffany Lass.The great Hall of Fame trainer Elliott Burch has three Belmont Stakes (gr. I) winners to his credit – Arts and Letters, Sword Dancer, and Quadrangle – and all three are in Buzzards Bay's pedigree. Each one prepped for the Belmont in the Met Mile, with Arts and Letters and Sword Dancer winning and Quadrangle finishing second.As a sidelight, Buzzards Bay's breeder, Jay Shaw, bred five generations of this colt. And talk about good timing, he'll be selling his full-sister at the April 25-28 Ocala Breeders' 2-year-olds in training sale, and also will be selling an

El Prado

filly, out of the dam of Buzzards Bay's sire, Marco Bay, at the upcoming Keeneland 2-year-old sale. Marco Bay, winner of the Tampa Bay Derby (gr. III), is by Copelan, whose dam, Susan's Girl, was champion 3-year-old filly of 1972 and champion handicap mare in 1973 and '75, giving Buzzards Bay two champion fillies in his pedigree to go along with Horses of the Year Arts and Letters and Damascus, and champion 3-year-old colt Bold Forbes – all of whom were Belmont winners.In summation, "There are more things in heaven and earth, Horatio, than Beyer Speed Figures."New Stars Aligning in GalaxyBefore all you Greeley's Galaxy fans get too excited about the son of Mr. Greeley winning the Illinois Derby (gr. II) and his owner, B. Wayne Hughes, putting up the $200,000 supplementary fee for the Kentucky Derby, be aware that if there are 20 other horses (who are early or late Derby nominees) entered, then Greeley's Galaxy will be kept out of the starting field. No supplementary entry, regardless of how much graded earnings they have, can bump a horse who has been nominated, regardless of how little earnings they have.With that said, Greeley's Galaxy is an exciting newcomer to the Derby scene, and is yet another horse sired by a pure sprinter who has no trouble getting 1 1/8 miles. Times definitely look like they're changing. Greeley's Galaxy made a shambles out of the Illinois Derby, winning by 9 1/2 lengths, while displaying a very efficient stride. He gets his head and shoulder down low and generates a lot of power.Granted, he didn't beat much, but the runner-up, Monarch Lane, is highly regarded in Todd Pletcher's barn, and was coming off a solid third to Sun King in an allowance race. Third-place finisher, Magna Graduate (Honor Grades) is a seasoned stakes winner. Greeley's Galaxy is one horse whose connections will be watching the size of the field very carefully.Although his pedigree is a bit sketchy, he does have three Kentucky Derby winners and three stallions who have sired Derby winners in his first four generations.In Other Derby News:-- Corey Nakatani has been named to ride Andromeda's Hero (Fusaichi Pegasus ) in Saturday's Arkansas Derby (gr. II). Wild Desert (Wild Rush) tuned up for the Arkansas Derby with a sharp :47 2/5 work at Churchill Downs. Rush Bay (

Cozzene

) went five furlongs in :59, and Greater Good (Intidab ) turned in a big six-furlong work in 1:12 3/5, getting his final quarter in :23 4/5.-- With most people focusing on Sun King (Charismatic), Consolidator (

Storm Cat

), and High Limit (

Maria's Mon

) in the Toyota Blue Grass Stakes (gr. I), watch out for Bandini (Fusaichi Pegasus), who turned in his second sharp work since recovering from the foot bruise that kept him out of the Florida Derby (gr. I). This classy-looking near-black colt was an attention grabber the first time I laid eyes on him, and I still believe he has the makings of a very good horse. He has class written all over him. A big effort in the Blue Grass will put him right on target to peak in the Derby.



Copyright © 2015 The Blood-Horse, Inc. All Rights Reserved.