Tornado Causes Wide-Spread Damage in Ocala
Date Posted: 4/8/2005 5:39:07 PM
Last Updated: 4/11/2005 1:17:54 PM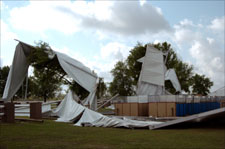 Temporary stalls damaged at Ocala Breeders' Sales Co.
Photo: Louise Reinegal

By Ryan Conley
A suspected tornado that tore a path through Ocala, Fla. Thursday afternoon caused wide-spread damage to area horse farms, but early reports indicate no equine deaths or significant injuries were incurred.Farms suffering the most damage were located primarily in the southwest part of Marion County, including George M. Steinbrenner III's Kinsman Farm. Farm manager Edward Sexton said the farm lost 15 trees and the main gate."It ripped the gate clean off and dumped it across the road," said Sexton. "It definitely touched down. You can see the path."Neighboring El Batey Farm lost the roof of an equipment shed and five large trees, owner Luis de Hechavarria said.Ocala Breeders' Sale Co. was also in the direct path of the storm, with damage including destruction of a temporary stall tent set up for the upcoming Spring 2-year-olds in training sale. The structure, which would have been the home to 300 horses in the next couple of weeks, was empty at the time things got ugly."Fortunately, there were no horses there," said sale director Tom Ventura. "It picked up some of the stalls and twisted the metal, ripped them right out of the ground."Area equine hospitals reported no deaths or injuries related to the storm, which caused several million dollars in damage.The wicked weather comes just seven months after two hurricanes impacted the Ocala area. Sexton, who moved to Florida from his native Ireland two years ago, said the storms have been quite a culture shock."We get rain all day (in Ireland), but no tornado or hurricane," he said with a wry chuckle. "It seems every time I get the farm just right, we get blown away again."



Copyright © 2015 The Blood-Horse, Inc. All Rights Reserved.