Trade Ruling Questions Horse Racing Act
by Tom LaMarra
Date Posted: 4/7/2005 6:40:24 PM
Last Updated: 4/9/2005 3:50:04 PM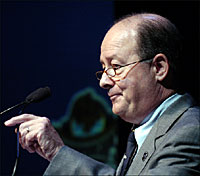 NTRA commissioner D.G. Van Clief, Jr.
Photo: Skip Dickstein

A World Trade Organization report released April 7 upholds the position of the United States to protect itself from illegal Internet gambling but also calls into question the fairness of the Interstate Horseracing Act.The WTO appellate body issued the report based on a dispute between the U.S. and Antigua. The U.S. had appealed a WTO ruling last November in which its laws on remote gambling were considered not in conformity with WTO commitments.The International Federation of Horseracing Authorities issued a memorandum explaining the WTO ruling. An official response from Antigua, a Caribbean island, wasn't immediately available.Antigua started proceedings at the WTO against the U.S. for its ban on foreign gaming services. Pari-mutuel industry officials were digesting the report April 7. They recognized the WTO said there could be inconsistencies in the IHA but said they aren't sure of the ramifications, including the potential impact on regulated account wagering.Greg Avioli, executive vice president of legislative and corporate planning for the National Thoroughbred Racing Association, said the WTO report is interim in nature, and that the industry would have time to formally respond."We are in the process of analyzing the WTO appellate body's lengthy and complex decision," NTRA commissioner D.G. Van Clief, Jr. said in a statement. "From our initial review, we applaud the decision in so far as it reaffirms the sovereignty of United States gaming laws. We look forward to working with the Office of the U.S. Trade Representative, members of Congress, and other appropriate parties to better understand the concerns of the appellate body as regards the federal gambling laws, including the Interstate Horseracing Act."The horseracing industry has operated for more than 25 years pursuant to the IHA, a federal statute that provides a framework for interstate simulcasting of horse races among 42 states. These state licensed and regulated activities account for more than 80% of our industry's revenues, generate more than $1 billion in annual local, state, and federal taxes, and are the primary economic engine that supports the 472,000 workers in the $34-billion racing and breeding agribusiness."



Copyright © 2015 The Blood-Horse, Inc. All Rights Reserved.