A Breed Apart
by Dan Liebman
Date Posted: 4/6/2005 10:35:12 AM
Last Updated: 4/6/2005 10:36:45 AM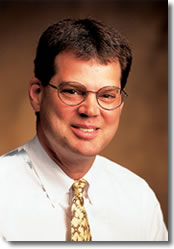 Dan Liebman
Executive Editor


What does is take to operate a Thoroughbred breeding farm in the height of the breeding season? In this issue of The Blood-Horse, we attempt to show you. On March 16, a group of 16 staffers from various Blood-Horse Publications departments (and two freelance photographers) spent a day at John Sikura's Hill 'n' Dale Farms outside Lexington. Like a similar project in August 2002, when we visited Ellis Park and reported on "A Day in the Life of a Racetrack," this week's magazine explores "A Day in the Life of a Breeding Farm." Many investors in the Thoroughbred industry know they write checks for board and vet bills, sign contracts for breeding seasons, and watch as horses they bred are sold at public auction. But how many have actually experienced the behind-the-scenes action; to see and feel what it takes to produce a single foal or run a farm on a day-to-day basis? Manufacturing plants run on shifts; when the shift ends, turn off the assembly line and turn out the lights. A breeding farm is quite different. Foals enter the world at any hour of the day and night; horses must be fed and cared for 365 days a year; constant attention is paramount because a matter of minutes can make the difference when an illness hits. While visiting with Hill 'n' Dale assistant manager Madelein Basson, she noted how during the entire breeding season, she exists on an average of four hours of sleep a night. During many evenings, her cell phone interrupts her slumber. Basson does not complain. In her native South Africa, she carried a handgun 24 hours a day, her safety something to really lose sleep over. Today, she marvels at not having to lock her truck, and her love of animals is evident in her actions as well as the beautiful photos she has taken of horses and farm scenes. Joe Ramsey is a true hands-on farm manager. One minute he is in the breeding shed gathering a dismount sample, the next minute he is assisting as a foal is being administered plasma. Boots, a twitch, and handlers everywhere. The breeding shed runs like clockwork, but it takes an extraordinary amount of work to make it so. Four breeding sessions are held this day. The grand old man, Theatrical, has a limited book, but when he stomps toward the breeding shed, get out of the way. He is ready to do his business. Freshman stallion Medaglia d'Oro is in high demand. Through 11 days of March, he had already covered 72 mares. In the farm office, Lori Chappell constantly updates the numbers for all the stallions on a huge dry-erase board. Workers' nationalities are numerous, as they are at many farms. It is interesting at Hill 'n' Dale to hear stallion manager Aidan O'Meara speaking Spanish with an Irish accent. Farm owners and managers in Central Kentucky--and many other areas across the country--are dependent on Hispanic laborers. At Hill 'n' Dale it is easy to see why. They are conscientious, hard working, and excellent in animal husbandry. John Sikura has invested heavily in his farm, and accomplished much in a few years. Like all farm owners, it is his horses, and those of his clients, that will write the story of his farm. Will it be a success story? If the stallions and mares produce stakes winners, and the consignments do well at auction, then it will be. But it is the people at Hill 'n' Dale and every other Thoroughbred farm around the globe who truly understand what a day in the life of a breeding farm entails. They live it. They breathe it. They make this industry happen.



Copyright © 2015 The Blood-Horse, Inc. All Rights Reserved.